Tom Ford refuses to dress Melania Trump
The next First Lady of the United States might have to continue buying her clothes online, as leading designer says 'she's not necessarily my image'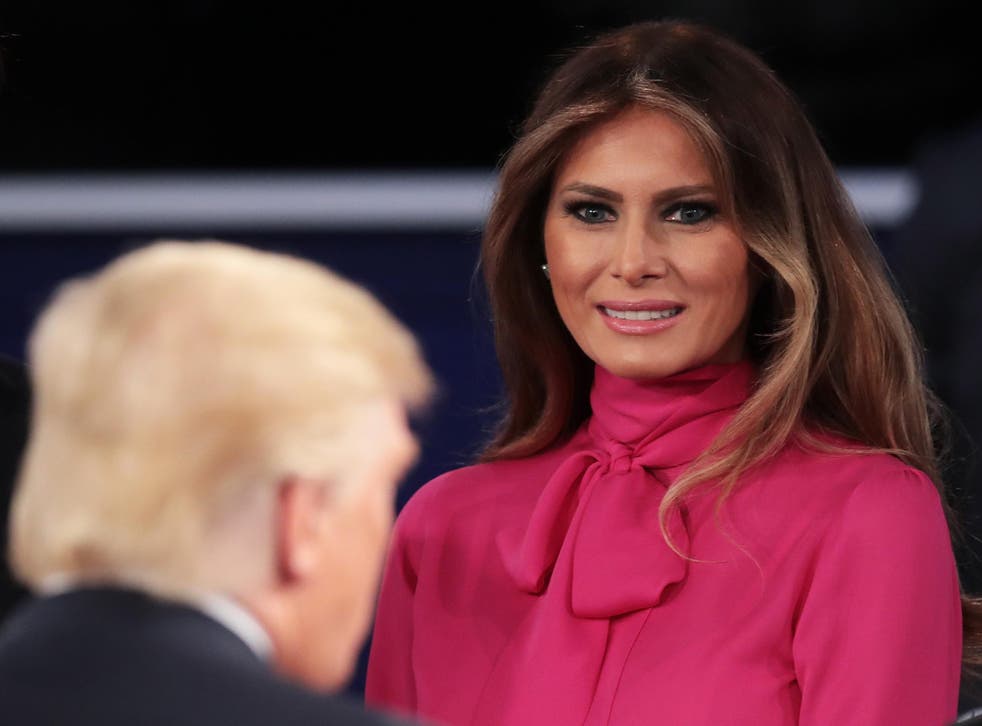 One of America's most in-demand fashion designers has said he does not want to dress the next First Lady of the United States, and has refused to do so in the past.
Tom Ford has joined a cohort of designers who have suggested they will not work with Melania Trump, despite the fact she used to be a fashion model.
Mr Ford told hosts on US TV show the View: "I was asked to dress her quite a few years ago and I declined."
"She's not necessarily my image," he added.
Other designers have been more explicit about the reasons they do not want to dress Donald Trump's 46-year-old wife, citing political differences.
French-born fashion designer Sophie Theallet, who has dressed Michelle Obama on so many occasions she is often referred to as the current first lady's "go-to" dressmaker, penned an open letter in November pledging not to dress Ms Trump, and encouraging other fashion designers to join a boycott.
"The Sophie Theallet brand stands against all discrimination and prejudice. Our runway shows, ad campaigns, and celebrity dressing have always been a celebration of diversity and a reflection of the world we live in," Ms Theallet wrote in the note, which was shared on social media.
"As one who celebrates and strives for diversity, individual freedom, and respect for all lifestyles, I will not participate in dressing or associate myself in any way with the next First Lady," she continued. "The rhetoric of racism, sexism, and xenophobia unleashed by her husband's presidential campaign are incompatible with the shared values we live by."
She added: "I encourage my fellow designers to do the same".
American fashion desinger Marc Jacobs said he had not seen the letter but had "no interest whatsoever in dressing Melania Trump".
"Personally, I'd rather put my energy into helping out those who will be hurt by Trump and his supporters," he said.
Fellow designer Derek Lam took into account the criticism he had received for expressing political opinions in the past, but said he would find it challenging to dress the new first lady.
"Having been duly warned, my response is, while I have incredible respect for our country's political institutions, I find it challenging to be personally involved in dressing the new first lady," he said. "I would rather concentrate my energies on efforts towards a more just, honorable and a mutually respectful world. I don't know Melania Trump personally, so I don't wish my comments to seem I am prejudging her personal values, but I really don't see myself getting involved with the Trump presidency."
Cambodian-American designer Phillip Lim agreed. "As a global brand, we are always looking to partner with individuals that we have authentic relationships with — ultimately, women and men that share similar set of values, desires and ideologies: inclusion, diversity, justice, consciousness, innovation," he said."With that said, we do not have a current relationship with Mrs. Trump and I don't foresee a relationship developing under the Trump administration."
However, other designers made it clear they would be happy to dress the new first lady.
Diane von Furstenberg, head of the eponymous luxury lifestyle brand, emphasised the importance of respecting political institutions. "Donald Trump was elected and he will be our president," she said. "Melania deserves the respect of any first lady before her. Our role as part of the fashion industry is to promote beauty, inclusiveness, diversity. We should each be the best we can be and influence by our example."
Meanwhile Vera Wang, a former editor at Vogue, famous for her bridal wear designs, appeared to actively solicit commissions from Ms Trump. "We have not been contacted by the Trump campaign or administration thus far," she said. "But the first lady-elect should support American fashion, as did her predecessors."
Tommy Hilfiger, head designer of the classic US brand, praised both Ms Trump and her daughter-in-law Ivanka for their good looks and suggested designers should not take a political stance on who they will and will not dress.
"I think Melania is a very beautiful woman and I think any designer should be proud to dress her," he said. "Ivanka is equally as beautiful and smart, although she wears her own clothes. I don't think people should become political about it. Everyone was very happy to dress Michelle [Obama] as well. I think they look great in the clothes. You're not gonna get much more beautiful than Ivanka or Melania."
But despite some brands publicly expressing support for her, no designers have yet announced a relationship with Ms Trump. The future first lady is believed to have been selecting and buying her own clothes online, including from popular mid-market retail site Net-a-Porter.
When pressed, Mr Ford said he feels his clothes are "too expensive" for a first lady to wear, because a first lady has to be relatable to the US public.
The current first lady, Ms Obama, however, wore a custom-made Tom Ford ivory evening gown in 2011, for a dinner with the royal family at Buckingham Palace.
The price of the dress is not known since it was one-of-a-kind, but Mr Ford's gowns tend to start around $5,000 (nearly £4,000), with many of his evening looks reaching five-figure prices.
"Michelle I dressed once when she was going to Buckingham Palace for dinner with the Queen," the 55-year-old said, when asked to comment on the apparent double standards. "I thought that was appropriate and I was honored."
When pushed on whether Ms Trump should really stop wearing expensive clothes once her husband takes office, Mr Ford said: "I'll leave that to Melania."
He also made a point of noting that he would not dress Hillary Clinton if she was in the White House.
Mr Ford is prolific in fashion and the arts, having recently directed the violent, stylish thriller Nocturnal Animals, which was critically acclaimed.
He first became famous in 1994 when he was named creative director of Gucci. The house was almost bankrupt at the time he took the reins, and within five years was valued at $4 billion (more than £3 billion).
How Tom Ford became the toast of Hollywood

Show all 5
In 1999 he took on a second job as creative director of Yves Saint Laurent.
Then, in 2004, he walked away from the top post at both houses when questions began to arise about the future of Gucci group and who would be in control.
He took a two year break, before he launched his eponymous line in 2006, which included accessories and beauty products as well as his designs for men and women.
Join our new commenting forum
Join thought-provoking conversations, follow other Independent readers and see their replies