Michael Gove paid £150,000 a year for Times column
The former Justice Secretary has a new, well-paid gig
Harry Cockburn
Thursday 24 November 2016 17:37 Comments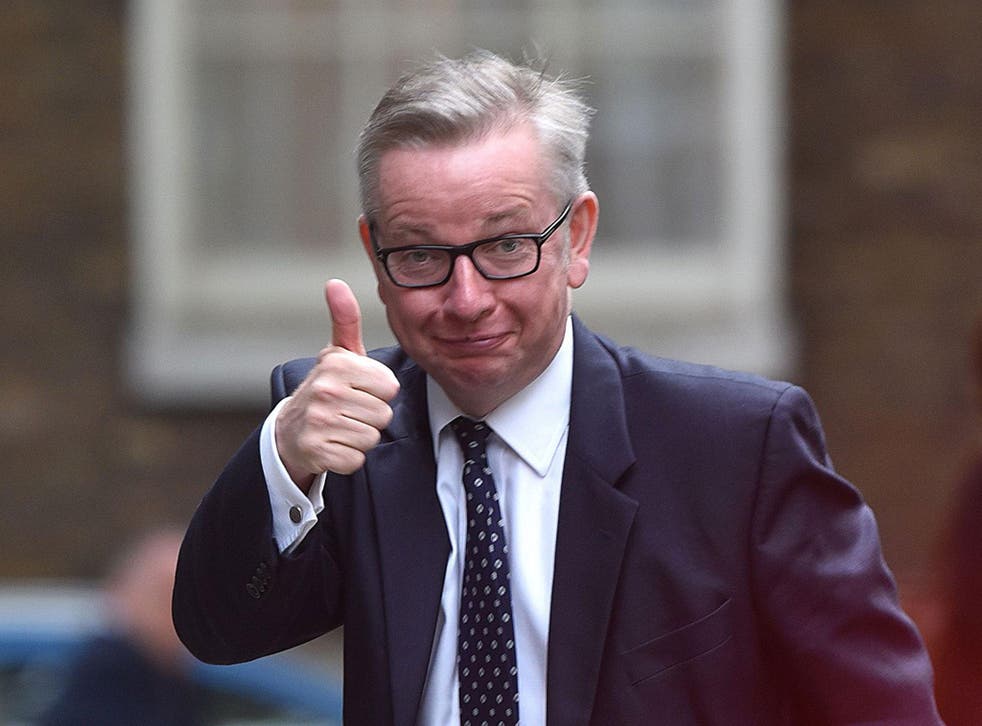 Michael Gove is back.
Not back in government after his sacking by Theresa May, but back at The Times newspaper, where he is earning startling quantities of money for a weekly column and book reviews.
According to an update in the Register of Members' Interests, Mr Gove is now working eight hours a week for the paper, for which he will pocket £150,000 a year.
The pay is considerably lower than the £247,000 a year The Telegraph forked out in return for Boris Johnson's weekly musings, but Mr Gove's new salary could come as some relief from the self-inflicted fiscal hardship of losing his Cabinet post.
The former Justice Secretary was fired in the wake of the Brexit vote after running against Theresa May for the Conservative leadership.
Along with Mr Johnson, Mr Gove played an instrumental role in the Leave campaign which unseated pro-Remain Prime Minister David Cameron.
The resignation of the prime minister reportedly came as a "shock" to Mr Gove, who later said: "I didn't have a plan for, or thought what would happen if David Cameron resigned immediately."
Mr Gove previously worked for TheTimes between 1996 and 2005, leaving the paper to embark upon his political career, winning the Surrey Heath seat at the 2005 general election.
So what are Times readers receiving in return for the paper's generous outlay?
Mr Gove's latest column explains that Donald Trump triumphed because "liberals" have grown uncomfortable with patriotism. "Loving your own country more than others no more makes you a racist, jingoist or populist than loving your own wife more than other women makes you a misogynist," he says.
Meanwhile, his book reviews contain various personal observations. An October review of DJ Taylor's The New Book of Snobs, sees Mr Gove discussing "how much class matters", and includes reflections of his own such as this:
"From his shoes, whether trainer or loafer, brown or black, oxford or brogue, to his hair, whether neatly parted with wings swept over the ears, shaven back to the skull or allowed to form a mop over the forehead — an Englishman declares his position in the social pecking order with almost every choice he makes."
It is notable that Mr Gove is tackling politics in his columns and book reviews, because according to a recent profile in The Times, he may not be the best person for the job.
"I am beginning to see why Michael Gove needs spectacles," Ann Treneman wrote in the paper last month. "Forget the eye chart: in political terms he cannot even read the top line, the one in huge letters."
She added: "He didn't anticipate winning [the Brexit vote], the prime minister resigning, or, incredibly if he ran [for Tory leader], that Boris would decide against putting his name forward."
Register for free to continue reading
Registration is a free and easy way to support our truly independent journalism
By registering, you will also enjoy limited access to Premium articles, exclusive newsletters, commenting, and virtual events with our leading journalists
Already have an account? sign in
Join our new commenting forum
Join thought-provoking conversations, follow other Independent readers and see their replies