Michael Jackson 'kept photos of naked children and pornography stash' at Neverland Ranch, records show
Police said the documents dating back to 2003 had been used in a trial where the singer was acquitted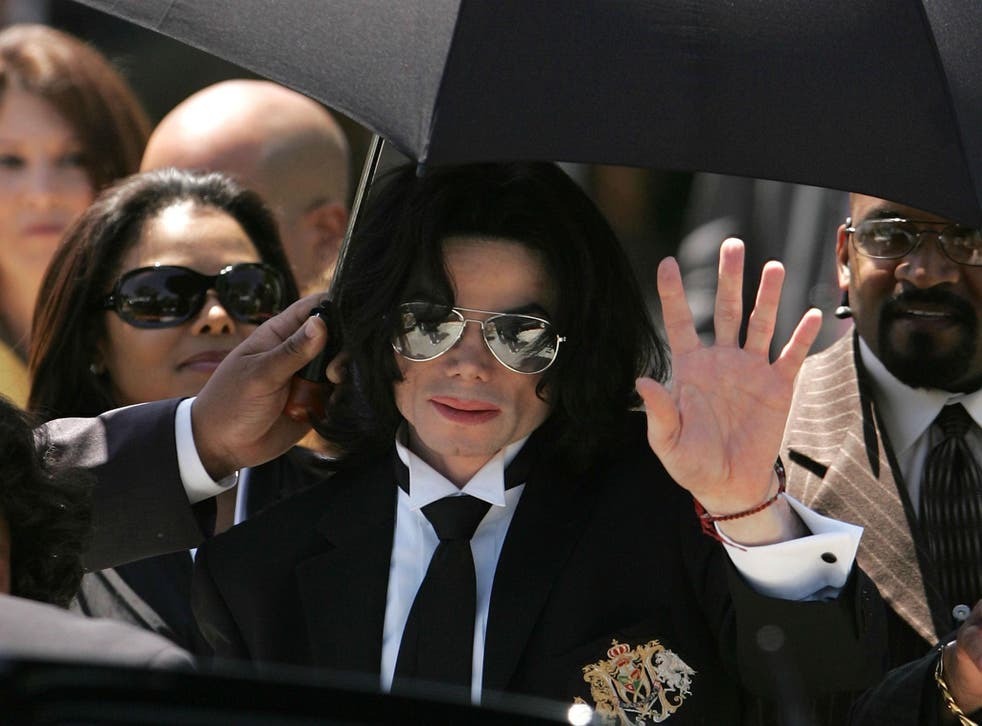 Michael Jackson's California home contained a considerable stash of pornography as well as sexual imagery featuring children, S&M and animal torture, according to purported police reports from the 2003 investigation of the superstar for child molestation.
Jackson's Neverland Ranch near Santa Barbara was raided in November 2003, shortly before the Thriller singer was charged with seven counts of child molestation and two counts of providing an intoxicant to a minor under the age of 14.
The report from the raid was never made public. But now Radar Online has obtained what appear to be the case documents. Among the items found at Jackson's home were images of children bleeding or in pain, and of children's faces superimposed onto adult bodies, the gossip site reported.
Many of the images included in the documents could be described as erotic or provocative art photography, including works from a book entitled The Fourth Sex, by artists such as the Chapman Brothers and Tracey Emin. Other books found by police contained images of children nude or in swimwear. There were also multiple porn magazines and videos in the star's bedroom and bathroom, including recent issues of Hustler's Barely Legal and Girls of Penthouse.
Ron Zonen, formerly of the Santa Barbara District Attorney's office, who worked on the Jackson prosecution, told Radar that many of the materials were used to "desensitise" the children whom the star was allegedly grooming for abuse. "We identified five different boys, who all made allegations of sexual abuse," Mr Zonen said. "There's not much question in my mind that Michael was guilty of child molestation."
During the raid, investigators also found drugs that could be used to treat sex addiction, with prescriptions written by several different doctors.
The publication of the 2003 documents was condemned by Jackson's family, including his nephew Taj Jackson.
"Not only is there absolutely no truth to this story whatsoever, but I'm truly sick of this crap. #getalife and stop living off ours," he wrote on Twitter.
Representatives of Jackson's estate said the release had overshadowed the loss of an "amazing artist and humanitarian devoted to helping children in need".
"Michael Jackson's fans, including the Executors of his estate, prefer to remember the wonderful gifts Michael left behind instead of having to once again see his good name dragged through the mud by tabloid trash," a statement said.
"Everything in these reports, including what the County of Santa Barbara calls 'content that appears to be obtained off the Internet or through unknown sources' is false, no doubt timed to the anniversary of Michael's passing.
Michael Jackson: The final decline of a pop legend

Show all 8
"Those who continue to shamelessly exploit Michael via sleazy internet 'click bait' ignore that he was acquitted by a jury in 2005 on every one of the 14 salacious charges brought against him in a failed witch hunt.
"Michael remains just as innocent of these smears in death as he was in life even though he isn't here to defend himself. Enough is enough."
Kelly Hoover, a spokesperson for the Santa Barbara Sheriff's Office, said that parts of the 61-page publication stamped with a case number were legitimate legal documents.
But she said they were "interspersed with content that appears to be obtained off the internet or through unknown sources" and that none of the official evidence had been released to the media.
"The Sheriff's Office released all of its reports and the photographs as part of the required discovery process to the prosecution and the defence," she added.
The 2003 investigation began after Gavin Arvizo, then 13, came forward with accusations of molestation against Jackson. The singer faced up to 20 years in prison, but was ultimately acquitted at trial in 2005. Lawyers allege Jackson paid a cumulative total of almost $200m to around 20 sexual abuse victims before his death in 2009, to prevent them going public with similar claims.
The Neverland Ranch, still majority owned by Jackson's estate, is currently on the market for $100m. The case documents have emerged a day after it was announced that JJ Abrams' production company Bad Robot was developing a TV series about the singer's final days, based on a new book by TV host Tavis Smiley, entitled Before You Judge Me: The Triumph and Tragedy of Michael Jackson's Last Days. The book does not deal with the child molestation allegations. "I wasn't there, and I will never know," Mr Smiley told USA Today.
Jackson died in June 2009 after going into cardiac arrest following an overdose of sedatives.
Register for free to continue reading
Registration is a free and easy way to support our truly independent journalism
By registering, you will also enjoy limited access to Premium articles, exclusive newsletters, commenting, and virtual events with our leading journalists
Already have an account? sign in