Michael Schumacher: Sabine Kehm confirms F1 legend is 'still in wake up phase' and dismisses other medical reports as false
Schumacher suffered a life-threatening skiing accident 10 weeks ago. Attempts to wake him up from a medically induced coma remain on-going
Jack de Menezes
Friday 07 March 2014 11:06 Comments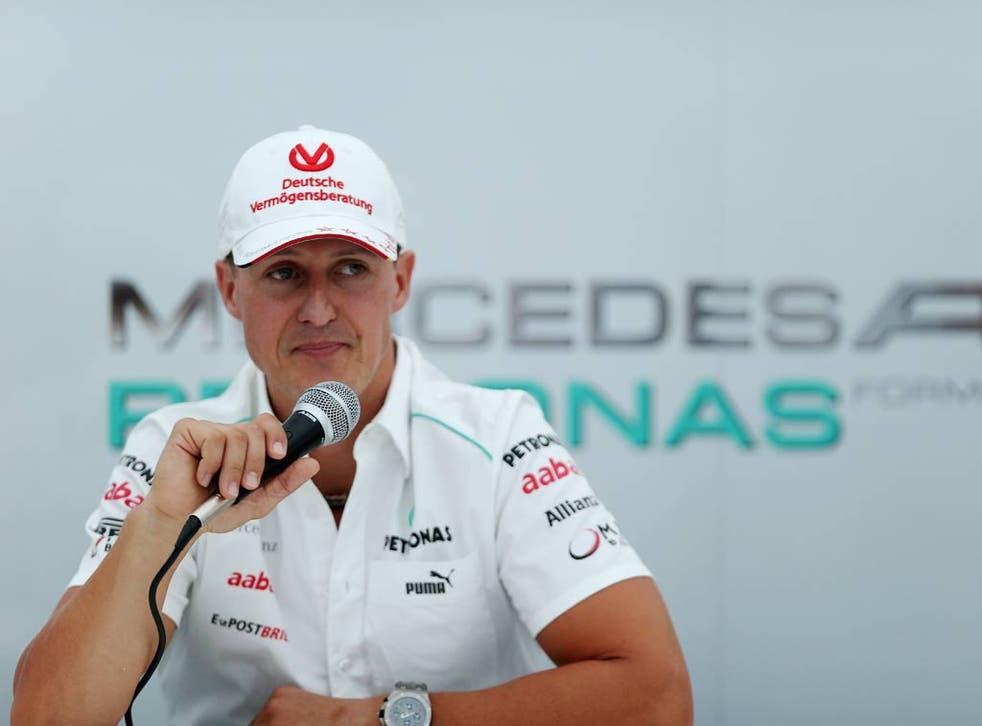 Michael Schumacher remains in the waking up process as he continues to battle the life-threatening injuries he suffered in a skiing accident over two months ago, his manager Sabine Kehm has confirmed.
Various media reports have claimed that attempts to wake up the seven-time Formula 1 world champion have been halted due to complications, but Kehm has dismissed these as "not valid" and has confirmed attempts are on-going in a process than can last months.
"Michael is still in the wake up phase," Kehm said in an official statement. "The situation has not changed. Any medical information published which is not confirmed by the team of doctors treating Michael or his management has to be considered as not valid."
Schumacher has been in a coma since hitting his head on a rock while skiing off-piste in the exclusive French resort of Meribel on December 29, and has undergone two operations to reduce pressure on the brain and remove haematomas.
His family have repeatedly thanked fans worldwide for their support and tributes to the 45-year-old and their help at what is an extremely difficult time, with messages of support continuing into the beginning of the 2014 F1 season which gets underway next weekend in Melbourne, Australia.
Ferrari president and Schumacher's former boss Luca di Montezemolo admitted this week that he remains "in shock" at what has happened to someone he still holds in huge regard. While at Ferrari, Schumacher ended a 29-year wait for a world championship when he clinched the 2000 Drivers' Championship, adding to his two previous successes with Benetton.
He went on to claim an unprecedented five in a row, a feat that could be matched this season by Sebastian Vettel, as the Red Bull driver has won the past four championships and hopes to emulate his close-friend and fellow German come the end of the season.
Speaking to journalists in Geneva, Di Montezemolo said: "Michael was and still is a very important person in my life. From 1996 onwards so many things happened in the lives of both of us and, in the difficult times, Michael was always incredibly close to the team.
"What's happened to him was a real shock to me, after all the events we shared and a great affection still remains. Michael at the moment needs that affection and support from everyone."
Register for free to continue reading
Registration is a free and easy way to support our truly independent journalism
By registering, you will also enjoy limited access to Premium articles, exclusive newsletters, commenting, and virtual events with our leading journalists
Already have an account? sign in
Register for free to continue reading
Registration is a free and easy way to support our truly independent journalism
By registering, you will also enjoy limited access to Premium articles, exclusive newsletters, commenting, and virtual events with our leading journalists
Already have an account? sign in
Join our new commenting forum
Join thought-provoking conversations, follow other Independent readers and see their replies