Miss Colombia tells Steve Harvey he needs to learn how to read cards after Miss Universe blunder
Harvey apologised to Miss Colombia while holding back tears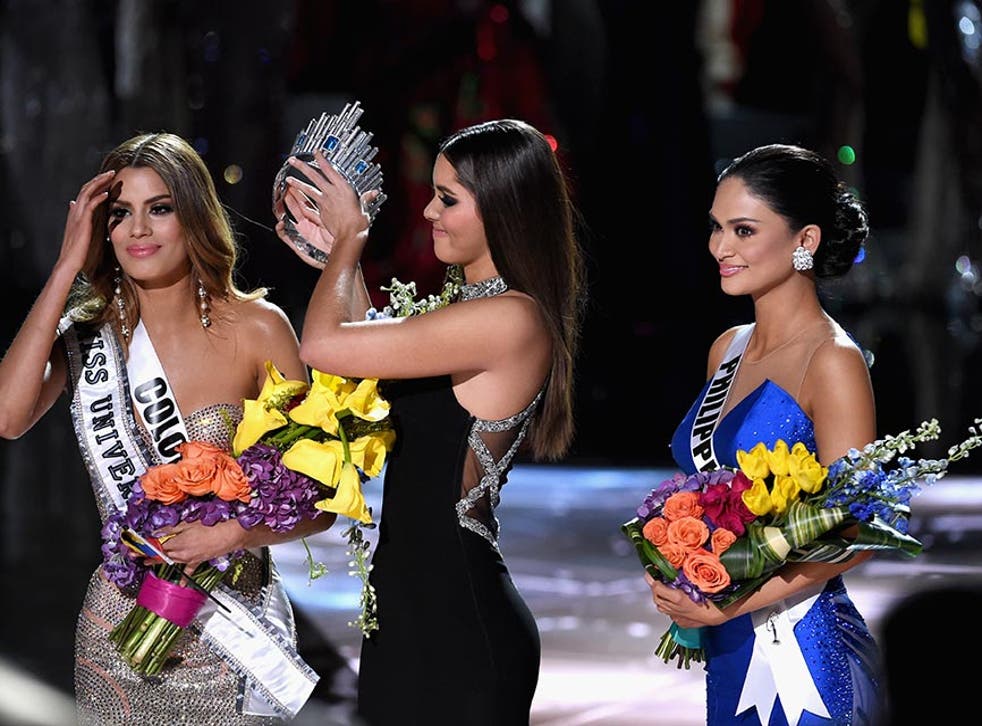 Ariadna Gutierrez, otherwise known as Miss Colombia, has advised Steve Harvey to learn how to read following the ultimate TV blunder of 2015.
Ms Gutierrez was wrongly crowned the winner of the Miss Universe contest by Harvey in December - live on air. The 22-year-old was de-crowned live on television and forced to watch as it was handed to Pia Alonzo Wurtzbach (Miss Philippines).
Now, Harvey and Ms Gutierrez have reunited after she appeared as a guest on the veteran entertainer's daytime Steve Harvey Show.
In a segment dramatically titled "Miss Universe: The Truth", Ms Gutierrez walked on stage to a standing ovation from the audience before greeting Harvey and sharing an awkward, prolonged embrace.
Both holding back tears, Harvey, 59, apologised for "casting [Ms Gutierrez] into a spotlight or place that I never intended to".
When asked by Harvey how she felt about the situation, she replied: "Is this for real?" before telling Harvey: "You have to learn how to read cards because it was on the card."
The card was then shown to the audience as was a picture which perfectly captured one of the most awkward moments in television history.
Miss Universe fail reupload
The friendly exchange comes in stark contrast to the stance Ms Gutierrez took a couple of weeks ago when she said the incident was "humiliating for me and for all people in Latin America in the auditorium".
She also criticised Miss Universe organisers for allowing the blunder to be played out the way it did. She proposed they could have sorted the mistake in a press conference the next day instead of on live television while a global audience cringed at home.
Register for free to continue reading
Registration is a free and easy way to support our truly independent journalism
By registering, you will also enjoy limited access to Premium articles, exclusive newsletters, commenting, and virtual events with our leading journalists
Already have an account? sign in
Register for free to continue reading
Registration is a free and easy way to support our truly independent journalism
By registering, you will also enjoy limited access to Premium articles, exclusive newsletters, commenting, and virtual events with our leading journalists
Already have an account? sign in
Join our new commenting forum
Join thought-provoking conversations, follow other Independent readers and see their replies