Why Miss Lebanon claims she was ambushed by Miss Israel in the run-up to the Miss Universe contest
The two countries are still technically at war, although the border has been largely quiet since their 2006 conflict
Ian Johnston
Monday 19 January 2015 00:17 Comments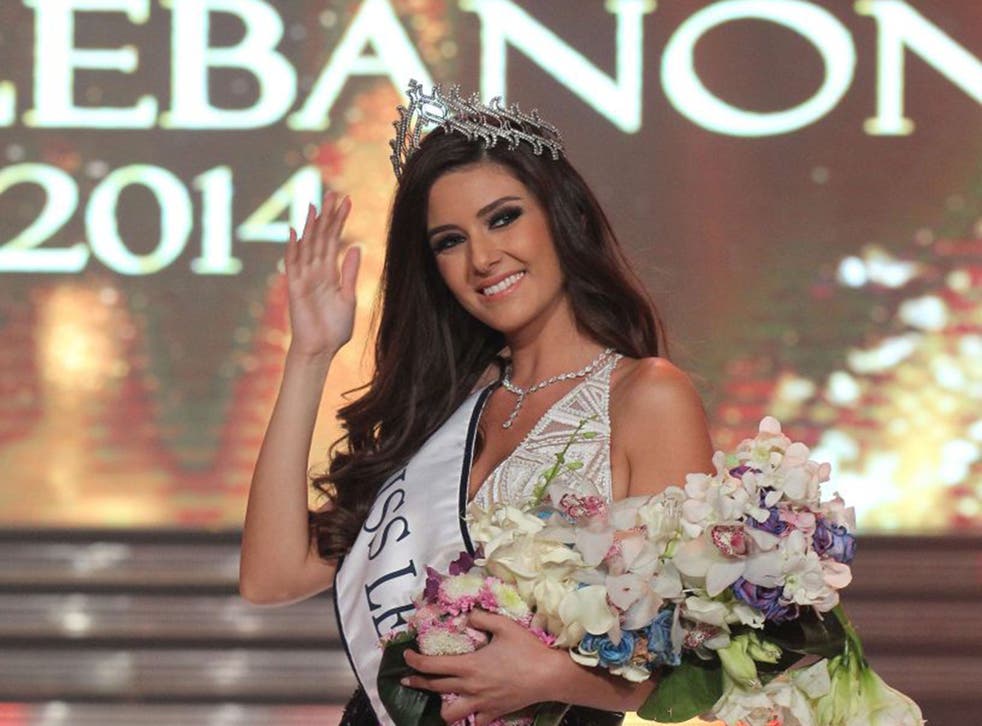 Miss Lebanon has claimed she was ambushed by Miss Israel for a selfie in the run-up to the Miss Universe contest, after she faced criticism at home for consorting with the citizen of an enemy state.
Saly Greige was pictured smiling alongside Miss Israel, Doron Matalon, Miss Slovenia and Miss Japan in Miami ahead of the pageant this week in a photograph posted on the Israeli's Instagram site.
The two countries are still technically at war, although the border has been largely quiet since their 2006 conflict. Lebanese people risk prison if they call or travel to Israel and all Israeli products are banned in Lebanon.
The appearance of Ms Matalon's photograph, captioned "Good morning from us!", prompted a wave of condemnation of Ms Greige on social media with the hashtag "two words for Miss Lebanon" trending on Twitter over the weekend, according to Lebanon's Daily Star newspaper.
One user tweeted: "You [Greige] could have avoided mingling with the Israeli contestant like previous Lebanese contestants have done throughout the years. And if you were harassed like you say, you could have at least avoided the huge smile [we see] on your face."
Some called for the Miss Lebanon title to be taken from Ms Greige. This happened to Huda al-Turk, who was stripped of the honour in 1993 because she posed for a picture with the then Miss Israel.
Ms Greige insisted she had been taken by surprise.
"Since the first day of my arrival to participate to Miss Universe, I was very cautious to avoid being in any photo or communication with Miss Israel (that tried several times to have a photo with me)," Ms Greige wrote on her Facebook page.
"I was having a photo with Miss Japan, Miss Slovenia and myself, suddenly Miss Israel jumped in, took a selfie, and put it on her social media."
Ms Matalon said the whole affair "doesn't surprise me, but it still makes me sad".
"Too bad you cannot put the hostility out of the game, only for three weeks of an experience of a lifetime that we can meet girls from around the world and also from the neighbouring country," she wrote on her Instagram page.
Reuters contributed to this report.
Register for free to continue reading
Registration is a free and easy way to support our truly independent journalism
By registering, you will also enjoy limited access to Premium articles, exclusive newsletters, commenting, and virtual events with our leading journalists
Already have an account? sign in
Register for free to continue reading
Registration is a free and easy way to support our truly independent journalism
By registering, you will also enjoy limited access to Premium articles, exclusive newsletters, commenting, and virtual events with our leading journalists
Already have an account? sign in
Join our new commenting forum
Join thought-provoking conversations, follow other Independent readers and see their replies