Halima Aden: Somali-American teenager is first contestant to wear hijab, burkini in Miss Minnesota USA Pageant
'An extra layer of clothing does not define your beauty, because beauty is within'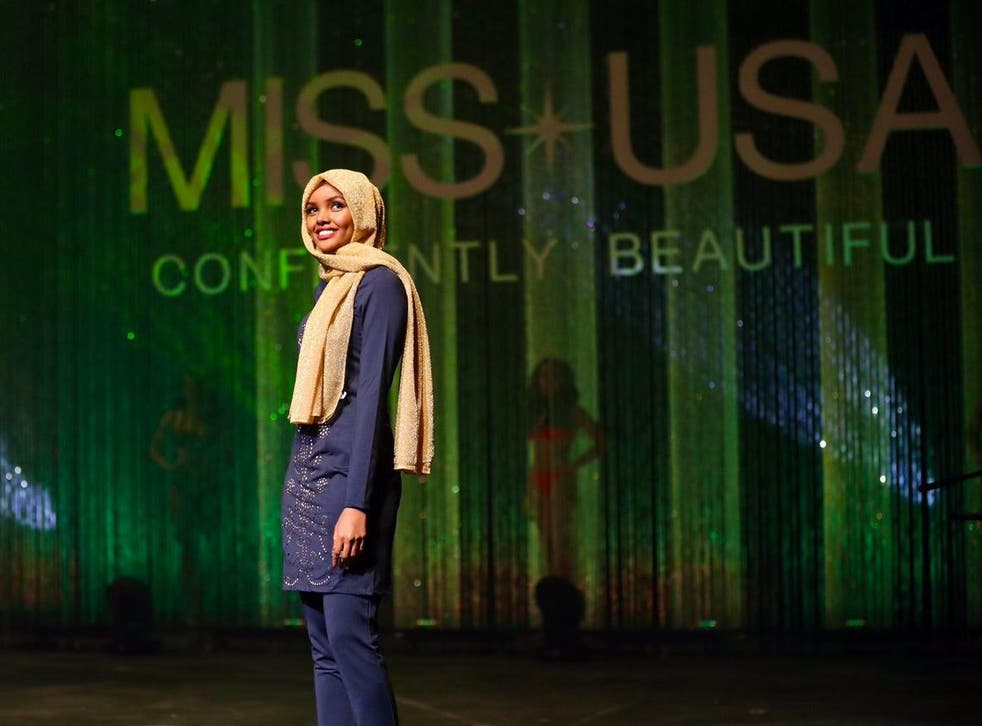 Halima Aden will be the first woman to compete in the Miss Minnesota USA Pageant while wearing a hijab and burkini.
Ms Aden, 19, a Somali-American in the northern state, won a competition over the weekend sending her to the semi-finals.
Her presence in the competition comes at a time when Muslim representation is important in the US. In the wake of Donald Trump's election to the presidency, the Southern Poverty Law Centre has received hundreds of reports of Islamophobic hate crimes and harassment. Mr Trump campaigned on hardline anti-Muslim rhetoric throughout candidacy.
But Ms Aden hopes that her appearance in the pageant will help in the fight against negative stereotypes of Muslim people in the US.
"The people that are doing bad things, they don't represent an entire group," she told ABC 7. "I feel like I'm here to bust those misconceptions and stereotypes of Muslim women."
The decision to allow Ms Aden compete in her hijab and burkini was simple for pageant organisers.
"The organisation continues to evolve as women evolve," the director of Miss Minnesota USA and Miss Minnesota Teen USA, Denise Wallace, said. "The Miss Universe organisation is proud to be the forefront of the diversity of beauty."
Ms Adem was born in a Kenyan refugee camp and immigrated to the with her family when she was six. And she says she has found a support from her fellow contestants.
"A lot of girls were very supportive of what I'm doing, and that just makes it all worth it," she said, "and my advice to them is just be confident in your own skin, know that an extra layer of clothing does not define your beauty, because beauty is within."
Register for free to continue reading
Registration is a free and easy way to support our truly independent journalism
By registering, you will also enjoy limited access to Premium articles, exclusive newsletters, commenting, and virtual events with our leading journalists
Already have an account? sign in
Register for free to continue reading
Registration is a free and easy way to support our truly independent journalism
By registering, you will also enjoy limited access to Premium articles, exclusive newsletters, commenting, and virtual events with our leading journalists
Already have an account? sign in