Miss Universe 2015: Miss Colombia thanks supporters via Instagram post after blunder
'Life continues and in the future we will find out why things happen the way they happen'
Olivia Blair
Wednesday 23 December 2015 10:45 Comments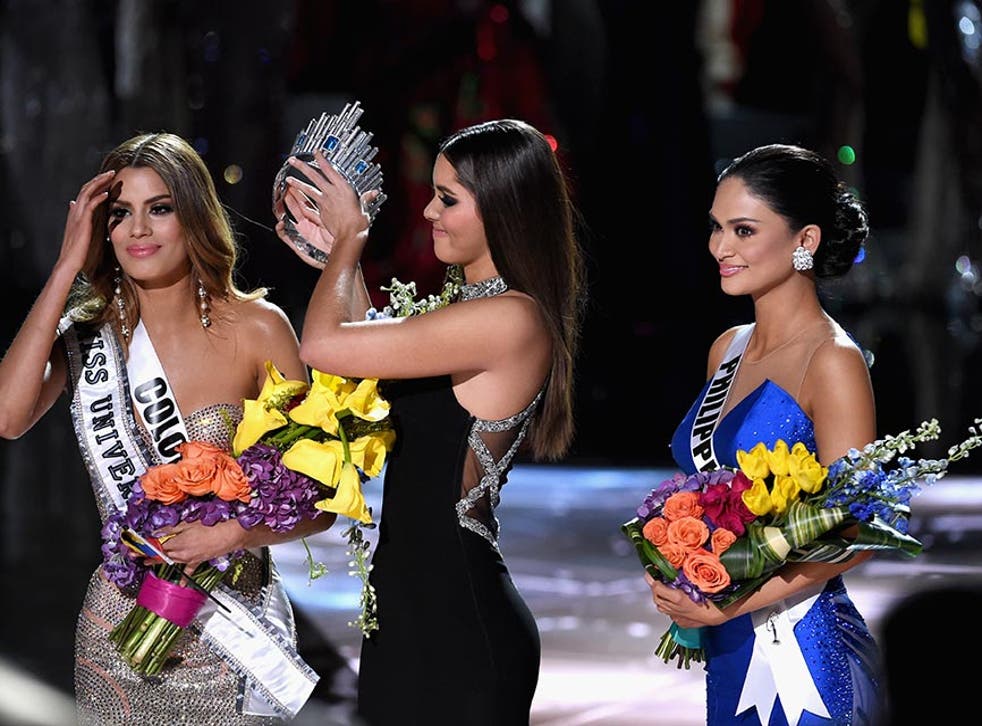 The 1st runner-up of the Miss Universe contest, Miss Colombia, has responded to the controversy surrounding around this year's pageant after she was wrongly pronounced the winner.
In undoubtedly one of the more eventful contests in recent years, host Steve Harvey committed a live-TV blunder by announcing Ariadna Gutierrez as the winner instead of the first runner-up.
After realising his mistake, Miss Colombia had the crown removed from her head before it was given to the actual winner of the contest, Miss Philippines.
Addressing Sunday's incident for the first time, she posted a photo of herself on Instagram alongside a caption which thanked everyone who sent her well-wishes.
Ms Gutierrez said she appreciates that people from "every corner of the world" are talking about Colombia after Miss Universe 2015.
"I am most fortunate and thankful for having the support not only from one country but from the whole entire world.
"Your destiny is written for you. And my destiny was this. I was able to bring happiness to my country after becoming Miss Universe for only a couple of minutes.
"Today because of that Colombia and the Latino Community are being talked about in every corner of the world."
Displaying no hard feelings towards Pia Alonzo Wurtzbach (Miss Philippines), Ms Gutierrez also used her post to send her best wishes.
"I also want to congratulate the Philippines for their new Miss Universe," she wrote. "The happiness that you must be feeling must be incredible."
Miss Universe fail reupload
She concluded optimistically: "Life continues and in the future we will find out why things happen the way they happen."
The post came one day after Miss Germany apologised after criticising the winner.
In an interview immediately after the contest in Las Vegas, Sarah-Lorraine Riek told reporters: "I was very happy for Colombia actually she really deserved it and I'm not really happy with the result and neither are the other girls."
Register for free to continue reading
Registration is a free and easy way to support our truly independent journalism
By registering, you will also enjoy limited access to Premium articles, exclusive newsletters, commenting, and virtual events with our leading journalists
Already have an account? sign in
Join our new commenting forum
Join thought-provoking conversations, follow other Independent readers and see their replies