Missguided draws criticism for bringing back 'Team Angelina' and 'Team Jen' t-shirts
'Bit rude cashing in on someone's divorce like that,' suggests one Twitter user
Maya Oppenheim
Wednesday 05 October 2016 17:09 Comments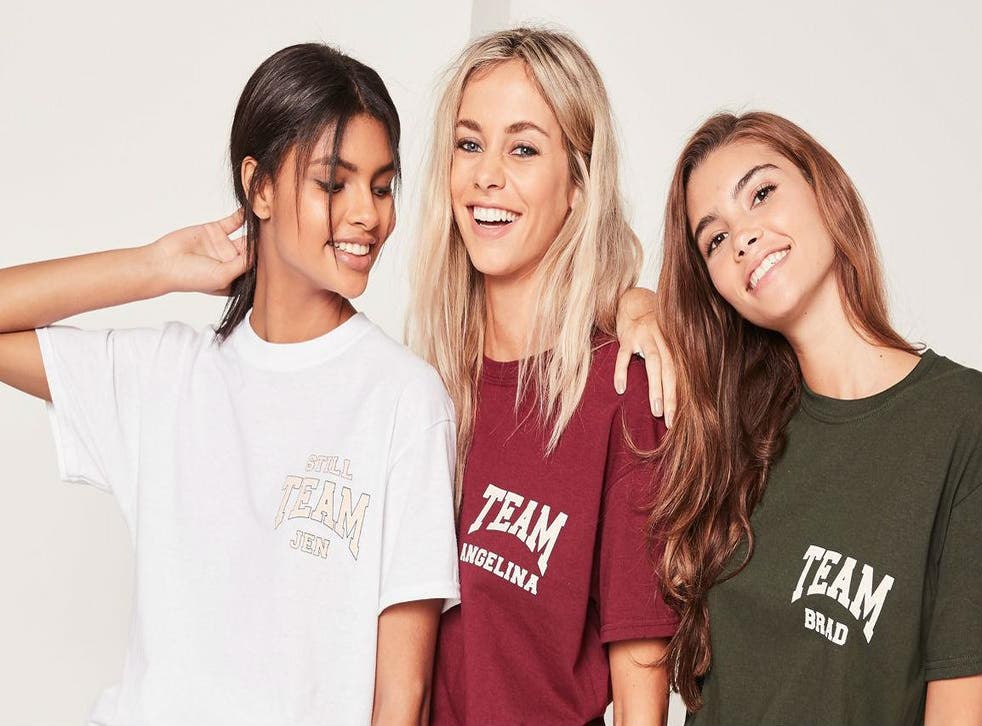 Entering the website of fashion store Missguided, you could be forgiven for thinking you had walked into a time machine and transported back to mid noughties. It might be over a decade since Jennifer Aniston and Brad Pitt divorced but 'Team Jen' and 'Team Angelina' t-shirts are now on sale again, with the store's website urging buyers to "pick a team".
Since Angelina Jolie announced she was filing for divorce from Pitt two weeks ago, Aniston has been unwittingly and unwillingly hurled back into the public eye. From the image of her wildly grinning on the cover of The New York Post to the onslaught of memes imagining the Friends actress celebrating the news on social media, people have taken glee in, well, going back in time.
Aniston might have divorced Pitt in the year YouTube was founded and Tony Blair was elected for a third term but somehow the limelight still falls back on Aniston.
Angelina Jolie and Brad Pitt relationship in pictures

Show all 35
But not everyone is so happy about harking back to the days of Team Jen versus Team Jolie and some fans have criticised the fashion store, who also has team Brad tees for sale, for printing the t-shirts.
"They have 'Team Brad' and 'Team Angelina' t-shirts on Missguided.. are they for real that's someone's broken marriage," wrote one Twitter user.
"Why are @Missguided selling 'Team Brad', 'Team Angelina' and 'Team Jen' t-shirts? Bit rude cashing in on someone's divorce like that, nah?" chipped in another. "Are the 'team Brad' 'team Jen' and 'team Angelina' t shirts on Missguided really that necessary?? Blergh," said one more.
"How are Missguided gonna sell "Team Brad" and "Team Angelina" t-shirts, the disrespect," said another.
Jolie requested physical custody and joint legal custody of their six children and asked for Pitt to be granted visitation rights. The pair has six children together. They officially got together in 2006 after appearing on Mr and Mrs Smith together and then married at Chateau Miraval in the French village of Correns in 2014.
Missguided are not the only brand who have capitalised on the demise of Brangelina. Norwegian Airlines reacted to the news with a tongue-in-cheek advertising campaign inviting travellers to choose their flights to LA with the line "Brad is single".
A spokesperson for Missguided told The Independent the brand is declining to comment on the issue.
Register for free to continue reading
Registration is a free and easy way to support our truly independent journalism
By registering, you will also enjoy limited access to Premium articles, exclusive newsletters, commenting, and virtual events with our leading journalists
Already have an account? sign in
Join our new commenting forum
Join thought-provoking conversations, follow other Independent readers and see their replies