Model Chantelle Winnie remembers being beaten up at school for her rare skin condition
The model is now celebrated for embracing her natural looks.
Chris Mandle
Thursday 16 July 2015 15:44 Comments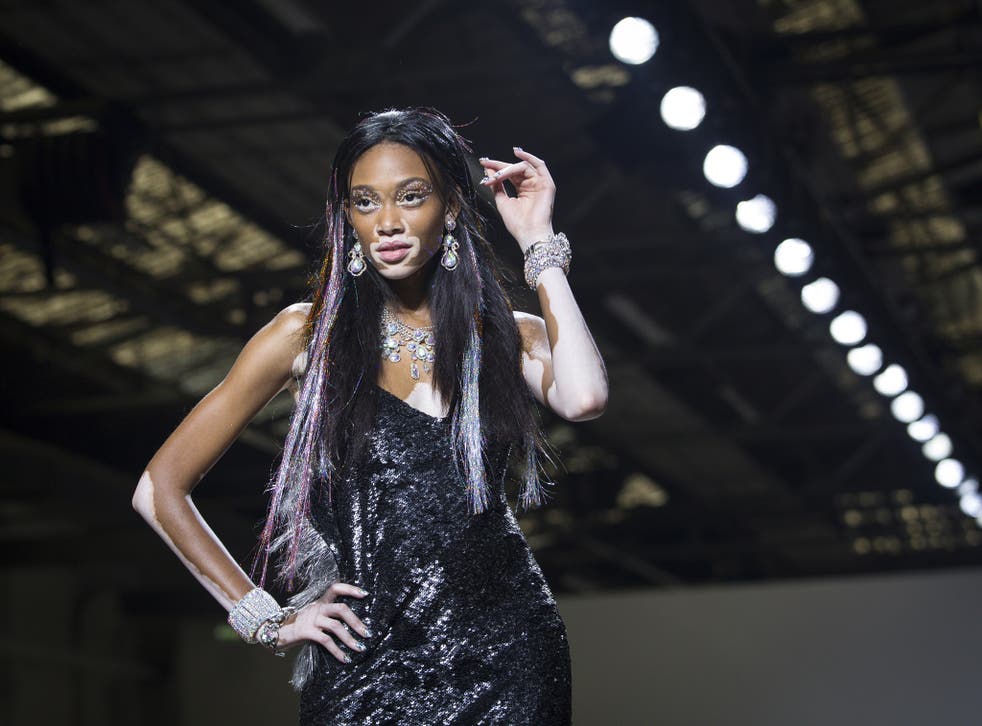 Chantelle Winnie, America's Next Top Model contestant and international fashion icon, has talked about the horrible verbal abuse she suffered as a child after being diagnosed with vitiligo.
Winnie was a contestant on cycle 21 of ANTM and drew considerable attention for embracing her unique mix of skin tones.
Though she didn't win, she went on to score major ad campaigns and modelled in New York and Madrid fashion weeks, and earlier this year became the new face of fashion label Desigual.
"I discovered that I was 'different' in the third grade," the 20-year-old told Cosmopolitan. "I thought I had made friends with a couple of girls, until they stopped talking to me. When I confronted them, they said their mothers had warned them to stay away, because they might catch my skin condition."
Winnie developed vitiligo when she was only 4 years old. The skin condition is poorly understood, but is believed to occur when antibodies incorrectly target the healthy skin cells that contain melanin, which is responsible for skin tone.
It gets progressively worse as the sufferer ages and, although it is relatively painless, will often 'spread', causing a contrast between pigmented and non-pigmented skin.
Winnie discusses being attacked at school for the way she looked, with girls mooing at her and comparing her complexion to a cow.
"I let her beat me up," she admitted, when one girl confronted her. "The next day, she came at me again. This time, I snapped, defending myself extremely well. I never had to fight her again. But it was only the first of many similar incidents."
She is the muse of famed photographer Nick Knight and London designer Ashish, she has been shot for Dazed & Confused and she even played the elusive singer Sia in the video for Guts Over Fear.
Outspoken ANTM host Tyra Banks said of Winnie: "The moment I laid eyes on Chantelle, I wanted her on Top Model. Her beauty is undeniable and her skin breaks down barriers of what is considered beautiful."
And last November, in an inspirational TED Talk, she concluded "there is beauty in everything,"
"I had to relearn how to love myself by forgetting the opinions of everyone else and focusing on my opinion of myself," she said.
"Today, my motto is: you only have one life. Live it for yourself, not for anyone else. Do what the f**k you want!"
Register for free to continue reading
Registration is a free and easy way to support our truly independent journalism
By registering, you will also enjoy limited access to Premium articles, exclusive newsletters, commenting, and virtual events with our leading journalists
Already have an account? sign in
Join our new commenting forum
Join thought-provoking conversations, follow other Independent readers and see their replies