England cricketer Moeen Ali criticises 'joke' stop by border officers at Birmingham Airport on return from World T20
The cricketer complained on Twitter that he was never normally stopped 'when travelling with a team in uniform'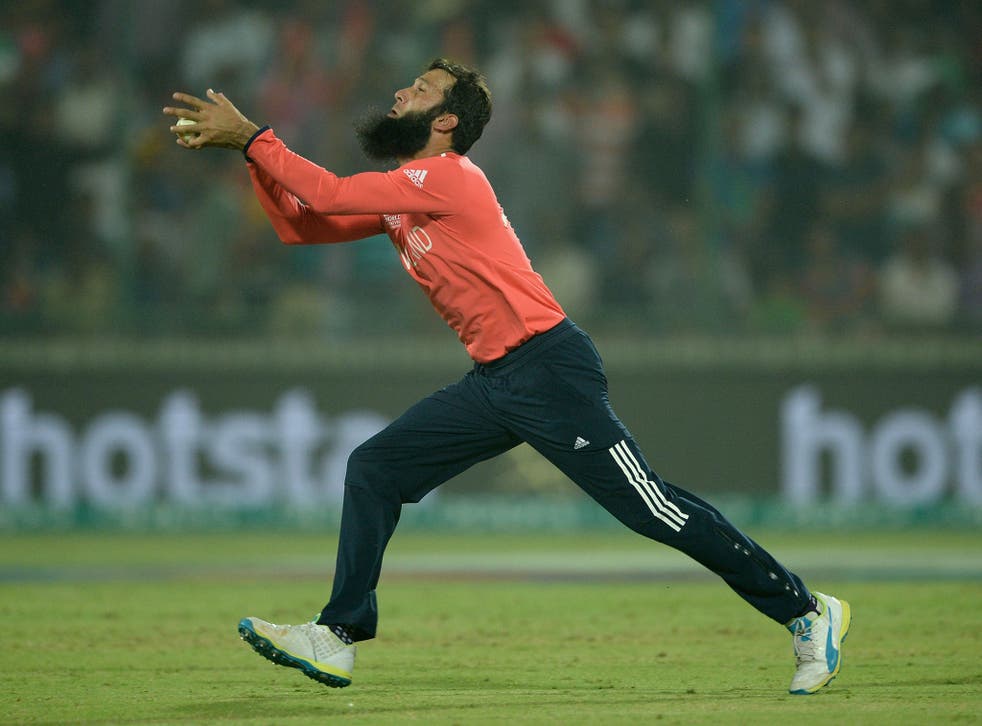 The England cricketer Moeen Ali says he was stopped by border officers on his return to the country from the T20 world cup in India.
Ali arrived at Birmingham Airport on Saturday afternoon ahead of the start of Worcestershire's county cricket season, but was detained by members of the UK Border Force for 40 minutes.
The Birmingham-born all-rounder is a Muslim of Pakistani origin, and took to Twitter to complain that he was never stopped when he was travelling through airports with the rest of the England team.
Describing the experience as "hard times", he was supported by fellow English cricketers Adil Rashid and Owais Shah, the latter saying "your beard might have something to do with it".
Ali wrote: "Have never been stopped at the airport when travelling with a team in uniform, but travel alone and get stopped for 40 minutes!! Joke."
Single-handedly rescuing England from what would have been a humiliating defeat against Afghanistan, Ali played a key role in seeing Eoin Morgan's team through to the final.
But he was caught for a duck off his second ball in the dramatic match in Kolkata which saw the West Indies triumph.
Birmingham Airport officials confirmed Ali had been stopped by UK Border Force agents, but suggested this was because he had "exceeded his duty-free allowance".
A spokesperson directed The Independent to a later tweet from Ali in which he said: "apparently can't buy gifts for the family that's more than £390".
When asked why Ali was stopped in the first place, the airport said enquiries should be directed to the UK Border Force.
A spokeswoman for the Home Office declined to comment the cricketer's case specifically.
Register for free to continue reading
Registration is a free and easy way to support our truly independent journalism
By registering, you will also enjoy limited access to Premium articles, exclusive newsletters, commenting, and virtual events with our leading journalists
Already have an account? sign in
Register for free to continue reading
Registration is a free and easy way to support our truly independent journalism
By registering, you will also enjoy limited access to Premium articles, exclusive newsletters, commenting, and virtual events with our leading journalists
Already have an account? sign in
Join our new commenting forum
Join thought-provoking conversations, follow other Independent readers and see their replies