Muhammad Ali dies aged 74: George Foreman, Mike Tyson and Floyd Mayweather lead the tributes
Foreman, who went head-to-head against Ali in the 1974 'Rumble in the Jungle' said he was one of the 'greatest human beings' he'd ever met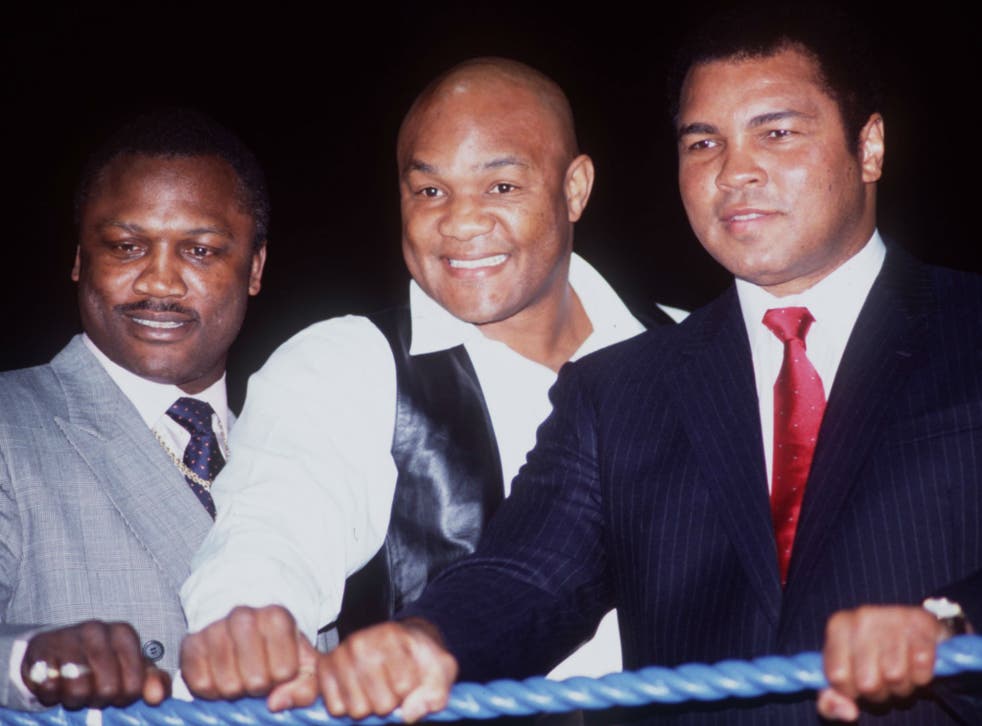 Tributes have poured in for the boxing legend and civil rights campaigner Muhammad Ali who has died age 74.
Ali passed away after being admitted to a Phoenix hospital for a respiratory condition earlier this week.
Fellow boxers George Foreman, Mike Tyson and Floyd Mayweather led tributes, paying their respects to the iconic boxer. The tributes also extended beyond the boxing world as figures from the civil rights movement, politics and entertainment shared their sentiments.
Muhammad Ali: A life in pictures

Show all 20
Foreman, who infamously fought Ali in the "Rumble in the Jungle fight" of 1974, said he, Ali and Joe Frazier were "one". He also told the BBC: "Muhammad Ali was one of the greatest human beings I have ever met. No doubt he was one of the best people to have lived in this day and age."
Tyson also paid tribute, sharing a photo of them together, and calling him the greatest.
Floyd Mayweather Jnr told Fox News there will never be another Muhammad Ali. "The black community all around the world, black people all around the world, needed him. He was the voice for us. He's the voice for me to be where I'm at today."
Muhammad Ali dies- Boxing world pays tribute to 'The Greatest'
Frank Bruno called Ali a "mentor, friend and earthly god of humanity", while Lennox Lewis praised his "courage and conviction".
British boxer Amir Khan also paid tribute on Twitter.
Another British boxer, Nicola Adams, called Ali an "inspiration".
Reverend Al Sharpton, who had been a friend of Ali's since the pair were 19, paid a series of tributes on social media calling him a "true champion in and out of the ring".
Civil rights campaigner Reverend Jesse Jackson Snr also paid tribute.
Former president of the US Bill Clinton, who awarded Ali with the Presidential Citizens medal in 2001, said he and Democrat hopeful Hillary are "saddened" by his death.
A statement said: "I was honoured to award him with the Presidential Citizens medal at the White House, to watch him light the Olympic flame and to forge a friendship with a man who, through triumph and trials, became even greater than his legend."
Michael Parkinson, who interviewed Ali on several occasions, told the BBC he was "extraordinary".
Lionel Richie said the Heavyweight Champion will always be his "hero".
David Beckham shared a photo of himself meeting the boxer, writing he was :the greatest there ever will be".
Formula One driver Lewis Hamilton said he was "gutted" by the death of Ali.
From beyond the boxing world, Apple CEO Tim Cook paid tribute with a quote from Ali while David Cameron said he was a "champion of civil rights and a role model for so many people".
A funeral service for Ali is expected to take place on Wednesday in his hometown of Louisville, Kentucky.
Additional reporting by agencies.
Register for free to continue reading
Registration is a free and easy way to support our truly independent journalism
By registering, you will also enjoy limited access to Premium articles, exclusive newsletters, commenting, and virtual events with our leading journalists
Already have an account? sign in
Register for free to continue reading
Registration is a free and easy way to support our truly independent journalism
By registering, you will also enjoy limited access to Premium articles, exclusive newsletters, commenting, and virtual events with our leading journalists
Already have an account? sign in
Join our new commenting forum
Join thought-provoking conversations, follow other Independent readers and see their replies