Muhammad Ali's daughters on their sensitive father who cries at seeing elderly couples in love
Maryum and Hana Ali share their stories of the playful, engaging family man behind the boxing gloves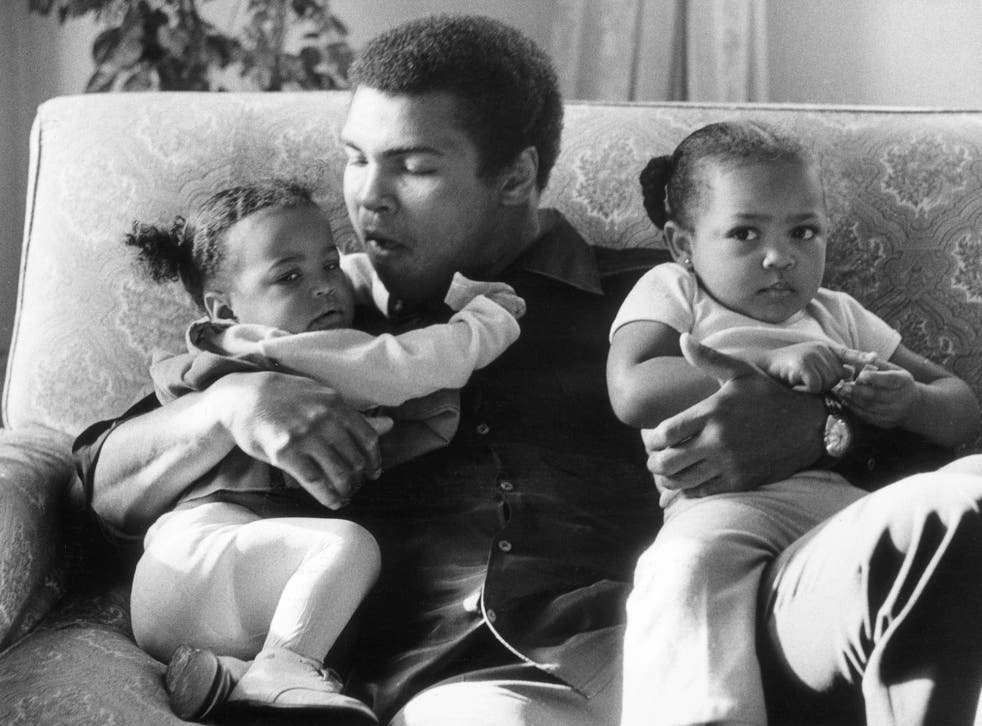 Maryum and Hana Ali were born daughters of one of the most legendary boxers in history – Muhammad Ali.
But aside from his sporting prowess, Ali, now 73 and a Parkinson's sufferer, is also an adoring, sensitive father with a wicked sense of humour and predisposition to tears. As a new documentary, I Am Ali, is released in the UK, two of his nine children share their stories of the playful, engaging family man behind the boxing gloves, who is not as unwell as the international press have alleged. In fact, he's in good form, and is delighted by all the media attention his apparent brush with death has brought him.
Here, they detail how he reacted when he lost fights, what makes him cry (a lot apparently) and his constant need to be told he was loved.
Independent: What do you think I Am Ali reveals about your father that the public don't already know?
Hana: "Director Claire Lewis told his story with new material with added personal home family recording, so you get the added benefit of knowing what he was like at home with his children. The film speaks of the essence of who he is as an individual."
"He is playful, loving and sensitive; he has no problem showing his emotions like most men do. My dad even asks for directions if we're lost. Most men don't do that. He's very secure with himself. He's so secure he doesn't mind crying at the drop of a hat. It doesn't matter who's there or who's watching. He's not shy. He's not sorry for it. He loved us, he would tell us that all the time – even with his sons he's say, 'I love you, I love you, I love you.' He needed to hear it more than he said. He'd often ask, 'Let me hear you tell me you love me' over and over again. He needs to be loved and he loved to loved."
Maryum: "He was a great teacher; he used to preach a little bit. He liked hearing from us. I remember him asking me, 'What do you think about me returning to the ring?' I was only 11. He really did engage with us. He cared, he loved getting our perspectives. He's so funny too. He'd tell me off for using a profanity, then he'd say, 'But I'm curious, what do you sound like when you use a profanity? Let's hear it.' He was just an interesting person and he got a kick out of how we thought."
Great boxing rivalries

Show all 10
I: What was he like as a father?
M: "He was actually so present. He made me feel like the most special girl in the world because he gave me so much attention to detail. His office was never closed. Every little scribble I did, he kept it in a box. He's got it down in his basement. He loved his children.
"He was extremely sensitive. My father is the kind of person who would see an old couple walking down a street and he'd start to cry because it'd remind him of his own parents. But he has such an amazing heart."
I: Was it difficult watching your father fighting in the ring?
M: "For me it was. I'll never forget when Ken Norton broke his jaw when he lost in 1978. Her best friend is Kenny Norton's daughter you know, so that was funny.
"It was hard, but he won most of the time. When he broke his jaw I thought he'd never talk again. His jaw was wired shut and I was so worried for him. But he'd say, 'It's going to come off Maryum. Don't worry, I'll be ok.' It was nerve-wracking though especially towards the end."
H: "I never watched the last two fights. It's too depressing. It's not that I feel he should have stopped, everything is part of his legacy, of who he is and his lessons on earth, his spirituality tells him to do certain things. there's nothing he shouldn't have done. It was just hard knowing what was going to happen and seeing him not do his best knowing he had Parkinson's.
"He didn't let us come to the fights. I do have a memory of him losing a fight and him being by the edge of the rope, sitting there with his head down wearing his robe. I remember him looking up, seeing us and opening his arms and we went to hug him."
M: "That last fight we were praying that he would lose. And when he did we were so happy, we were jumping up and down and people around us were like, 'Aren't they Ali's kids?' Because we knew he would have to stop."
H: "He physically couldn't do it. It was the Parkinson's."
I: How is your father's condition now? He is reported to bedridden and struggling to talk...
H: "Parkinson's is progressive and people don't study enough, so they don't understand that what they're seeing is normal. They see him looking tired, he's 73 and has Parkinson's. Usually when they see him like that it's because he's been out the night before. But at home he looks peaceful. Every day is different. Some days he's more tired than others so those days he may not talk as much, but he has moments every single day where he communicates fine. He just has a low pitch. He can still talk.
"We actually have conversations with him in the mornings as that's when he's at his best. He still loves being Muhammad Ali. He's not bedridden. He would never spend the day in bed. He gets up and gets dressed every day and has his day planned. If he's tired it's because he was out the night before at a benefit or a fight night, so he might rest a little longer. But he's never just in the bed."
I: How has he reacted to the false reports?
H: "My dad loves making the news even if he means he's dying, so he doesn't think it's bad. I've said to him, 'Dad you're in the news, people think you're dying.' He says, 'They do? Did I make the front page?' That's all he wants to know."
M: "There hasn't been one story that's been real about his health. There was one that was real where he was dehydrated but he wasn't dying.
"Parkinson's is… the brain produces dopamine and his brain doesn't produce that anymore. It controls your motorfunctions, so his motorfunctions are deficient. He doesn't walk the same anymore, he doesn't move the same way. He's had it for 30 years and the progression was very slow. It attacks people differently. With Michael J Fox, it doesn't attack his speech as much, but he shakes more. A lot of people with Parkinson's speak in whispers.
"Unless you get a report from his wife or children, it's all fake because we would never lie about his health. We're just not that kind of family. People who know him, but are not near him a lot today like his brother, don't understand Parkinson's. It's been amazing how negligent reporters have been. But however, we know it sells magazines. He's a big figure, he has an illness. It used to be bad for us, the first time it was reported I panicked and called my stepmother and said 'is this true?'. Now when we hear it we don't panic as much."
H: "I talk to my dad every day so I know it's not true. I know he's fine. They're just trying to find a way of writing about him. Our brother is not trying to do wrong; it's just that they don't see him a lot. When they do see him, they might tell an interviewer what they think and the reporter will take that and run with it. They're not trying to be malicious, they're talking the truth as they know it, but it's not coming from the facts."
Register for free to continue reading
Registration is a free and easy way to support our truly independent journalism
By registering, you will also enjoy limited access to Premium articles, exclusive newsletters, commenting, and virtual events with our leading journalists
Already have an account? sign in
Register for free to continue reading
Registration is a free and easy way to support our truly independent journalism
By registering, you will also enjoy limited access to Premium articles, exclusive newsletters, commenting, and virtual events with our leading journalists
Already have an account? sign in
Join our new commenting forum
Join thought-provoking conversations, follow other Independent readers and see their replies