Muhammad Ali to make 'final UK visit' for I Am The Greatest exhibition at O2 Arena
Visitors to the exhibition will be given an 'interactive' demonstration of the world's greatest heavyweight's ring skills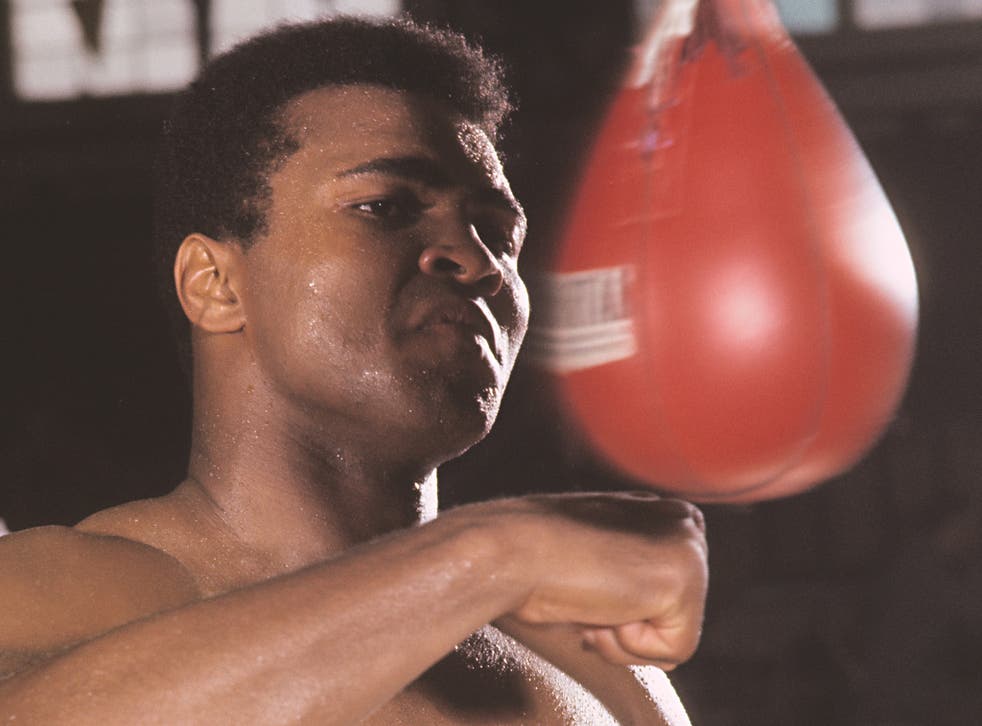 Visitors will be given an "interactive" demonstration of Muhammad Ali's revolutionary ring skills when a major exhibition devoted to the world's greatest heavyweight boxer opens in London.
Staged at the O2 Arena, after a hit Elvis Presley exhibition left the building, I Am The Greatest will use more than 100 artefacts from Ali's personal archive to tell the turbulent story of the pugilist's life inside and outside the ring.
The 74 year-old, who suffers from Parkinson's Disease, is expected to make what could be his final visit to the UK to attend the show, which opens in March and is being staged with the support of his wife, Lonnie.
Items on display will include a pair of gold boxing gloves given to Elvis and signed by Ali in 1973, his "Three Times World Champion" ring from 1974 and participation medals from the 1960 Rome Olympics, where Ali won the gold medal in boxing's Light Heavyweight class in his last group of amateur fights.
Ali claimed to have thrown his original Rome gold medal into an Ohio river in disgust after he was refused service at a "whites-only" restaurant upon his return from the Games.
The exhibition will use video, film and archive objects to illustrate the former Cassius Clay's emergence as a civil rights activist, following his refusal to be drafted into the US military fighting during the Vietnam war, and his subsequent struggle to be accepted back into the boxing world.
A full size boxing ring will be positioned at the front of the exhibition, to provide an "interactive experience through which visitors will get an up close and personal look at Muhammad Ali's incomparable work ethic and revolutionary boxing techniques."
Davis Miller, author of the best-selling book The Tao of Muhammad Ali, who is co-curating the exhibition, said: "The exhibition will allow visitors to experience what it was like to be in the ring with Ali - to have him purr, growl and bark at you just as he would have done."
Ali, who brought the streets of Brixton to a halt when he met cheering fans on a 1999 tour, is set to return for the opening. Miller, who has known the boxer for 30 years, added: "Muhammad wants to come over. This is likely to be the last time Muhammad is going to come to the UK. He would not travel if it was any other country but he has always had a special relationship with his British fans."
Miller has asked for a section on Ali's draft refusal and political activism to be enlarged. "The Brits understood the courage it took for him to say 'I won't kill brown people in Vietnam' at the expense of his livelihood but Americans did not. He still has that courage. No-one else would have survived a Parkinson's diagnosis for 30 years."
Further exhibits will be revealed for the show, which will also tell how Ali travelled to Iraq in 1990 to negotiate the release of 15 United States citizens taken hostage by Saddam Hussein after his invasion of Kuwait.
The exhibition will conclude with a short film featuring Ali's "greatest hits" from his boxing career. "I want people to come away feeling they have spent time with him and now have a greater understanding of an extraordinary human being," Miller said.
I Am The Greatest: Muhammad Ali at The O2 run March 4 – August 31 Tickets and information : http://www.aliattheo2.com/
Register for free to continue reading
Registration is a free and easy way to support our truly independent journalism
By registering, you will also enjoy limited access to Premium articles, exclusive newsletters, commenting, and virtual events with our leading journalists
Already have an account? sign in
Register for free to continue reading
Registration is a free and easy way to support our truly independent journalism
By registering, you will also enjoy limited access to Premium articles, exclusive newsletters, commenting, and virtual events with our leading journalists
Already have an account? sign in
Join our new commenting forum
Join thought-provoking conversations, follow other Independent readers and see their replies