Nadhim Zahawi: From a refugee on welfare to the heart of No 10
The Tory MP speaks for the first time about the devastating effect of his father's bankruptcy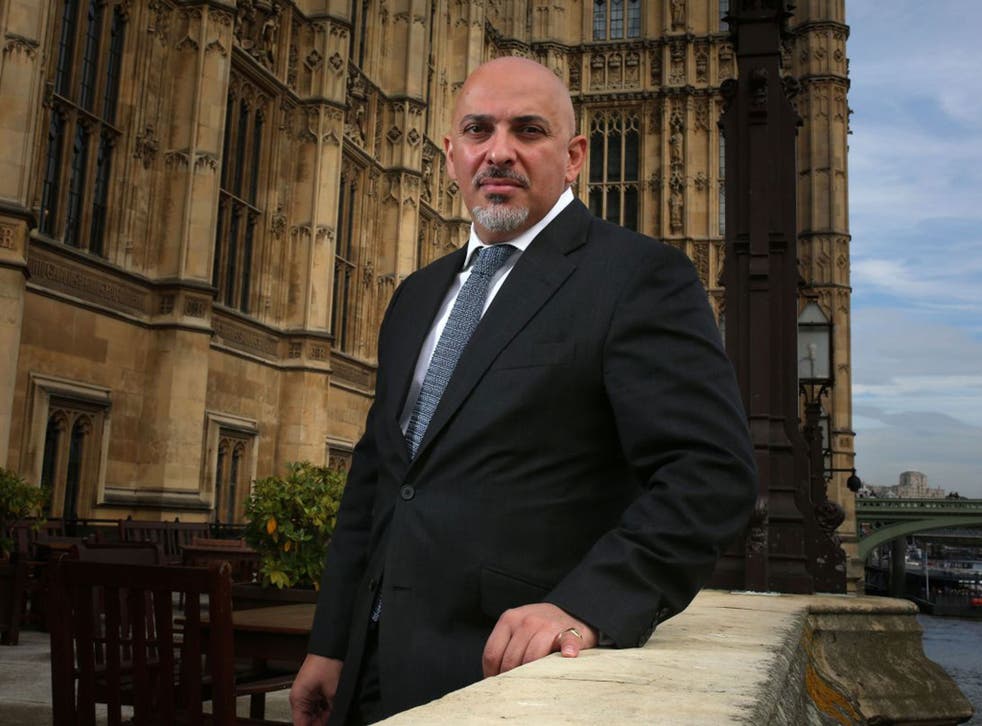 In Iraq, it is commonplace for lives to be turned upside down overnight. As a nine-year-old, Nadhim Zahawi and his Iraqi Kurd family fled from Saddam Hussein to the UK. For a decade, there was the comfort of a London independent school education as the son of an entrepreneur father and dentist mother. But then, at 18, further tumult came when his father decided to invest everything he owned, including the family home, in an American company's new venture – something called the Air Knife, a machine that purportedly could use air to dig up roads.
Says Zahawi: "In mad entrepreneur fashion my father rang my mum and said, 'This is going to be a huge success.' He remortgaged our home, put everything into this thing. Of course you know how this story ends, the company went bankrupt and the bank took our home and everything except one thing: we had a Vauxhall Opel Senator car that was in my mother's name so they couldn't take it.
"I had to make a choice whether I went to university or become a cab driver to put food on the table. We had nothing, and had to go on housing benefit and income support. For about a month my dad wouldn't leave the bedroom because he was so distraught. When you have that level of breakdown, of failure, it really is like a vortex, and our biggest challenge was to get him out of the room and get him to have a shave, go out, and find work."
This experience shaped the young Zahawi's politics and guided him towards Conservatism. Welfare felt like a "trap" rather than a cushion.
"This is why I'm so passionate about the reforms that IDS [Iain Duncan Smith] is introducing. Just reflecting on my family experience, the real differentiator between us getting trapped in welfare – and it is a trap, by the way, because when you do the calculation including housing benefit there's no point going to work or there wasn't a point then of going to work.... The differentiator for us as a family was education.
"My mother was a dentist. We had a half-decent education. We were able to sit down and work our way through this disaster. What Michael Gove started and Nicky Morgan is continuing is not a single parliament reform. It is beginning to make a real difference. It's great that we have a curriculum where you learn two Shakespearean plays as well as coding.
"Many of my left-leaning friends will say you can't tackle education until you tackle the challenge of poverty. I see it the other way round, you don't tackle inequality and poverty unless you tackle education."
Given his experience of benefits, doesn't he agree the Tory party is seen as heartless on welfare – that the bedroom tax will stop David Cameron winning a majority at the election?
"When people look at it, it's the economy, it's welfare, it's education, it's David Cameron planning to ring-fence the NHS. Of course there will be those who say the spare room subsidy is wrong … [but] people have to make their minds up."
Zahawi, 47, eventually went to University College London to study chemical engineering. He met Lord Archer in 1991 while campaigning for Kurdish refugees, and later helped the peer in his failed 1998 campaign to become London Mayor. He was a councillor in Wandsworth, London between 1994 and 2006, and in 2000 co-founded the polling company YouGov before being selected as the Conservative Party candidate for Stratford-on-Avon, one of the party's safe seats, in 2010. Many in the party saw it as a breakthrough that ethnic minority candidates were being selected for traditional Tory heartlands rather than for no-hope battles or risky marginals.
Yet last month Baroness Warsi, following her resignation as Foreign Office minister over Britain's policy on Israel and Gaza, criticised Tory progress on representing ethnic minorities. Zahawi says: "I've got huge respect for Sayeeda, but I would also say Sayeeda was chairman of the party for quite a long time. Of course we have to do more, not just political parties, but industry, whether it's the manufacturing or service sectors.
"It was David Cameron's agenda to get more ethnic minority candidates, more women candidates through and into Parliament. If you just step back a second and look at society, everything's been designed by blokes. So you need to help those who the system works against, whether it's hours of work in this place [Parliament] or whatever to make it easier for women and ethnic minorities to come through the system."
Tory MPs going into their party conference in Birmingham this weekend must be jubilant that Ed Miliband made such a hash of his speech in Manchester last week. But Zahawi urges caution. "When you look at where we were in 2010 – the UK economy was in a pretty precarious place…. We've got a plan, we've got to stick to it but there's more to do. This isn't a time to start high-fiving and say, 'Job done'.
"I think many people will think long and hard about how they vote on economic competence. Unless Labour have a Damascene conversion between now and May next year they have zero credibility on this."
On a personal level, Zahawi says he feels "very sorry" for Miliband because "he is a very decent man, I just think his politics are completely off track. It feels like all those Seventies policies that failed and crippled this country, he's saying can work now. People are quite smart. I ran YouGov for 10 years: I can tell you most human beings work out whether that business leader or that political leader is in a place where they've understood their mistake and are trying to do something about it, or are still pursuing a strategy that's one of denial and has failed in the past."
Mr Miliband's forgetting to mention the deficit in his speech "speaks volumes" and it goes to credibility, Zahawi insists.
"If you're the CEO of Tesco and give a big speech and completely ignore what just happened in your business, your employees, your clients, the shopper in your store, investors, will go, 'Are you in a parallel universe to what we just lived through?' The least you can do is say, 'Look, I'm really sorry and here are the mistakes we've made.'"
Regardless of Labour's economic credibility, Ukip could be the factor in preventing the Tories winning in 2015, so does he worry about Nigel Farage?
"It's important we listen to the people who are considering voting Ukip and address the reasons why they've chosen to vote for another party other than the Conservative Party. Nigel Farage is a great communicator but actually it's a load of angry slogans."
Zahawi thinks the English votes for English laws issue is a "question of fairness". "Why I think he [Mr Cameron] will win this argument is that fundamentally he's on the right side of the fairness argument. When you are in politics that's the strongest place to be – actually, in any walk of life."
It was a YouGov poll two weeks before the Scottish referendum that put the Yes campaign ahead for the first time, leading to all three party leaders cancelling PMQs and rushing up to Scotland to save the No vote. So was it a rogue survey, or the poll that saved the union?
"YouGov reports where the public is at any given moment in time. It couldn't have been rogue, because a number of other polls came out showing a similar closing of the gap. But then what happened afterwards clearly did move the dial in favour of the No campaign."
With attention firmly focused on Iraq this weekend, the Scotland vote seems a distant memory. We meet the day before Parliament's vote on military action. Zahawi is renowned for his flamboyance but there is little evidence of it today. The Commons mood is sombre, and we sit drinking mugs of tea in the Strangers' Dining Room as he tells me about his visit last month to the country where he was born.
The scenes in the north, with Kurdish families displaced by the Islamic State onslaught, were "terrible", he says.
"They send in their suicide bombers and cause mayhem on a very localised level and then follow up with a Mad Max-style rush into these towns."
At refugee camps in August, he was confronted with the same fear of genocide among the Kurdish people that he witnessed after the first Gulf War.
"The worst day of my life was in 1991 when we met the Kurdish refugees who had fled Saddam Hussein's attacks, and this was equal to that. I met a Yazidi man who was slightly younger than I am with his two children. I instinctively said, 'Where is your wife?' He said, 'I had to leave my wife behind because she was giving birth the moment Isil entered the village. She said, 'Take the two children and save their lives. Don't worry. I'll do what I've got to do.'
"Tears started rolling down his cheeks, I didn't know what say to him. It's impossible to try and comprehend that level of pain for any family." Zahawi has tears in his eyes too. What happened to the wife and baby? "I have no idea," he says.
"The message from 2003 is that we mustn't go over the heads of these people and frame this as a battle of civilisations, the West versus the Islamic caliphate, because that's exactly what IS want."
Why does he think British Muslims go off to fight jihad in Syria and Iraq? "There is no simple answer to that question, partly because we –government, legislature, civic society – have been shy about coming forward and teaching what British values are. Many young Muslims … there are plenty of people around them at Friday prayers in the mosques who've been whispering in their ear.
"There's nothing on the other side that says, actually there's some great things about this country – freedom of speech, opportunity, fairness, tolerance – all the things that my parents and my family are the beneficiaries of."
Curriculum vitae
1967 Born in Baghdad to Kurdish parents. His family flee to the UK when he is nine.
1976 Attends an independent boys' school, Kings College, in Wimbledon.
1985 Graduates from University College London with a degree in Chemical Engineering.
1991 Aide to Jeffrey Archer during his 'Simple Truth' campaign to help Kurdish victims of the Gulf War.
1994 Appointed local councillor in Wandsworth and served three terms.
1997 Runs as Tory parliamentary candidate in Erith and Thamesmead constituency but loses to Labour.
1998 Heads Archer's unsuccessful campaign for Mayor of London.
2000 Becomes the CEO and co-founder of YouGov, a leading market research company.
2008 Awarded the title of Entrepreneur of the year.
2010 Stands down from YouGov after winning election as Tory MP for Stratford-on-Avon.
2011 Along with Matt Hancock, Nadhim co-writes the book Masters of Nothing: How The Crash Will Happen Again Unless We Understand Human Nature.
2013 Appointed to the Prime Minister's Policy Advisory Board, responsible for business and the economy. Apologises 'unreservedly' for claiming parliamentary expenses for electricity bill for stables and a mobile home in the stable yard. He repays £4,000.
Sarah Allidina
Register for free to continue reading
Registration is a free and easy way to support our truly independent journalism
By registering, you will also enjoy limited access to Premium articles, exclusive newsletters, commenting, and virtual events with our leading journalists
Already have an account? sign in
Register for free to continue reading
Registration is a free and easy way to support our truly independent journalism
By registering, you will also enjoy limited access to Premium articles, exclusive newsletters, commenting, and virtual events with our leading journalists
Already have an account? sign in
Join our new commenting forum
Join thought-provoking conversations, follow other Independent readers and see their replies