Miss California stumbles on question over income inequality at Miss USA beauty pageant
She poked fun at herself on Instagram: 'When you pray to God for the words to social economic inequality and his response is "It'll take longer than 30 seconds to answer that babe"'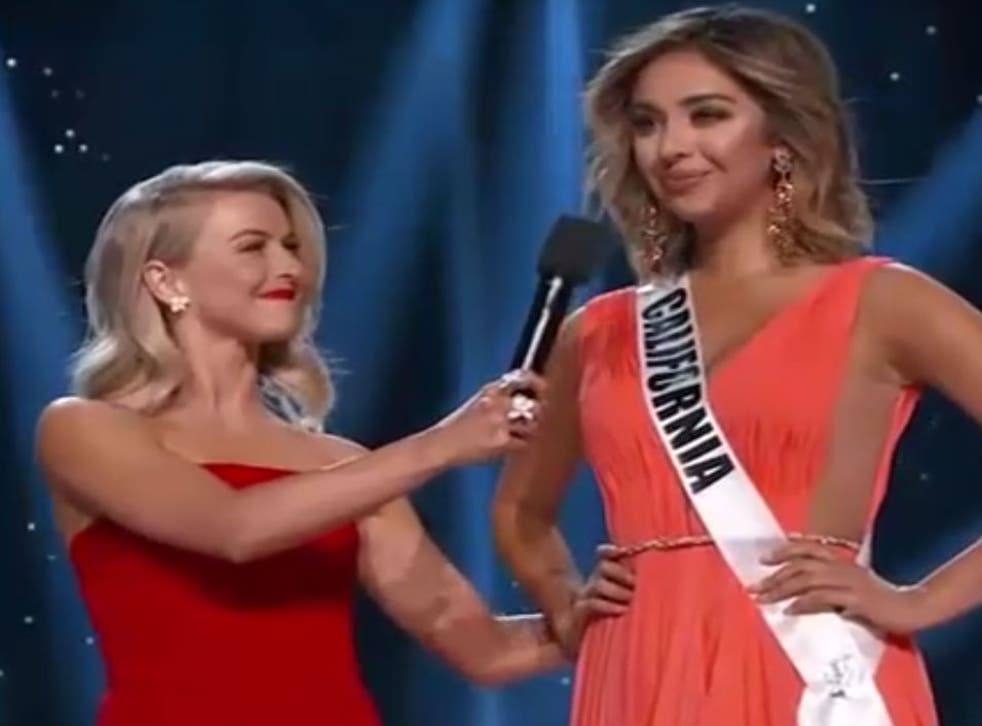 When Miss California USA was overtly mocked on social media for her stumbling reply to a question about income inequality, she was not prepared to lose her sense of humour.
Nadia Mejia wrote on Instagram: "When you pray to God for the words to social economic inequality and his response is "It'll take longer than 30 seconds to answer that babe"".
At the Miss USA 2016 competition, judge Nigel Barker asked her: "One of the biggest challenges facing the United States is social and economic inequality. How do we narrow the gap between the rich and poor?"
"I think that the rich need to…" she started, then stopped and closed her eyes.
The audience clapped and one of the presenters put a hand on her back, and told the 20-year-old model to take a breath.
"I think that the rich need to be giving, and I think the poor need to work hard and I think that the middle class need to come together and find an in-between," she said.
Ms Mejia revealed in a personal blog post earlier this year that she struggled with anorexia when she was younger.
She went on to work with the National Eating Disorders Association.
She is the daughter of the 1990s one-hit wonder singer Gerardo, who sang "R ice Suave", finished in the top five in the pageant.
Her mother, Kathy Eicher, competed in the pageant as Miss West Virginia USA in 1989.
On her website, she said she hopes to own a Latin American fusion restaurant in the future.
The pageant winner was Deshauna Barber, a 26-year-old army reserve officer from Washington DC, the first winner to serve in the military.
The runner-up, Miss Hawaii Chelsea Hardin, was asked if she would vote for Hillary Clinton or Donald Trump in the election. She replied that gender did not matter and there was no correct way to answer the question during the pageant.
The question from Harper's Bazaar editor Laura Brown was labeled as "inappropriate" and it was framed to suggest that Ms Clinton will be the democrat nominee before it has been decided at the convention.
Register for free to continue reading
Registration is a free and easy way to support our truly independent journalism
By registering, you will also enjoy limited access to Premium articles, exclusive newsletters, commenting, and virtual events with our leading journalists
Already have an account? sign in
Register for free to continue reading
Registration is a free and easy way to support our truly independent journalism
By registering, you will also enjoy limited access to Premium articles, exclusive newsletters, commenting, and virtual events with our leading journalists
Already have an account? sign in
Join our new commenting forum
Join thought-provoking conversations, follow other Independent readers and see their replies