Najat Vallaud-Belkacem: France's first female Education Minister is making her mark
Ms Vallaud-Belkacem has recently found herself near the centre of the controversy surrounding the 'burkini bans' in France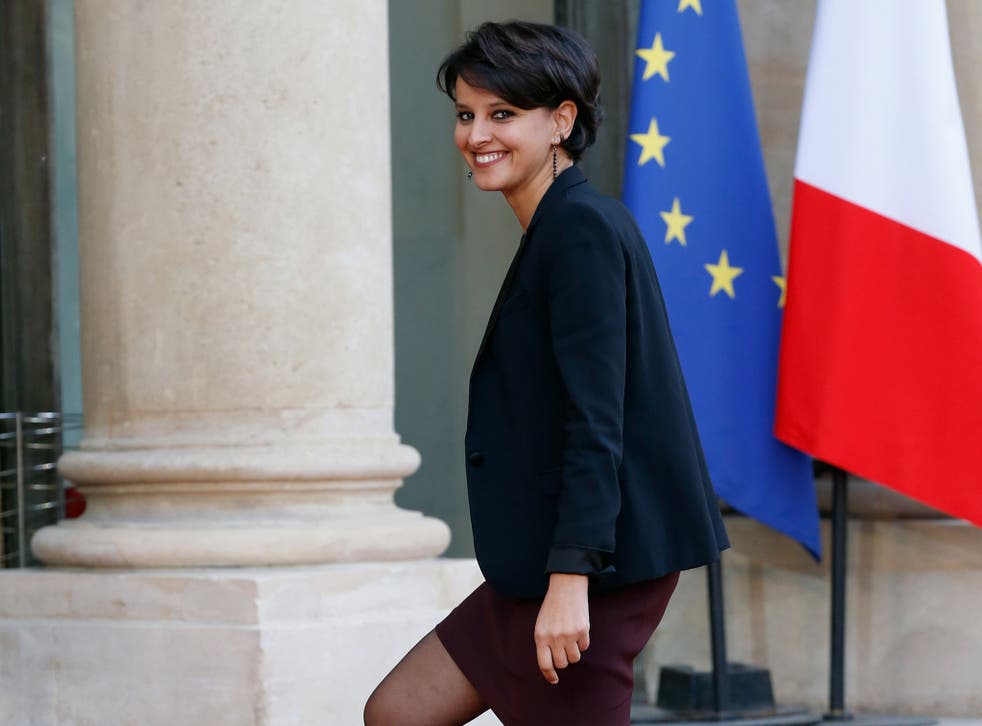 France's first female Education Minister placed herself firmly at the centre of the controversy around the string of "burkini bans" in the country when she spoke out in strong terms against the restrictions.
Moroccan-born Najat Vallaud-Belkacem, who describes herself as a "non-practicing Muslim", described the prohibition of burkinis as "a threat to individual freedoms".
Speaking to French radio channel E1 Matin, the politician said that while she was against women being forced to wear the burkini, she strongly opposed the bans on modest swimwear that have swept across French cities and communes during this summer.
"If you're asking me in a general context whether I'm for or against the burkini, the response is simple: I oppose the burkini. I think you know my feminist convictions and know that my dream is a society where women are free to do what they like," she said.
"But if you ask me whether I agree with the polemic against the burkini in the past week, the response is no. Definitely not."
Ms Vallaud-Belkacem continued: "I think at this serious time, post-attacks, when many French people are worried, you shouldn't add fuel to the fire. You should be appeasing people as much as possible, not stigmatising them. The ban of the burkini puts into question people's individual freedoms."
Her words provoked a vicious backlash from the French Prime Minister Manuel Valls, who said the comments were "a bad interpretation" of the ban, insisting the measures were "taken in the name of public order".
It is not the first time Ms Vallaud-Belkacem has been in the headlines for subverting mainstream politics. Born in a rural village in the Moroccan countryside of Bni Chiker, the second child of seven siblings, her appointment to the cabinet in 2012 came as a shock to many. An immigrant by status, her background alone made her an outlander in the bourgeoise-studded world of French politics.
After spending her early years in the hazy rural landscapes of the Rif mountain ranges in northern Morocco, four-year-old Najat moved with her mother and sister to France, where they joined her father, a construction worker, in the northern city of Amiens. Conscious as a child of her immigrant status, Ms Vallaud-Belkacem's interest in politics began to kindle from an early age.
After a glowing academic journey through school, Ms Vallaud-Belkacem received a scholarship to attend the university at Paris Institute of Political Studies, a privelige she said made her a "pure product of the [egalitarianism] of the [French] Republic". She graduated in 2002 at the age of 26, and became a member of the Socialist Party the same year.
Less than a year after entering the world of politics, Ms Vallaud-Belkacem had been given a position working for the mayor of Lyon. Two years on she was elected to the Regional Council of the wider region, leading movements to strengthen local democracy, fight discrimination and promote citizens' rights, while also working for the campaign team of prominent Socialist Party member Marie-Ségolène Royal.
Ms Vallaud-Belkacem married her civil servant husband Boris Vallaud in 2005, after their romance blossomed at university. Four years later she gave birth to a set of twins - a boy and a girl - who she has said they brought up to "reject gender stereotypes". Ms Vallaud-Belkacem's staunch view on gender equality transcended into her political career. In 2012, when she was appointed Minister for Women's Affairs, she used the platform to stand up for the legalisation of gay marriage and gender ideology - a stance criticised by many.
Two years after joining the cabinet Ms Vallaud-Belkacem was appointed to Minister of Education, making triple history by becoming not only the first ever female to be appointed to the role, but also the first Muslim and youngest person ever to be given the high-profile position.
While her ground-breaking appointment marked a victory for progressive thinkers in France's modern regime, it wasn't welcomed by everyone in the National Assembly. Ms Vallaud-Belkacem's unconventional background and liberal beliefs made her victim to the nastiness of French politics, and in the weeks after landing the role she was besieged by racist and sexist comments and malicious rumours on social media. Right-wing magazines and Conservative figures claimed her appointment was a "provocation" and a politically-correct engineering by the President.
In the years since her appointment attacks against both Ms Vallaud-Belkacem's gender and her immigrant status have not completely abated. She has been accused by right-wing figures of flaunting her charms and attacked by two far-right magazines for her Moroccan origins in the last two years, shedding light on the steep traditionalism and intolerance that still pervades French politics.
But 35 years after emigrating from Morocco, Ms Vallaud-Belkacem is making her mark as a strong-willed, female, Muslim politician at the heart of a country rocked by divisiveness.
Register for free to continue reading
Registration is a free and easy way to support our truly independent journalism
By registering, you will also enjoy limited access to Premium articles, exclusive newsletters, commenting, and virtual events with our leading journalists
Already have an account? sign in
Register for free to continue reading
Registration is a free and easy way to support our truly independent journalism
By registering, you will also enjoy limited access to Premium articles, exclusive newsletters, commenting, and virtual events with our leading journalists
Already have an account? sign in
Join our new commenting forum
Join thought-provoking conversations, follow other Independent readers and see their replies