Neapolitan pizzeria owner presents Pope Francis with pizza after Pontiff says he misses eating out
Enzo Cacialli - whose father gave visiting US president Clinton a pizza in 1994 - handed the Pontiff the special pizza during his visit to the city
Rose Troup Buchanan
Tuesday 24 March 2015 09:26 Comments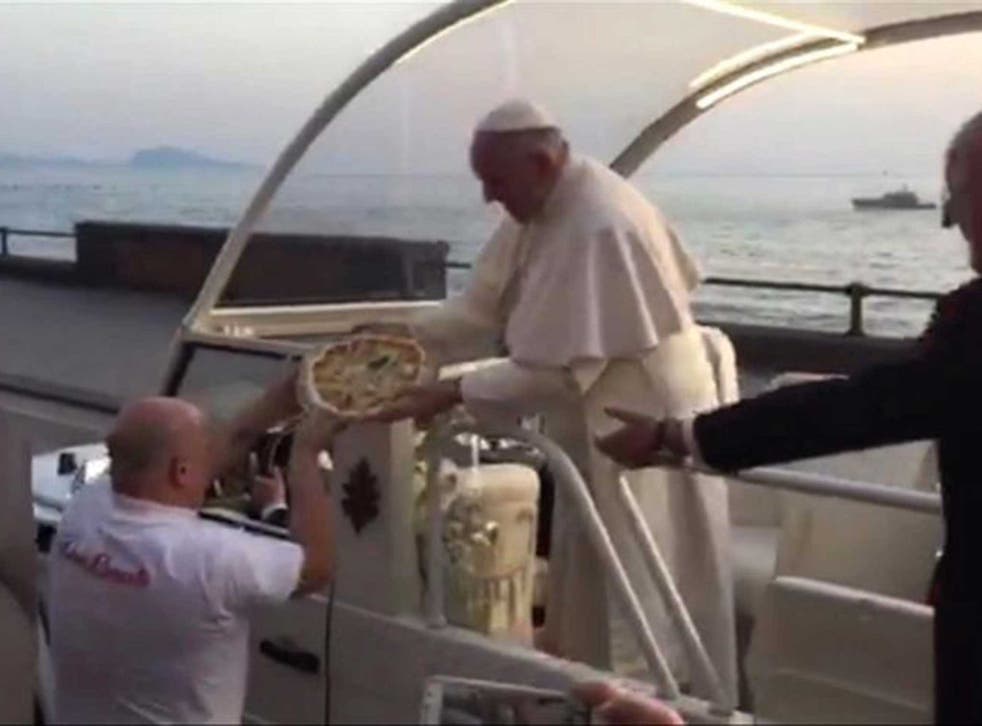 One Neapolitan pizzeria owner decided to take matters into his own hands after he heard Pope Francis lament he could no longer enjoy a pizza unrecognised.
Video captured Enzo Cacialli jogging alongside the famous Pope-mobile as it passed through Naples and triumphantly handing the Pontiff a specially created pizza.
Apparently unimpeded by the Pope's guard, Mr Cacialli can be seen shouting "Papa! Papa!" and holding aloft a specially decorated Naples-style thin crust pizza.
The pizza, which had "Il Papa" spelled out in dough and topped with yellow cherry tomatoes, was collected by a smiling Pontiff from the vehicle as the assembled crowd erupts in cheers.
Mr Cacialli, whose father made a pizza for visiting president Bill Clinton in 1994, told a local newspaper that the decoration was in homage to the Vatican colours and Papal flag.
The co-owner of Pizzeria Don Ernesto, who in the video can be seen pumping his fist in the air after the successful gift, told Il Mattino he was "full of joy that he accepted a pizza straight from my hands."
It comes shortly after the Pope gave an interview with Mexican TV station Televista in which he spoke about his two-year rule.
"The only thing I would like is to go out one day, without being recognised, and go to a pizzeria for a pizza," he told the station.
Now, although it appears unlikely the beloved Pope will ever get his chance to visit a pizzeria incognito, at least he's got his pizza.
Additional reporting by Associated Press
Register for free to continue reading
Registration is a free and easy way to support our truly independent journalism
By registering, you will also enjoy limited access to Premium articles, exclusive newsletters, commenting, and virtual events with our leading journalists
Already have an account? sign in
Join our new commenting forum
Join thought-provoking conversations, follow other Independent readers and see their replies