A 'national treasure': Sitar virtuoso Ravi Shankar dies aged 92
Andrew Buncombe
Wednesday 12 December 2012 07:46 Comments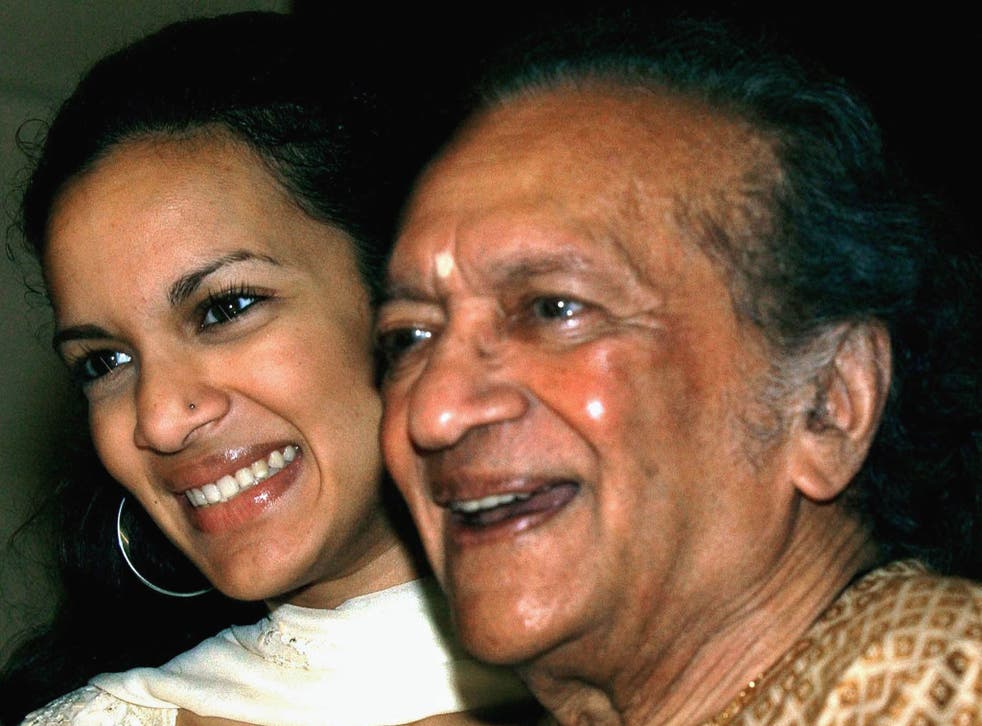 Ravi Shankar, the composer and sitar player who befriended the Beatles and acted as bridge between Indian music and the West, has died in southern California. He was 92 and had recently undergone heart surgery.
India's prime minister, Manmohan Singh, led tributes that flowed not just from around the world but from various fields – from classical music, pop, film, as well as politics. "An era has passed away with Pandit Ravi Shankar. The nation joins me to pay tributes to his unsurpassable genius, his art and his humility," said Mr Singh. "He was national treasure and global ambassador of India's cultural heritage."
The family of the three-time Grammy award winner and recipient of India's highest civilian honour, the Bharat Ratna, said he had undergone surgery last Thursday to have a heart valve repaired. He had been in fragile health for several years and at his final concert, which took place last month before a small audience at a university at Long Beach, he was obliged to wear an oxygen mask. He died on Tuesday night local time.
"Although it is a time for sorrow and sadness, it is also a time for all of us to give thanks and to be grateful that we were able to have him as a part of our lives," his family said in a statement, reported by Reuters. "He will live forever in our hearts and in his music."
The family said that while the surgery itself had been successful, the trauma of recovery had been too much for the increasingly frail musician. The night before surgery he had been nominated for yet another Grammy, this time for his most recent album, The Living Room Sessions, Part 1.
"Unfortunately, despite the best efforts of the surgeons and doctors taking care of him, his body was not able to withstand the strain of the surgery. We were at his side when he passed away," his wife Sukanya and daughter Anoushka said.
While Shankar will be remembered as first-class performer of the sitar, an instrument that has at least 20 strings depending on its style, he will also be recognised for popularising Indian music in the West and elsewhere around the world through a series of ground-breaking collaborations. These ranged from classical works with figures such as violinist Yehudi Menuhin to works in the pop canon.
An entire volume of popular music history could be dedicated to his relationship with the Beatles, and in particular with the late George Harrison, the guitarist who, under the patient tutelage of the maestro – some of it administered on a Kashmir houseboat - mastered at least enough of the basics of the sitar to play it on several tracks, perhaps most famously on Within You and Without You, from the 1967 album Sgt Pepper's Lonely Hearts Club Band.
The two remained close friends and in 1971 they organised the Concert for Bangladesh benefit performances to raise money for tens of thousands of Bangladeshi refugees whose lives had been devastated as a result of both a cyclone and war. The concerts in New York pioneered the charity performances that have now become so commonplace. Harrison said that Shankar was the "godfather" of world music.
Shankar was born Ravindra Shankar Chowdhury in April 1920 in the city of Varanasi, located on the Ganges river. His life as performance artist started with an attachment to a dance troupe that saw him move to France as boy of just ten with his brother, Uday. According to the Associated Press, over the following eight years, Shankar travelled across Asia, Europe and the US and was immersed in foreign cultures.
It was while as a member of the dance group that he was introduced to the sitar. Under the eye of celebrated musician Baba Allaudin Khan, Shankar spent almost eight years studying the instrument.
As his skill and fame grew he started performing on Indian radio programmes and at concerts. He also wrote the scores for several films, among them Sir Richard Attenborough's 1982 epic Gandhi, for which he was nominated for an Oscar award. Other collaborators included composer Philip Glass and conductors Andre Previn and Zubin Mehta. Between 1986-92 Shankar served as a member of the upper house of India's parliament.
His personal life often seemed complicated. A 1941 marriage to Annapurna Devi, daughter of his music teacher, Baba Allaudin Khan, ended in divorce. His enjoyed a relationship with a dancer, Kamala Shastri, that lasted many decades but in 1981 they split. There were reportedly many other affairs along the way.
He had two daughters with different women, New York concert promoter Sue Jones, who in 1979 gave birth to Norah Jones, while two years later Sukanya Rajan, a musician who played at Shankar's concerts, delivered a second daughter, Anoushka. For a decade, he did not see Norah Jones but later they reconnected and he celebrated her own success as a performer and song-writer.
He married Ms Rajan in 1989 and tutored Anoushka as his heir on the sitar. In recent years, father and daughter thrilled audiences around the world as they toured and played together. She performed alongside him in that final concert in California a few weeks ago.
Register for free to continue reading
Registration is a free and easy way to support our truly independent journalism
By registering, you will also enjoy limited access to Premium articles, exclusive newsletters, commenting, and virtual events with our leading journalists
Already have an account? sign in
Join our new commenting forum
Join thought-provoking conversations, follow other Independent readers and see their replies