Apprentice winner Leah Totton opens first cosmetic surgery clinic… With a little help from Lord Sugar and Karren Brady
The first cosmetic skin clinic launched by last year's winner of The Apprentice, in partnership with Lord Sugar, has opened its doors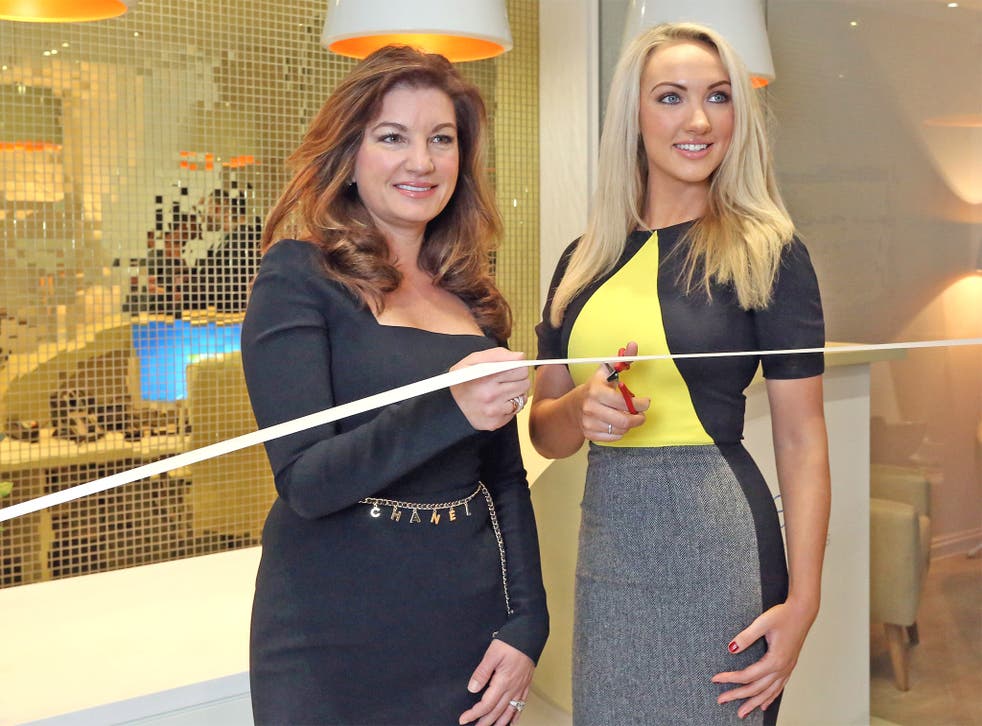 Fancy a spot of 3D Lipomed to freeze those unwanted fat cells?
Then Dr Leah Totton will see you now. The first cosmetic skin clinic launched by last year's winner of The Apprentice, in partnership with Lord Sugar, has opened its doors.
Dismissed by cosmetic surgery veterans as an "amateur" seeking to cash in on the boom in Botox and fillers treatment, Dr Totton, a former A&E doctor, promised to make a return on the £250,000 Lord Sugar has invested in her projected nationwide chain of "Dr Leah" clinics.
"Excellence and safety," were her watch-words, as the 26-year-old from Londonderry, dressed in a figure-hugging pencil skirt and yellow and black top, unveiled the "chic" Moorgate clinic, accompanied by Karren Brady, Lord Sugar's aide.
"I want to set the bar higher and shine a light on an industry that needs regulatory change," vowed Dr Totton, whose clinic will offer a range of procedures including advanced facials, skin peels as well as non-surgical fat reduction.
However she will not administer Botox to teenagers seeking anti-ageing treatment.
"Whilst we acknowledge that Botulinum Toxin is used to treat medical conditions in all age groups, we cannot accept that its use as an anti-ageing treatment in teenagers is in any way justifiable," Dr Totton said.
"Dr Leah clinics will not be treating teenagers with Botox for the prevention of lines and wrinkles."
Although Lord Sugar does not appear on the clinic's "before and after" picture testimonials, his presence is never far away.
"No matter where in the world he is, you always get an email," said Dr Totton, who quit her NHS post last summer to work full-time with the entrepreneur. "When I was choosing the premises for the clinic, he physically walked around London with me until we picked one."
The market for cosmetic procedures has soared from £750m in 2005 to a forecast £3.6bn by 2015. A review by Sir Bruce Keogh last year called skin plumping injections a "crisis waiting to happen" and warned that there were no checks on surgeon's qualifications in some parts of the private sector.
Dr Totton has hired a team of leading consultant plastic surgeons to perform the most advanced treatments, including the 3D Lipomed, priced at £160 to £450, which she believes her clinic is the first in the UK to offer.
"I totally endorse the Keogh review when he called for a ban on the unqualified administration of dermal fillers (a skin treatment to fill out wrinkles)," she said.
Dr Totton's clinic will offer City high-fliers a 25-minute "express facial" during lunch breaks but she won't promise to transform her clients.
"Realistic expectations is part of the consultation with a trained member of staff before any enhancement process," she said. "It's about giving people realistic goals to work towards, a more fabulous version of themselves as opposed to creating a uniform enhanced look."
Dr Totton isn't a walking advert for cosmetic surgery though.
"I have never had lip enhancement despite what people said during The Apprentice. I am not at an age where I need Botox. I have a vigorous skin-care regime of course."
Whilst defeated Apprentice finalist Luisa Zissman has found further notoriety as a Celebrity Big Brother contestant, Dr Totton said she shunned "the parties and red carpets" to devote all of her energies to building up her business.
Lord Sugar has occasionally suffered for his selections on the BBC1 reality show. His 2010 Apprentice winner Stella English brought a failed constructive dismissal case against the peer and claims she has been forced into poverty as a result.
Lord Sugar is confident that he is on safer ground with Dr Totton.
He said: "I chose Leah as my business partner not only because she has great entrepreneurial spirit but she is also a fully trained doctor who is passionate about bringing regulation and excellence to the aesthetics industry.
"By stating that she will refuse to treat teenagers in her clinic is a bold and sensible move and I look forward to seeing her continue to pioneer safety and regulation in what is currently an regulated marketplace."

Register for free to continue reading
Registration is a free and easy way to support our truly independent journalism
By registering, you will also enjoy limited access to Premium articles, exclusive newsletters, commenting, and virtual events with our leading journalists
Already have an account? sign in
Register for free to continue reading
Registration is a free and easy way to support our truly independent journalism
By registering, you will also enjoy limited access to Premium articles, exclusive newsletters, commenting, and virtual events with our leading journalists
Already have an account? sign in
Join our new commenting forum
Join thought-provoking conversations, follow other Independent readers and see their replies