Comic writer Dave Hill: 'Creating a ringtone for Donald Trump was the assignment of a lifetime'
Back when The Apprentice was at peak viewing in the US, comic writer Dave Hill was hired to dream up ringtones for Donald Trump to record. To his surprise, they hit it off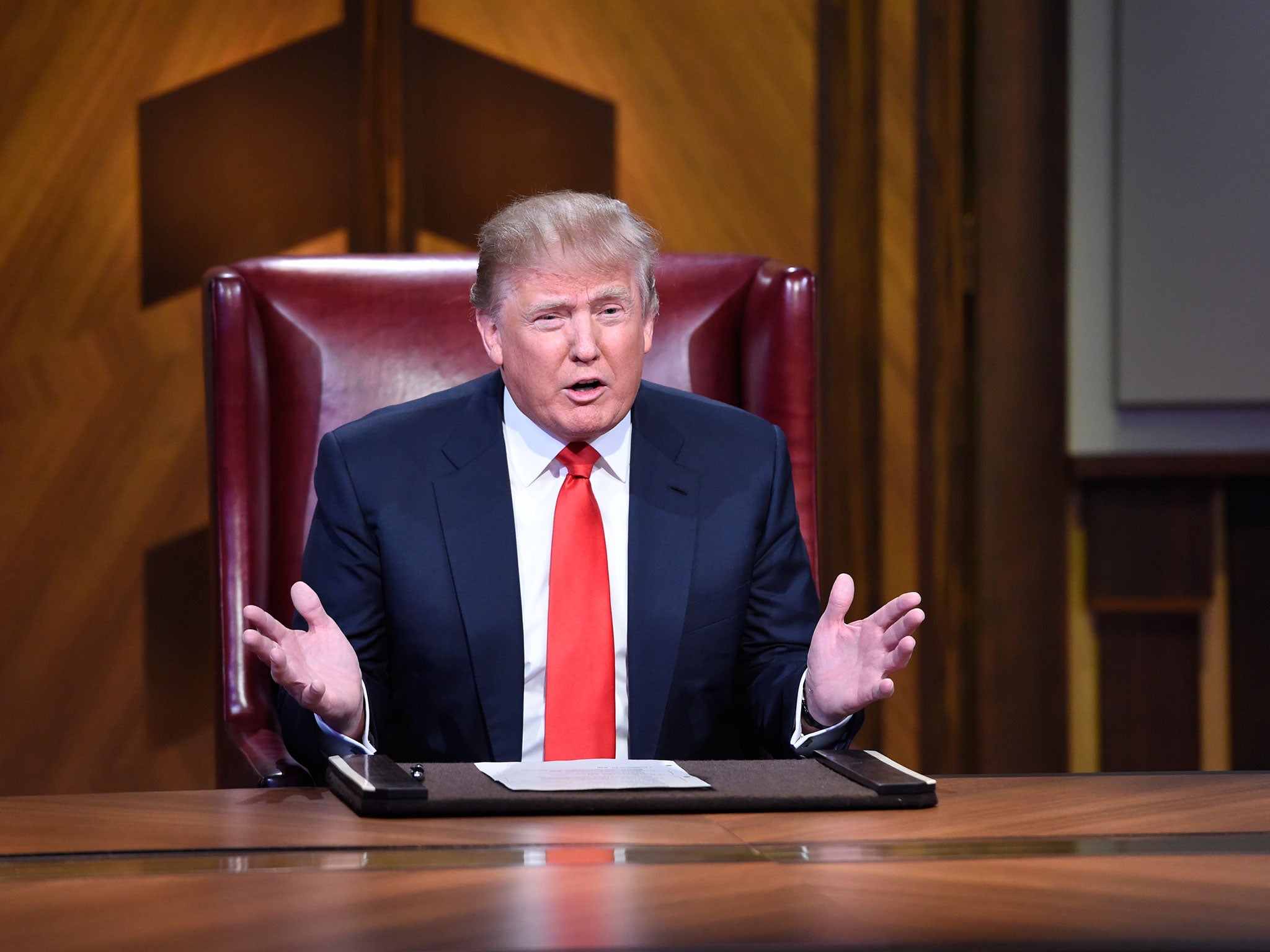 The year was 2004. Both NBC's The Apprentice and really fun mobile-phone ringtones had taken an unsuspecting public by storm. I had managed to elude both: I kept my phone on vibrate and I was ready to stare in bemusement at anyone even thinking of telling me I had been "fired".
But I needed money, so when the call came to write ringtones for Donald Trump, a quiet businessman from Queens who had been reluctantly thrust into the spotlight by the seventh most popular programme on network television at the time, I said yes. I had been doing some freelance writing and one of my clients was among the tangle of corporations assigned to the case. Fortunately, they decided to throw me a bone.
Of course, I knew a thing or two about Trump already. He had flawless hair; he slept on piles of money each night; and given the choice between having something not gold-plated or entirely gold-plated, he chose door number two every time.
Still, I wanted to do the best job possible, so I had one of Trump's minions send me copies of two of his books, Trump: The Art of the Deal and Trump: The Art of the Comeback, as well as an anatomically correct Trump doll that would tell me all sorts of things every time I pressed its back – something I couldn't help but do repeatedly as soon as it came into my possession. "You really think you're a good leader?" the doll would ask, seemingly out of the blue. "I don't."
A little harsh, maybe, but also something I probably needed to hear.
Donald Trump's most controversial quotes
Show all 14
Despite all the hours I spent playing with that doll, though, I had my work cut out for me. Somehow, in what I can only assume was the result of someone putting a gun to Trump's head, NBC owned the rights to his electrifying catchphrase: "You're fired!" The challenge was mine to figure out what else he might say – to write some slogans people might want to hear coming out of their phones besides those two magical words that had already galvanised the nation.
"Your services are no longer required at this place of business!"
"Please stop showing up here for work, OK?"
"Die, you anus!"
These are just a few of the alternatives to "You're fired!" I proposed. In the end, though, it was decided that Trump's ringtone avatar would be less cut-throat and more inspirational, encouraging mobile-phone users to answer promptly so they could take advantage of a big business opportunity or maybe just hurt someone's feelings. I whipped up a few dozen Trumpist gems. Track 'em down if you like; I imagine they're still out there somewhere, priced to move.
"This is Donald Trump. I have no choice but to tell you… you're getting a phone call."
"I'm Donald Trump and this is the call of a lifetime!"
"This is Donald Trump. Answer your phone now – it might be me calling."
Maybe not my finest hour, but hey – the customer is always right. After that, I assumed my work was done, but I ended up being asked to attend the actual taping, too, at none other than Trump Tower.
"You mean I'll actually be in the room while Donald is saying the stuff I wrote?" I asked a guy from the ringtone concern.
"Yes," he said, placing a hand on my shoulder for emphasis.
This was officially about to be the biggest thing anyone in my family had ever done, including fighting in wars or any of that other crap my older relatives always went on about. So when the big day rolled around, I put on a suit and tie and worked as many hair products into my scalp as possible before heading over to Trump's offices in midtown Manhattan to meet the other dozen or so people required to complete a task of this magnitude. As expected, Trump HQ was beyond opulent. It was as if a blind decorator had been given an unlimited budget and told he'd never work in this town again.
"This way, please," a Trump representative, who was difficult to focus on amid all that sparkle, said before leading us to a conference room. Along the way, I spotted Donald Jnr sitting in an adjacent office, his hair perfect as he no doubt bought or sold something without even thinking about it.
"You have one hour," the rep announced, prompting everyone in the conference room to spring into action, turning it into a makeshift recording studio.
A few minutes later, the doors opened and in walked Trump, somehow looking even Trumpier than I'd anticipated. He wore a suit and tie and, of course, his trademark scowl. And though he now stood mere feet from me, I found I had no further insight into his hair-care regimen. Looking into his coiffure did nothing to demystify it. In fact, it only confused me further.
"Right this way, Mr Trump," a ringtone specialist said, gently urging him toward the microphones while being careful not to actually touch him.
"Let's make this quick," Trump grunted, already sounding like the ringtones I'd written. "I've got a busy day ahead of me."
At this point, a mild panic set in as everyone in the room appeared convinced they may very well be "fired" or at least told to wait by the lifts at any moment.
As for me, though, I couldn't help but relax a bit; it had suddenly occurred to me that Trump might not be the oblivious blowhard everyone thinks. I mean, sure, he was a blowhard, but he also seemed totally self-aware, like he knew he was just playing a character, and that as soon as we left, he'd run into Ivanka's office, shut the door behind him, and squeal, "I got 'em again, honey!" Something about that made me actually kind of like the guy, if I sat there and thought about it long enough.
Moments later, after a technician scrambled to hit any and all record buttons, Trump began barrelling through the ringtones, which had been printed on large cue cards that would remain easily readable even when he was squinting judgmentally, which was always. Occasionally, he'd give emphasis to a different word or see if getting angrier might help sell things a bit more. Meanwhile, everyone else in the room remained pinned to the wall, just trying to get through the proceedings intact.
Things seemed to be going well enough until about 20 minutes later, when Trump paused abruptly and began scanning the room in the manner that, by now, haunts people's dreams the world over.
"Who wrote these things?" he barked, pointing at the cue cards like he wanted them taken out back and shot. "That guy! Dave Hill!" at least five people volunteered in unison, their tone suggesting they would happily stab me right then and there if Trump would just say the word.
I figured I might start gathering my things at this point, but before I could, Trump looked at me, dropped his scowl, and said: "You're a very good writer."
"Thanks," I nodded, sensing a trap. For the remaining 40 minutes or so of the recording session, Trump refused to address anyone in the room but me. Others tried to intervene, but as soon as they'd finished talking, Trump would turn to me, his right-hand man, and ask: "What do you think, Dave?"
It was a weird kind of trust to have earned, sure, but it was also kind of cool– especially considering that otherwise I probably would have been just sitting at home scanning Craigslist for missed connections.
As the session wrapped up, I recalled something else I'd learned about Trump through my tireless research: he hates shaking hands. Naturally, this made my mission clear. This will be the true test of our love, I thought, as I stood waiting for anyone else in the company brazen enough to approach Trump to say whatever they were going to say with their hands glued to their sides before getting the hell out of his sight, dammit.
With the path clear, I approached him for some bro time. "Nice working with you, Donald," I told him.
"You too, Dave," he said.
"Thanks," I replied. I gingerly extended my hand. I could feel eyebrows across the room rising in slow-motion panic. Will he? Won't he?
Against all odds, Trump slowly reached out and grabbed my hand, shaking it not so firmly as to suggest his henchmen might be waiting for me outside and not so softly as to suggest a quality hang in Montauk was off the table. No, this was just right– perfect, in fact, almost like he was a regular human being who had done this sort of thing before. All these years later, that shake still feels like a victory of some sort, but I'm not sure for whom.
As I sit here writing this in my underpants, Donald Trump continues his disturbing bid for the American presidency. And I find myself hoping more than ever that he really is only playing a character, that maybe he's just the greatest performance artist of our time, a modern-day Warhol or slightly chattier Marina Abramovic who will any day now say "Tada!", take a bow, and go open an all-you-can-eat shrimp joint in the Outer Banks or something.
With each passing day, I fear I may be wrong. Still, whatever happens, it'll always be nice to look back on that day at Trump Tower and think, sure, he's a hate-spewing boob who somehow manages to sound even angrier and crazier than that doll I still can't help but drag out from under the bed every once in a while… and, yes, he's even got that certain awful something to win the endorsement of Sarah Palin. But put the two of us in a room together for an hour and, goddamn, do that son of a bitch and I make one hell of a ringtone.
© The Paris Review
Join our commenting forum
Join thought-provoking conversations, follow other Independent readers and see their replies