David Adjaye: Downfall of the showman
They called him the 'starchitect' – the brilliant young designer with a host of celebrity clients. Now his practice is fighting insolvency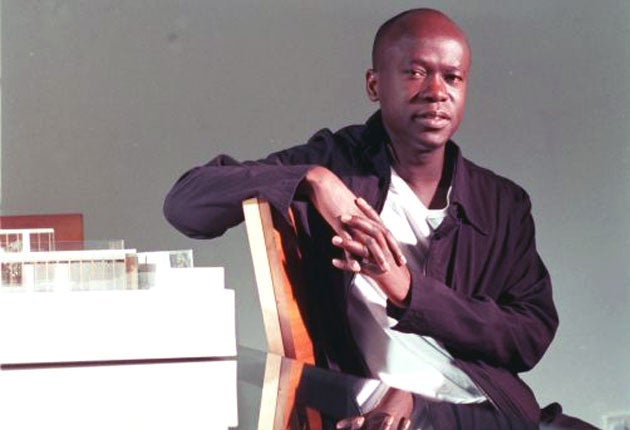 In the eight years since David Adjaye set up his practice in one of London's most achingly edgy neighbourhoods, the Ghanaian architect has transformed himself from a trendy house builder to the capital's stars to become the head of an international design powerhouse whose list of clients and collaborators ranges from the Nobel Foundation to Brad Pitt.
During this time, the son of a diplomat who has lived in Britain since the age of nine has moved effortlessly into a pivotal role at the crossroads of architecture, art and celebrity. His close friends include the Turner Prize winner Chris Ofili, he recently beat Sir Norman Foster to win the commission for a new £300m museum in Washington DC and he is currently working on replacement housing for victims of Hurricane Katrina in New Orleans, part-funded by Pitt.
It is not without good reason that the young, black architect-cum-conceptual artist, who is making a habit of being mentioned on the same billing as such high priests of British architecture as Foster and Lord Rogers, has been dubbed a "starchitect" – a label he does not like.
But while the photogenic 43-year-old has enjoyed a stellar trajectory (he has been a guest at Chequers and counts Ewan McGregor and Alexander McQueen among his satisfied customers), it emerged yesterday that his London practice, Adjaye Associates, based in the trendy east London creative hub of Hoxton, has been navigating through more treacherous waters.
The cancellation or postponement of four projects in locations from Birmingham to Kuala Lumpur has forced the firm to enter into a Company Voluntary Arrangement (CVA), a deal to stave off insolvency proceedings which prevents financial collapse by rescheduling debts – estimated at about £1m – to creditors.
Speaking before his current financial travails, Adjaye described his company as a "Robin Hood practice", adding: "For rich people we make things grittier, for poor people we make them glossier."
Now, it seems it is the company's creditors who may be feeling a little short-changed.
A trade magazine, Building Design, revealed yesterday that the company owes £500,000 to the NatWest bank and £150,000 to HM Revenue and Customs. Under the terms of the CVA, it is paying back 43p in the pound to its creditors, excluding the NatWest.
The arrangement, in place since February, places Adjaye Associates one step away from liquidation and represents a sharp reversal in the fortunes of its founding partner, who has reportedly sunk £500,000 of his own money into the firm.
Valentine & Co, the insolvency experts in charge of the CVA, said the measure had become necessary after the company maintained its staffing levels despite the loss of the projects in the Midlands, Malaysia, India and the glittering Middle Eastern emirate of Abu Dhabi.
The most recent accounts for Adjaye Associates, filed in March last year, show that the company made a loss of £59,000 and owed more than £1m to creditors.
Lane Bednash, the partner at Valentine & Co supervising the CVA, said it was working to put the company back on a sound financial footing. "But if they don't comply with the terms of the arrangement, we are empowered to begin winding up proceedings on behalf of the creditors."
Revenue & Customs last night declined to comment on the nature the debt owed by Adjaye Associates. Its founder responded with characteristic aplomb to the problems, insisting it was over the worst of financial problems which struck last year, and underlining that it did not affect any of the international arms of his burgeoning practice, in particular the American business which has scored a series of spectacular commissions.
Adjaye told Building Design: "The CVA is a reality but it's nothing to be ashamed of. It was difficult last year due to the crisis but we're through it now. We have enough work on our books and we're repaying our CVA very well, so we're in a good place."
In many ways, Adjaye is merely the highest-profile casualty of a general malaise for Britain's recession-hit architects. Surveys by the Royal Institute of British Architects (RIBA) show a 35 per cent drop in the profession's workload this year. Some 17 per cent of the nation's 23,500 chartered architects are currently out of work.
Richard Brindley, RIBA's head of practice, said: "The remainder are trying to hold onto their staff in the hope that work picks up again. Unless the Government takes notice, there is a risk of those [unemployment] statistics increasing."
Architectural talent also famously offers little protection from the hard realities of money. Among the leading architects who have suffered financial problems in the past are Will Alsop, whose practice went into insolvency in 2004, and Frenchman Jean Nouvel, whose company went bankrupt in the 1990s.
Adjaye was born in the Tanzanian capital Dar es Salaam and travelled the world with his Ghanaian father's diplomatic postings until the family settled in London. He may also be paying the price for the rapid expansion of his business in recent years.
He has set up offices in New York and Berlin, garnering an awe-inspiring list of commissions while at an age in his profession when less talented individuals might still be fine-tuning the plumbing systems on blueprints for more senior partners.
Among Adjaye's recent projects are the new £14.5m Nobel Peace Centre in Oslo, the performing arts centre in Boston, New York's Museum of Contemporary Art and a similar building in Denver. In 2006, he was shortlisted for the Stirling Prize – considered the nation's most prestigious architecture award – for the Idea Store library in Whitechapel, built on the remains of a 1960s mall.
Proof that the designer, who trained at the Royal College of Art, had joined the A-list of architectural bigwigs came in April this year when he was named as the lead designer in the consortium awarded the prize of building the new National Museum of African American History and Culture, a $500m (£300m) edifice funded by the Smithsonian which will be located in the heart of Washington DC. In June 2007, he was awarded an OBE for services to architecture.
Adjaye himself puts his success down partly to luck, timing and a certain talent for publicity. He told one interviewer: "You've gotta be a showman. You can't just do your work. You've got to put it out there. Nobody's going to give you £10m if you can't demonstrate your ability."
One senior London-based architect said: "There is no doubt that David has sought success and he has undoubtedly deserved it. He talks a very good game and there is no more talented architect of his age.
"But when you enjoy success at that sort of pace and age, it's very hard to keep all the balls in the air. It's hard enough to handle a collapse in the building trade with one practice. If you have three on the go then perhaps it's not surprising there are a few difficulties."
Indeed, public profile has rarely been a problem for Adjaye as he tried to make his way in what he has described as "the most closed, middle-class, middle-aged, trust-fund profession you could ever be in".
As well as a number of appearances presenting television programmes, he made his name creating stark, bastion-like private homes for fellow members of London's millieu of the cool, artistic and successful.
He built homes for the artist Jake Chapman, photographer Juergen Teller, his friend Ofili and artists Tim Noble and Sue Webster. He has also worked on art projects with Ofili, the Danish-Icelandic artist Olafur Eliasson and the Austrian crystal manufacturer, Swarovski. But his building commissions have not always been smooth sailing.
In 2005, Adjaye fell foul of Janet Street-Porter, the broadcaster and former editor of The Independent on Sunday, over problems with her house. She described Adjaye as "someone I dream of ritually disembowelling or forcing to go through a nasty form of torture before mopping up the storm water in my living room with his designer sweaters".
The architect said the row had made him feel he "wanted the earth to swallow me" but insisted the problems had not been due to his designs.
In the meantime, the self-confessed entertainer will doubtless be trying not to let his company's financial problems detract from creative energies. Speaking recently, he said: "I once met a company director who said to me, 'Just concentrate on what you do best, and leave the rest to others.' It's been imprinted on my head ever since."
Join our commenting forum
Join thought-provoking conversations, follow other Independent readers and see their replies