Demis Roussos: Singer who began as a prog-rocker then achieved massive solo success with his brand of sunkissed easy listening
The haunting track 'The Four Horsemen' inspired the likes of Jon Anderson of Yes, Beck, Richard Ashcroft and Noel Gallagher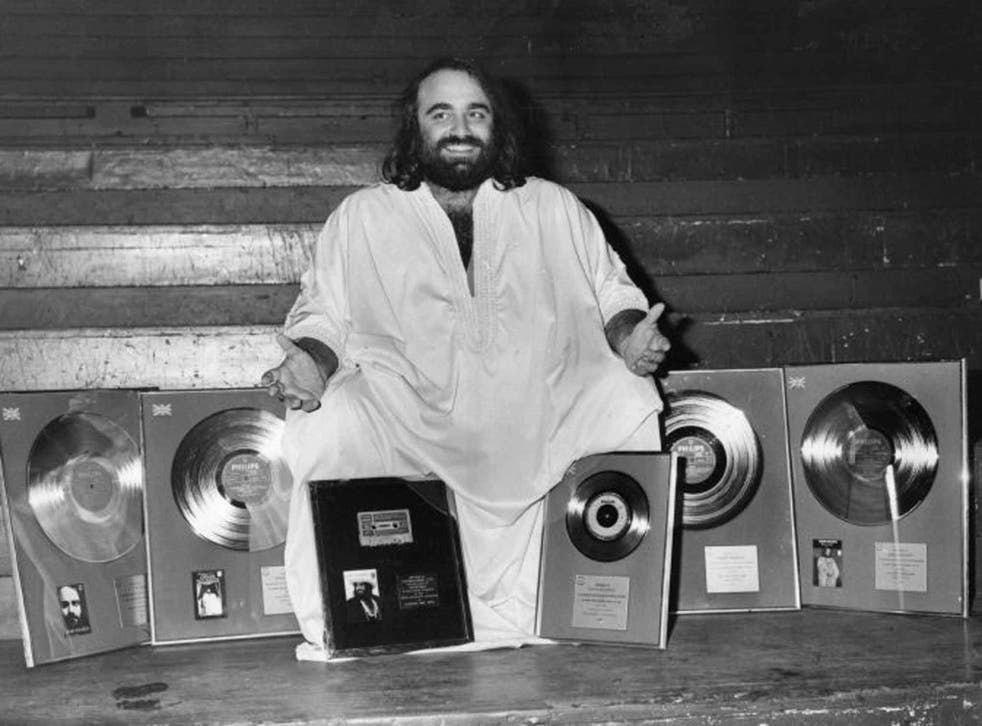 Gifted with a pleading, irresistible voice, particularly an operatic falsetto that seemed to hit a nerve and go right through you, the Greek singer Demis Roussos sold 60 million albums as a solo artist and with his first successful group, Aphrodite's Child. His hairy physique, huge frame, fondness for kaftans and cheesy choice of material, sung in many languages, made him an easy target for parodists but, in the summer of 1976 there was no doubting The Demis Roussos Phenomenon, the title given to his No 1 EP, whose lead track, the cloying, balalaika-flavoured ballad "Forever And Ever", seemed to blare out of every juke-box and radio.
Though the epochal "Rain And Tears" had been a pan-European smash and made the UK Top 30 for Aphrodite's Child in 1968, Britain came late to Roussos. In 1973 he guested on TV shows hosted by Basil Brush and his friend Nana Mouskouri, and by the following year, the Forever And Ever album was becoming ubiquitous. In 1976, the BBC broadcast a documentary entitled The Roussos Phenomenon, providing Philips with the perfect marketing opportunity, not only for "Forever And Ever", but also the equally sentimental follow-up "When Forever Is Gone", a No 2 single that same year.
In 1977 Roussos became a cultural signifier when the BBC broadcast Abigail's Party, the Mike Leigh play starring Alison Steadman as Beverly Moss, the aspirational housewife. Leigh had used "Light My Fire" by José Feliciano in the original production at the Hampstead Theatre in London, but the Play For Today team switched to "Forever And Ever" as the copyright was easier to clear. This proved a double-edged sword for Roussos, instilled within the British psyche, but maybe not as the supreme balladeer, Greece's own Barry White.
He enjoyed further success with The Magic Of Demis Roussos and Live & Love – His Greatest Songs, and occasionally collaborated with Vangelis, most notably on "Tales Of The Future" for the soundtrack to Ridley Scott's 1982 dystopian film Blade Runner.
In June 1985 he was one of 146 passengers on a TWA flight from Cairo to San Diego which was hijacked by members of Hezbollah and Islamic Jihad. He was released after five days, calling the hijackers "nice people".
Born in Alexandria in 194, to Yorgos Roussos, a Greek engineer, and Nelly Mazloum, an Egyptian of Italian origin who had been a film and stage star and continued performing as well as teaching dance and choreography, Demis thrived in this culturally rich environment. He studied musical theory, trumpet and guitar and spent five years as head choirboy at the city's Greek Orthodox Church. However, following the Suez crisis and his parents' divorce he moved to Athens in the early '60s. There, he began singing popular music, eventually joining local cover bands We Five and the Idols.
In 1966, as lead vocalist and bassist, he teamed up with the composer and keyboard-player Evangelos Papathanassiou – Vangelis – the drummer Loukas Sideras and guitarist Anargyros "Silver" Koulouris to form what would become Aphrodite's Child, the name they were given after sending a demo tape to at the London offices of Mercury Records. When the military junta came to power the following year the group moved to the UK, though Koulouris stayed to do his compulsory military service. When their plane landed in Paris because of bad weather, the trio went to the French offices of Philips, Mercury's parent company, and began recording there.
An adaptation of Pachelbel's Canon in D major by Vangelis, with lyrics by Boris Bergman, the plangent "Rain And Tears" had echoes of Procol Harum's "A Whiter Shade Of Pale", the Summer of Love smash, and another atmospheric ballad, "Nights In White Satin'', by the Moody Blues, and propelled Aphrodite's Child into the big league. Between 1968 and 1970 they made the charts throughout most of continental Europe with several of their follow-up, psychedelic pop singles, including the title tracks of their first two albums End Of The World and It's Five O'Clock .
In 1971, Roussos issued his first solo single, ''We Shall Dance'', and debut album, On The Greek Side Of My Mind, but reconvened with Aphrodite's Child for the ambitious concept album 666, based on the Book Of Revelation. Infamous when first issued after Aphrodite's Child broke up in 1972, because listeners were convinced that the Greek actress Irene Papas was pretending to climax on the track "∞" [infinity], the double vinyl set has since grown into a cult classic and one of the albums that defined progressive rock. The haunting track "The Four Horsemen" inspired the likes of Jon Anderson of Yes, Beck, Richard Ashcroft and Noel Gallagher. When I saw Roussos at London's Royal Festival Hall in 2002, the set list ticked all the solo boxes but also included a smattering of Aphrodite's Child classics and the mighty "The Four Horsemen''.
"Even Andy Warhol had a copy of 666," Roussos – who had suffered health problems in recent years – said in 2009 when promoting his last album, Demis. "I'm like a painter who has had his different periods: jazz, soul, pop, psychedelia, variétés [mainstream, middle of the road success]. I don't have any regrets. I have made over 60 million people happy with my records."
Artemios Ventouris Roussos, singer: born Alexandria, Egypt 15 June 1946; married three times; died Athens 25 January 2015.
Register for free to continue reading
Registration is a free and easy way to support our truly independent journalism
By registering, you will also enjoy limited access to Premium articles, exclusive newsletters, commenting, and virtual events with our leading journalists
Already have an account? sign in
Register for free to continue reading
Registration is a free and easy way to support our truly independent journalism
By registering, you will also enjoy limited access to Premium articles, exclusive newsletters, commenting, and virtual events with our leading journalists
Already have an account? sign in
Join our new commenting forum
Join thought-provoking conversations, follow other Independent readers and see their replies