Eastwood at 80
Go ahead... make his birthday. Eighty things you might not know about the octogenarian and Hollywood legend Clint Eastwood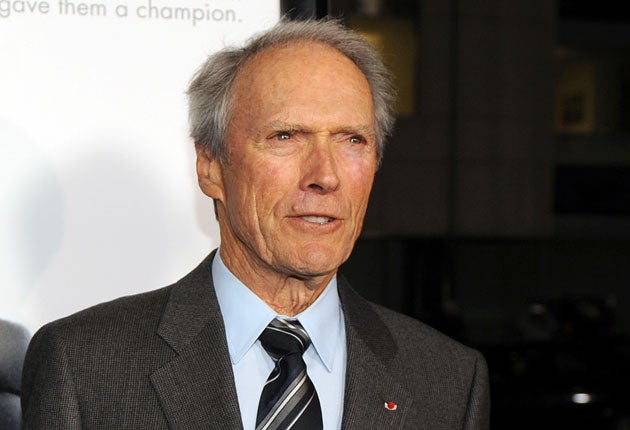 1. His middle name is Elias; he was born on 31 May 1930.
2. His nickname among nurses was Samson: at birth he weighed an eye-watering 12lb 6oz.
3. He should be called Clint Jnr, as he is named after his steelworker dad.
4. Drafted into the army aged 20, he managed to spend the Korean War poolside as an army swimming instructor.
5. Clint claims to have never sworn in front of a woman.
6. Despite spending half his career in the saddle, he is allergic to horses.
7. He has directed 32 films – more than Steven Spielberg or George Lucas.
8. A late bloomer, 10 of these were released in the past decade.
9. Clint met swimsuit model Maggie Johnson on a blind date in June 1953; they married six months later.
10. They divorced in 1984, nine years after separating.
11. Despite his Dirty Harry films, Clint has been very critical of violence in the movies.
12. He intended to study music before being drafted into the US army.
13. Eastwood has 109 film awards, including four Oscars, five Palme d'Ors and two Golden Globes.
14. Gran Torino is the only film in which Eastwood's character is shot dead. The Beguiled (by poison) and Honkytonk Man (tuberculosis) are the only other films in which Clint's character bites the dust.
15. He lost his virginity at 14 and has been called a "serial womaniser".
16. Spike Lee accused him of not casting enough black actors in Flags of Our Fathers. A spat ensued, Clint pleaded historical accuracy.
17. American feminist magazine Bust praised him, however, for casting female actresses in traditionally male roles.
18. In 1954, he auditioned for the lead in The Seven Year Itch but lost out to Tom Ewell who went on to star opposite Marilyn Monroe.
19. His first (uncredited) movie appearance came a year later, in Revenge of the Creature.
20. His only line was: "I've lost my white mouse."
21. In the 1950s, he was the face of Maxim Coffee.
22. He was first choice to play Charles Bronson's part as Harmonica in Sergio Leone's 1968 epic Once Upon a Time in the West, but turned it down.
23. Clint was, at one time, believed to be a vegan.
24. But he denied this, saying: "That's why I don't look at the internet."
25. Customers can tuck into hog's baby back ribs at his Hog's Breath restaurant in the seaside town of Carmel, California, where he lives.
26. He has been known to spend Friday nights manning the restaurant's barbecue.
27. In a 1959 issue of TV Guide, Clint advised readers to "always eat plenty of fruit, vegetables and vitamins and always avoid drinking excess alcohol".
28. Before he hit the big time, he made his living digging swimming pools.
29. Eastwood was also a paper carrier, forest fire-fighter, golf caddy, gas station attendant and bar room piano player.
30. He recites the Greek alphabet to calm his nerves.
31. Harry Callahan's line, "Go ahead, make my day" from Sudden Impact (1983), is the sixth most memorable movie quote ever.
32. Clint successfully ran for mayor of Carmel to overturn a law banning public ice-cream eating.
33. He stood down after one term.
34. An attempt at pop stardom bombed after his 1961 debut single "Unknown Girl" failed to enter the charts.
35. He was so appalled at his performance in Ambush at Cimarron Pass in 1958 that he almost quit acting.
36. In 1976, he called Richard Nixon's handling of the Vietnam War "immoral".
37. That didn't stop him being a card-carrying Republican who supported both presidential campaigns for Richard Nixon.
38. Clint has also supported the Democrats.
39. Director Arthur Lubin first spotted him in 1954, recalling him as "a soft, awkward, hayseed type".
40. His character in the Fistful of Dollars trilogy constantly smokes a cheroot – an unpleasant experience for the militant non-smoker.
41. He has practised Transcendental Meditation every morning for more than two decades.
42. He was the owner of the US's largest bluegum eucalyptus. A taller tree was discovered in 2002.
43. Meryl Streep claimed his Bridges of Madison County filmset was the quietest she'd ever worked on.
44. In 1958, executives at Universal Studios fired Eastwood for having a distractingly large Adam's apple.
45. Eastwood swam three miles to safety after he was in a military air crash in the Pacific Ocean in 1951.
46. His most famous singing role is in 1969's Paint Your Wagon.
47. Since 2002, Eastwood has campaigned against hunting.
48. In 2007, France honoured Eastwood with the Légion d'Honneur.
49. His heritage is English, Irish, Scottish and Dutch.
50. Clint's big break came in 1959 when he was cast as Rowdy Yates in the TV western series Rawhide.
51. He even recorded an album – Rawhide's Clint Eastwood Sings Cowboy Favourites, in 1962.
52. Eastwood married anchorwoman Dina Ruiz – 35 years his junior – in 1996.
53. They met when the 28-year-old Dina interviewed the 63-year-old Clint.
54. Clint and the cast were so cash-strapped on the 1964 movie A Fistful of Dollars that they made their own costumes.
55. Eastwood was fifth choice for the role of The Man With No Name, after Henry Fonda, Charles Bronson, Ty Hardin, James Coburn and Richard Harrison.
56. He's not been out of work since.
57. It was Harrison who recommended Clint as a cheap actor who could play a cowboy.
58. Harrison later said that turning down the role and recommending Eastwood was his greatest contribution to cinema.
59. Clint still describes himself as a shy kid.
60. Clint retired from acting after 2008's Gran Torino.
61. He learned to play the piano by imitating records.
62. He wrote the love theme, "Doe Eyes", from The Bridges of Madison County for his wife Dina.
63. Chopin is one of his biggest musical influences.
64. In 2005, Clint agreed to supply the voice for a Dirty Harry video game.
65. His favourite food is sushi.
66. He used to play the flugelhorn.
67. His favourite exercise is on a less-than-manly cross-trainer.
68. As a child, his family moved around a lot because his father had to look for work during the Great Depression.
69. All that house-moving left him so lonely that he invented imaginary friends.
70. He loved Freddy the Pig stories about talking barnyard animals.
71. During the Rawhide years Clint cashed in by performing with other cast members at rodeos for as much as $15,000 a time.
72. He is a stolid admirer of Winston Churchill.
73. His passion for jazz led to the 1988 film Bird, about saxophonist Charlie Parker.
74. He had a tempestuous 14-year relationship with Sondra Locke, with whom he co-starred in six films.
75. The actor, famous for wielding a 44 Magnum, supports gun control.
76. He has seven children with five different women.
77. His oldest son, Kyle, was born in 1968. Morgan, his youngest, in 1996.
78. He co-wrote a hit single, "Why Should I Care", for Diana Krall.
79. He sings the closing song in Gran Torino.
80. He has 164 movie credits as a writer, director, actor, producer and composer.
Join our commenting forum
Join thought-provoking conversations, follow other Independent readers and see their replies