Ellen DeGeneres gets pizza delivered to the Oscars 2014 crowd, much to Brad Pitt's joy
The host invited celebrities to tuck in during the 86th Academy Awards ceremony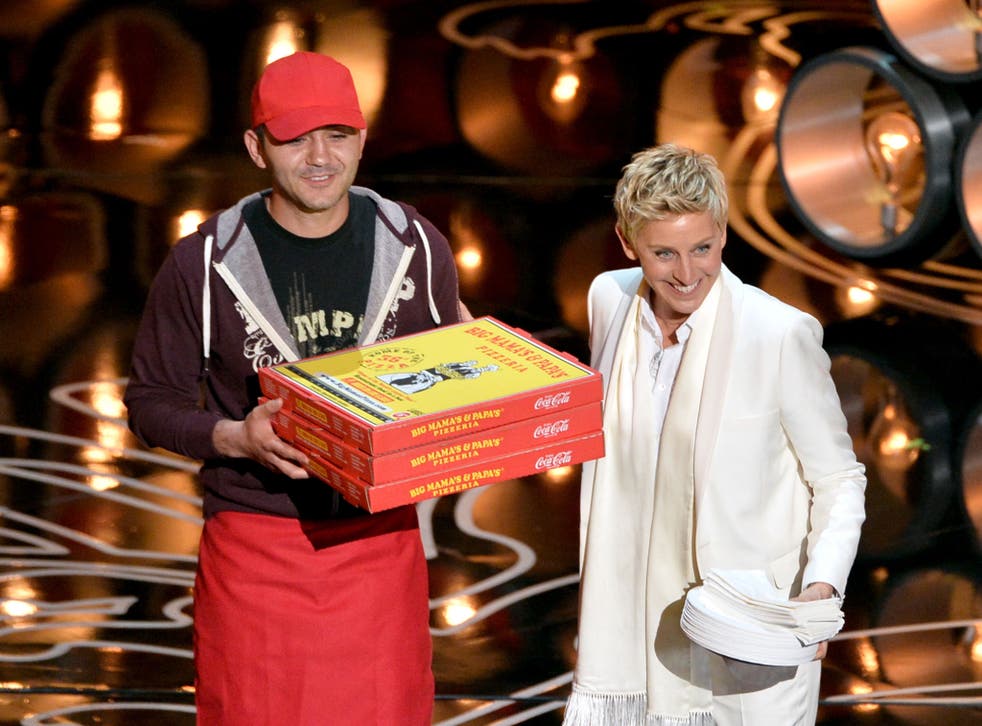 Even the Hollywood glitterati get the munchies during a heavy night at the Academy Awards.
Returning host Ellen DeGeneres dished up free pizza for hungry A-listers at the 86th Academy Awards on Sunday.
The comedienne and talk show star ushered a delivery man from Los Angeles-based Big Mama's & Papa's Pizzeria into the Dolby Theatre and then asked the audience to pay the tip.
"I don't have any money. Sandy?" she said to actress Sandra Bullock, who is set to earn at least $70 million from her role in Box Office heavyweight Gravity, which scooped up seven Oscars.
"You've got a lot of money. You can tip him, right?"
Oscars 2014: Ellen DeGeneres orders pizza for the audience

Show all 5
DeGeneres then called on producer Harvey Weinstein to pay the tip.
"No pressure, only a billion people are watching, whatever you feel is right," she said.
Among the first celebrities to be offered a slice were 12 Years A Slave actor Chiwetel Ejiofor, the film's producer Brad Pitt and his fiancée Angelina Jolie.

Other stars to dig in included August: Osage County nominees Julia Roberts and Meryl Streep, American Hustle nominees Jennifer Lawrence and Christian Bale, and The Wolf of Wall Street director Martin Scorsese.
DeGeneres had opened the ceremony by suggesting that it would conclude in one of two ways: the first possibility, she said, was "that 12 Years A Slave wins the Best Picture Oscar. And, possibility two, you're all racists".
The former hypothesis rang true and the film also won Best Adapted Screenplay for its writer John Ridley, while its star Lupita Nyong'o bagged the Best Supporting Actress Oscar.
DeGeneres' return Oscar engagement came a year after Seth MacFarlane, the creator of animated sitcom Family Guy, was criticised for a risqué performance that included remarks about gays, Jews and domestic violence.
Register for free to continue reading
Registration is a free and easy way to support our truly independent journalism
By registering, you will also enjoy limited access to Premium articles, exclusive newsletters, commenting, and virtual events with our leading journalists
Already have an account? sign in
Register for free to continue reading
Registration is a free and easy way to support our truly independent journalism
By registering, you will also enjoy limited access to Premium articles, exclusive newsletters, commenting, and virtual events with our leading journalists
Already have an account? sign in
Join our new commenting forum
Join thought-provoking conversations, follow other Independent readers and see their replies