Francois Hollande 'affair' latest: French first lady Valerie Trierweiler demands official statement and 'rapid clarification' of her status as hospital stay extended
The President's official companion has told a French journalist that she is aware that some sort of official statement needs to be made
John Lichfield
Monday 13 January 2014 17:06 Comments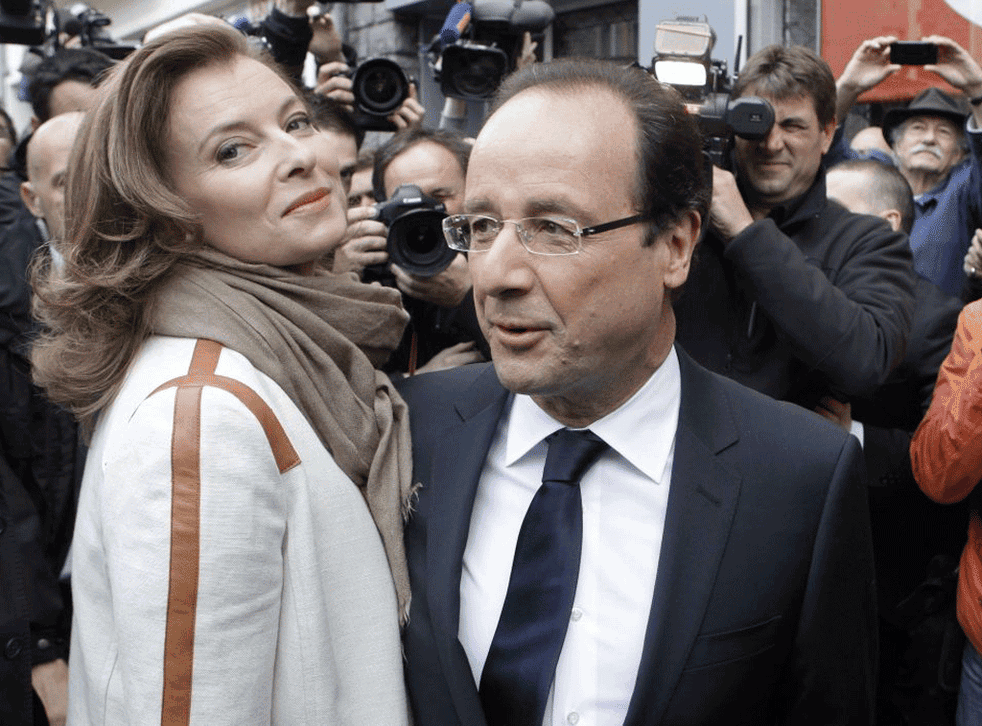 The French First Lady Valérie Trierweiler has demanded a "rapid clarification" of her status – both romantic and public – following President François Hollande's reported love affair with a 41-year-old actress.
The President's official companion has told a French journalist that she believes that an official statement needs to be made to the French people despite Mr Hollande's insistence that the episode is merely part of his "private life".
Ms Trierweiler, 49, was still in hospital suffering from depression and shock tonight, three days after Closer magazine revealed that Mr Hollande was having an affair with the actress Julie Gayet. Her office announced that doctors judged that she needed more rest and she would not leave the hospital as originally planned today.
"She needs to recover after the shock she received," her office said. "She needs quiet."
The only journalist to have spoken to her since the revelation of President Hollande's nocturnal, scooter-borne escapades said that Ms Trierweiler had been prescribed a "ten day rest cure".
Frédéric Gerschel of Le Parisien spoke to Ms Trierweiler by telephone on Sunday afternoon. He told RTL radio: "She knows that a clarification (of her status) is needed. She knows that, if she is no longer First Lady, she cannot continue to have an office (in the Elysée Palace) and make use of state funds. She knows that transparency is needed."
Since Ms Trierweiler is not married to Mr Hollande her semi-official position as "Première Dame" depends entirely on her status as his romantic partner or official companion. Paradoxically, it would be easier for President Hollande to insist that this love affair with Ms Gayet was entirely "private" if he was married to his First Lady.
As things stand, he is coming under increasing pressure from the French media and from opposition politicians to make Ms Trierweiler's position clear. Some reports suggest that a statement will be made – either reaffirming Mr Hollande's commitment to Ms Trierweiler or ending their relationship – before the President gives a much-awaited press conference on a shift in his economic policy on Tuesday afternoon.
Ms Trierweiler seems to be ready to forgive and forget. A friend – quite possibly the First Lady herself – told Le Parisien: "She doesn't want to slam the door in rage but she wants to know very quickly what François Hollande's intentions are."
It was Mr Hollande himself who broke the news of the story to Ms Trierweiller last Thursday, the day before Closer published pictures showing the President, disguised by a motorcycle helmet, emerging from the actress' s pied-a-terre close to the Elysée Palace.
"Valerie was hit on the belly by a high speed train," the friend told Le Parisien. "She was completely knocked out."
Although Ms Trierweiller had heard rumours of a presidential love affair, she had chosen to discount them, the newspaper said.
The unfolding crisis is being watched with intense schadenfreude by Mr Hollande's predecessor. During his successful election campaign in 2012, Mr Hollande criticised the way that Nicolas Sarkozy's eventful private life had dominated his five years in the Elysée Palace. He promised to be a sober, irreproachable, hard-working president.
One of Mr Sarkozy's closest friends, the former interior minister, Brice Hortefex – often used as a messenger for the former President's views – said: "Sarkozy has no reason to cry because Hollande is getting himself in trouble."
He recalled that in the final presidential TV debate in May 2012 Mr Hollande had made a string of anti-Sarkozy statements in the form of pledges beginning with the words. "Moi, President" or "When I am President".
One of the Hollande pledges was: "When I am President, I will ensure that my behaviour is exemplary every instant."
A second scandal surrounding the ownership of the flat where Mr Hollande and Ms Gayet spent the night of 30-31 December appeared to have been nipped in the bud today. French websites had wrongly reported that the flat – in the Rue du Cirque (circus street), 100 metres from the Elysee – belonged to a man who allegedly had links with the Corsican mafia.
The real owner, Jean-Pierre Discazeaux, a 71-year-old retired businessman living in Biarritz, said that he would sue if the allegations were repeated.
Register for free to continue reading
Registration is a free and easy way to support our truly independent journalism
By registering, you will also enjoy limited access to Premium articles, exclusive newsletters, commenting, and virtual events with our leading journalists
Already have an account? sign in
Join our new commenting forum
Join thought-provoking conversations, follow other Independent readers and see their replies