Gaddafi's night in with '500 attractive girls' - and the Koran
Mini-skirts and plunging necklines forbidden as Libyan leader tries to convert Roman 'hostesses' to Islam
Michael Day
Tuesday 17 November 2009 01:00 Comments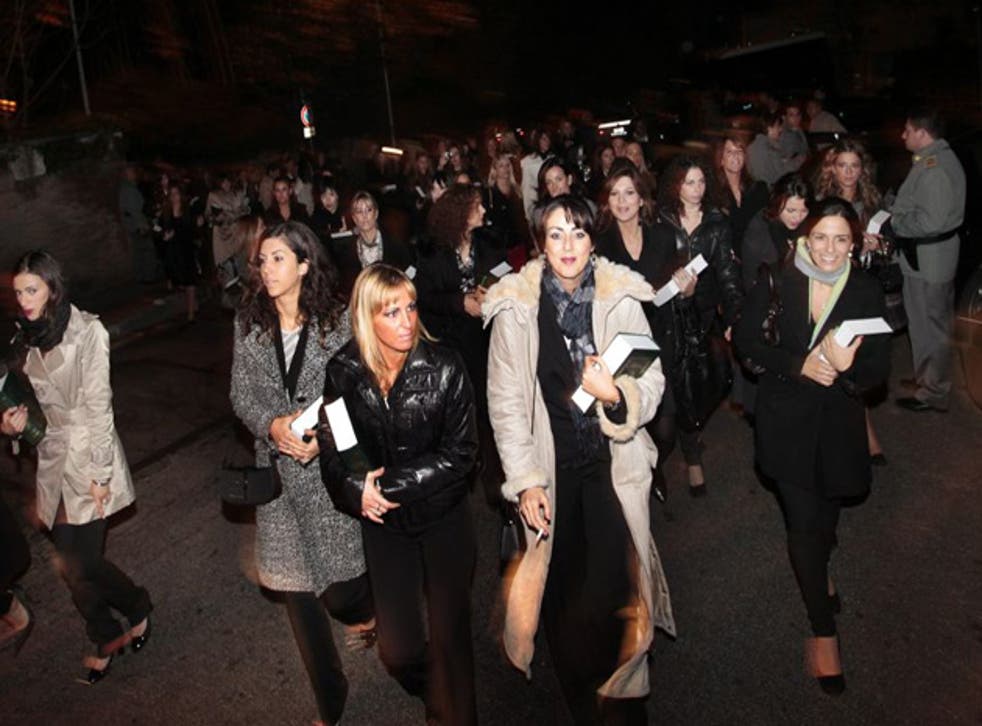 The mysterious host asked the Italian hospitality agency for "500 attractive girls between 18 and 35 years of age, at least 1.7 metre high", and if the women who answered the call were in the dark about their duties, they must have felt confident that the event would be an interesting one.
As it turned out, they were right – but not, perhaps, in a way they might have expected. The host was none other than Colonel Muammar Gaddafi. Miniskirts and plunging necklines were forbidden. And the purpose of the gathering was to convert them to Islam.
The eccentric Libyan leader was in Rome for the World Food Summit, but apparently his interest in the event's famine relief programme was matched by his determination that Italy's most glamorous hostesses be fired with religious zeal. Reports in the Italian press relate how soon after the dictator's arrival in the Italian capital, Gaddafi's aides had contacted an agency that supplies attractive young women as hospitality. They were asked to come to the home of Hafed Gaddur, the Libyan ambassador in Rome over three evenings this week, beginning on Sunday.
The girls had to be pretty, but given the pious motivation for the event, miniskirts and plunging necklines were forbidden. At the first of the sessions, Gaddafi appeared, after a typically diva-like late arrival. Dressed all in black, he sat in the middle of a "sumptuous drawing room", and began the lesson.
His all-female staff distributed gift copies of the Koran to the participants, according to Paolo Lo Mele, a reporter from Ansa news agency, who sneaked in, posing as a hostess.
The women were paid €50 (£44), and lectured on the Koran, the superiority of Islam, the failings of Christianity, and the role of women in the Western world – where, Gaddafi said, they were "often used as pieces of furniture, changed when it pleases men".
The reaction was distinctly mixed regarding whether €50 was enough to sit through it all. "I was expecting a party, not a lesson, but it was a very interesting experience," one attendee told Ansa. Another blonde woman, in a fake rabbit skin coat, was rather more critical, however. "I feel very offended with regard to my religion," she harrumphed.
Fittingly for a leader who'd flown in to discuss world famine, there was no wasteful banquet on offer. In fact, many of the guests later complained they weren't offered any refreshments, not even a glass of water.
However, they were each given, in addition to the Koran, a copy of Gaddafi's famous "Green Book", containing all his pearls of wisdom.
Ahead of yesterday evening's session, it was promised that Gaddafi would field questions from the floor.
As current chairman of the African Union, and self-appointed spokesman for Africa, Gaddafi also managed to find time to attend the UN food summit. He was introduced by summit host and Italian premier Silvio Berlusconi, who appeared in high spirits, possibly because the meeting had given him an excuse to postpone an appearance in a Milan court on tax fraud charges. Gaddafi was on similarly barnstorming form there, blasting the "blatant hypocrisy" of Western powers, which offered "charity" to the world's poor while "sacking" their natural resources.
Register for free to continue reading
Registration is a free and easy way to support our truly independent journalism
By registering, you will also enjoy limited access to Premium articles, exclusive newsletters, commenting, and virtual events with our leading journalists
Already have an account? sign in
Join our new commenting forum
Join thought-provoking conversations, follow other Independent readers and see their replies