Gamu family will fight deportation 'all the way'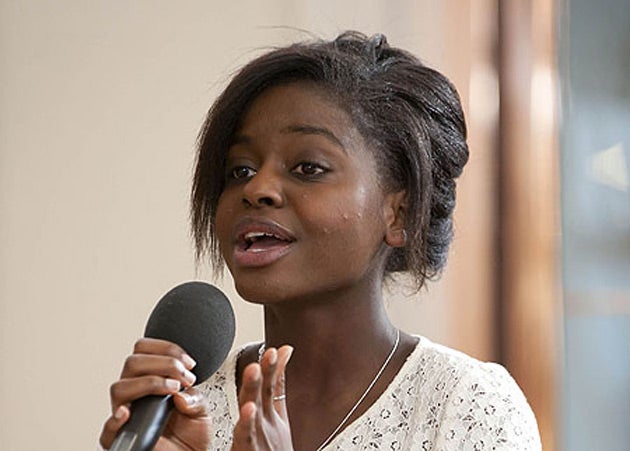 The lawyer representing X Factor reject Gamu Nhengu's family said today they would fight "all the way" plans to deport them.
The 18-year-old singer, who was eliminated from the ITV show at the weekend despite being a huge hit with fans, has been told she must return to her homeland of Zimbabwe after her mother's visa application was turned down.
The teenager's mother Nokuthula Ngazana had been allowed to stay in the UK while she studied at university, with Nhengu permitted to remain in the country as her dependant.
But Ms Ngazana's application to remain in the country was turned down, with the UK Border Agency saying it did not "meet all of the conditions for approval".
Nhengu and her family have been told they do not have a right of appeal and must leave the UK by their own accord or face deportation.
Today the family's solicitor Frances Farrell vowed they would take the fight to keep the family in Scotland to the Court of Session in Edinburgh if necessary.
Ms Farrell said she had not yet seen the written decision on the case from the Home Office.
She told BBC Radio Scotland's Good Morning Scotland: "It's difficult for me to comment without seeing the written decision but I think their position is going to be that the original application was not on time. That then deprives my client of her normal full rights of appeal to the immigration tribunal.
"If that is the case, if she has been deprived by the Home Office of her right to appeal, let me make it crystal clear that we will be fighting this all the way to the Court of Session in Edinburgh by judicial review."
Ms Farrell said she had already spoken to an "experienced advocate" about the matter and added he would be "more than delighted to fight this decision".
The solicitor explained Ms Ngazana, a nurse, had a visa under the Fresh Talent scheme, which allowed overseas graduates at Scottish universities to remain in the country and work.
She said the application to extend the visa had been submitted on time, but added: "There was a very slight error due to bank details, but the Home Office led us to believe that was no longer a problem, and I was fully expecting this visa to be granted."
Ms Farrell also denied allegations Ms Ngazana had wrongly claimed benefits: "She was advised initially by her accountant to apply for working tax credits and then in actual fact was told by the Inland Revenue that she was fully entitled to this. She did everything absolutely above board."
Politicians who represent the Tillicoultry area of Clackmannanshire, where the family stay, have also been calling for them to be allowed to remain in the country.
Yesterday, Labour MP Gordon Banks demanded Scottish Secretary Michael Moore should "bang heads together" and look at the situation faced by Nhengu.
Ochil MSP Keith Brown, who constituency includes Tillicoultry, also intervened. He said of the young star: "I have known her for a number of years and heard her sing many times. She is the kind of hardworking talent we should have in Scotland.
"Her mother has always been described to me as a model and hardworking student who is now serving as a nurse, and if there are any problems over the family's status we should work to resolve them, not see them sent away.
"UK immigration and the Home Office need to explain why a talented and hardworking family is facing this situation."
Nhengu's controversial axing from the X Factor caused a storm among viewers, with more than 240,000 fans signing up to a Facebook page called Gamu Should Have Got Through, in protest at judge Cheryl Cole's decision to leave Nhengu out of the final 12.
Show bosses have already denied suggestions Cole was influenced by visa issues. A spokeswoman said: "We are supporting Gamu and her family during this difficult time."
A UK Border Agency spokesman said: "The applications made by Ms Ngazana and her family were considered in line with the published immigration rules.
"Ms Ngazana's application was refused as it did not meet all of the conditions for approval. Her family, who had applied as her dependants, were therefore also refused.
"Where people are found to have no right to remain in the UK, we expect them to leave voluntarily."
Support was growing for Nhengu in the local Clackmannanshire community. This morning, a woman handed in £100 cash to security staff who are now at the modest flat.
She also left a Susan Boyle CD, a loaf of bread and milk on the doorstep, and scattered bird seed.
A letter of support from the woman said that in Scotland "we feed our little sparrows", and appealed to the powers in London not to deport the teenager.
The letter said: "She is a giver not a taker."
Join our commenting forum
Join thought-provoking conversations, follow other Independent readers and see their replies