Andy Gray and Richard Keys direct sexist chant at Clare Tomlinson in new video: 'Get your t**s out for the lads'
Footage shows axed former Sky Sports presenter Gray making offensive chant at female colleague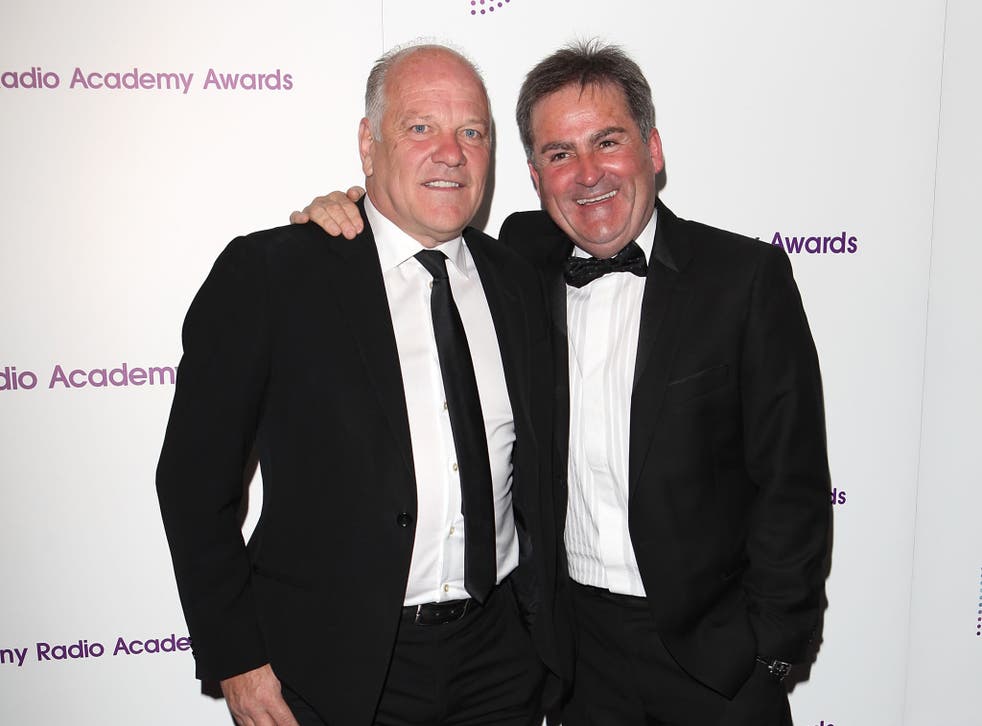 An attempt to rehabilitate the disgraced football pundit Andy Gray is under threat after video footage emerged of the presenter apparently aiming sexist comments at the Sky Sports reporter Clare Tomlinson.
The former Everton and Scotland striker, who made his return to British television after a three-year absence last weekend as pundit for BT Sport in their FA Cup fourth-round coverage, is facing further embarrassment along with his former Sky Sports colleague Richard Keys.
Gray and Keys were both sacked from Sky Sports in 2011 when they were caught making derogatory remarks about female official Sian Massey.
In a 30-second clip leaked to the Football Ramble website, dating from their time as Sky presenters, Gray and Keys are heard wolf-whistling at Tomlinson as she prepares to report to camera pitchside at the Millennium Stadium in Cardiff. The duo break into a chant of "Get your tits out for the lads". Gray then makes another derogatory comment before the footage cuts off.
Some viewers criticised BT Sport for using Gray as co-commentator during Stevenage's FA Cup tie with Everton last weekend. His performance, standing in for regular pundit Michael Owen, was described as a "one-off" by the channel.
Sky Sport sacked Gray, the face of the broadcaster's football coverage for 20 years, after he and Keys were heard on air making offensive remarks about assistant referee Sian Massey prior to a Premier League match.
Believing their microphones were off, Gray said: "Can you believe that? A female linesman. Women don't know the offside rule." Keys replied: "Course they don't."
Further footage subsequently emerged of Gray making an inappropriate comment to Sky Sports presenter Charlotte Jackson off-air at the Sky studios. Film was also released of Richard Keys teasing his colleague Jamie Redknapp about his wife by using misogynist language about the nature of their relationship.
Keys resigned from his position, whilst Gray was axed. The pair returned as talk show hosts on the radio station talkSPORT, before continuing their television careers at Al Jazeera.
The leaking of the latest footage appears to have been timed to sabotage any prospect of a return to frontline commentary for Gray.
The nature of his fall from grace had left him "suicidal", the 58 year-old has previously said, though he defended his controversial remarks as a "private bit of banter" and "a light-hearted quip". Keys, meanwhile, has claimed that "dark forces" were behind his fall from grace at BSkyB.
BT Sport has given no indication of whether Gray will return. A spokesman said: "Andy Gray made a guest appearance last weekend and we were happy with his commentary." A source at Sky said: "We recognised this as an issue three years ago and we dealt with it."
After investing heavily in Premier League football, BT Sport has signed up leading female presenters including Clare Balding in a bid to widen its audience.
Biggest January transfers - in pictures

Show all 31
Register for free to continue reading
Registration is a free and easy way to support our truly independent journalism
By registering, you will also enjoy limited access to Premium articles, exclusive newsletters, commenting, and virtual events with our leading journalists
Already have an account? sign in
Register for free to continue reading
Registration is a free and easy way to support our truly independent journalism
By registering, you will also enjoy limited access to Premium articles, exclusive newsletters, commenting, and virtual events with our leading journalists
Already have an account? sign in
Join our new commenting forum
Join thought-provoking conversations, follow other Independent readers and see their replies