Gwyneth Paltrow gushes over Barack Obama: 'You're so handsome, I can't speak properly'
Back garden fundraiser gives star the chance to admit admiration for President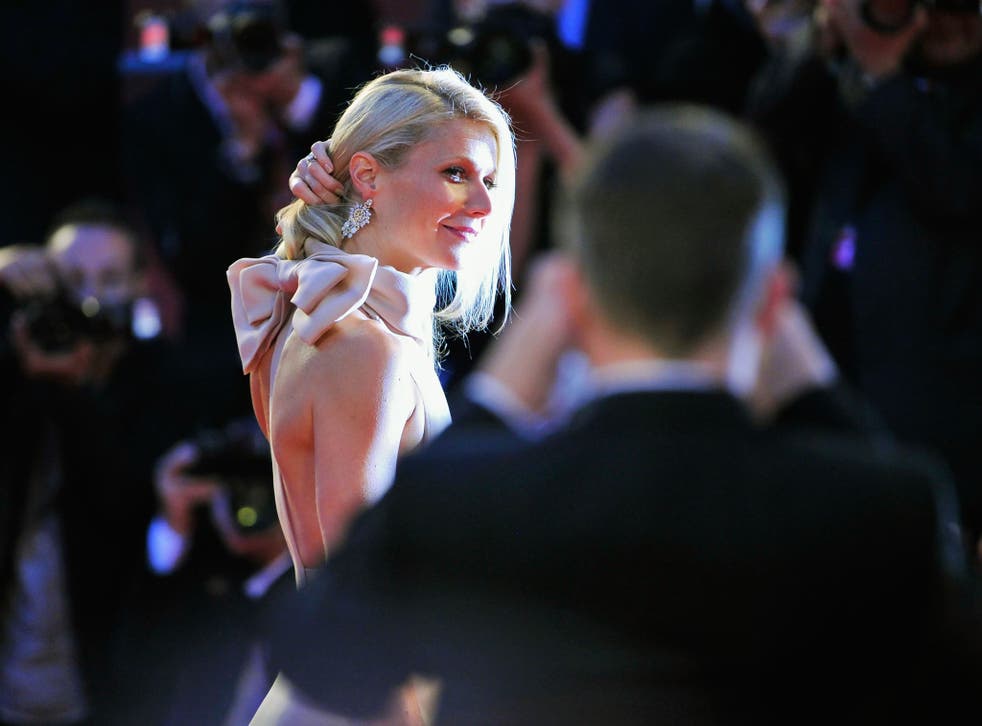 When the President of the United States is standing in your back garden, even an Oscar-winner can get a little starstruck.
On Thursday evening, Barack Obama was the guest of honour at a Democrat fundraiser hosted by actress and Goop-founder Gwyneth Paltrow at her Los Angeles home. "I am one of your biggest fans, if not the biggest," Ms Paltrow gushed as she introduced the President – and she doesn't just love his work. "You're so handsome that I can't speak properly," she said.
Ms Paltrow called it a "profound honour" to welcome Mr Obama to her home in the Brentwood neighbourhood, where she lives with daughter Apple, 10, and son Moses, 8, her children with Coldplay frontman Chris Martin, from whom she "consciously uncoupled" earlier this year.
Apple and Moses were among the 200 attendees at the fundraiser, where movie stars including Julia Roberts sat with other leading LA lights on white, folding garden chairs, listening patiently as Ms Paltrow described Mr Obama as an "incredible role model", adding that she was a huge fan before he was famous – or, at least, "since the inception of your [2008] campaign." As Mr Obama stood up to speak, he joked: "I'm taking her to the next event."
Tickets to the "casual" reception at Ms Paltrow's home started at $1,000 (£625), while one of the 50 seats for dinner would have set the President's supporters back at least $15,000.
The event was the first of Mr Obama's three-day California fundraising drive. Ms Paltrow told her guests that the run-up to the midterm elections on 4 November is a "critical time" for Democrats, who risk losing control of the US Senate. "It would be wonderful if we were able to give this man all of the power that he needs to pass the things that he needs to pass," the actress said. She specifically mentioned environmental issues and suggested equal rights for women in the workplace was "very important to me as a working mother". Forbes recently put Ms Paltrow's annual income at approximately $19m (£30.5m).
Mr Obama thanked Ms Paltrow "for letting us crash at your house", before speaking for more than 20 minutes about topics ranging from economic policy to Isis. On the subject of income inequality, he noted: "Most of the gains in our economy go to the folks who are in this lovely yard. The average person has not seen their wages or incomes go up in the last 20 years."
Though there is little chance of an Ebola outbreak in the US, Mr Obama said: "There's a humanitarian crisis that's happening in West Africa right now where children not much older, and in some cases younger, than Apple and Moses, are dying on the streets alone."
With his approval ratings hovering in the low 40s, Mr Obama's influence on the mid-term campaign is not thought to be entirely positive for Democrats. And Ms Paltrow's children were not quite as dazzled as their mother by the President, even when he gave them a personal mention.By the end of his speech, Apple and Moses were reportedly nodding off.
Register for free to continue reading
Registration is a free and easy way to support our truly independent journalism
By registering, you will also enjoy limited access to Premium articles, exclusive newsletters, commenting, and virtual events with our leading journalists
Already have an account? sign in
Register for free to continue reading
Registration is a free and easy way to support our truly independent journalism
By registering, you will also enjoy limited access to Premium articles, exclusive newsletters, commenting, and virtual events with our leading journalists
Already have an account? sign in
Join our new commenting forum
Join thought-provoking conversations, follow other Independent readers and see their replies