I was one of women auditioned to be Tom Cruise's wife, says former Scientologist
Norwegian woman recounts personal questions from interview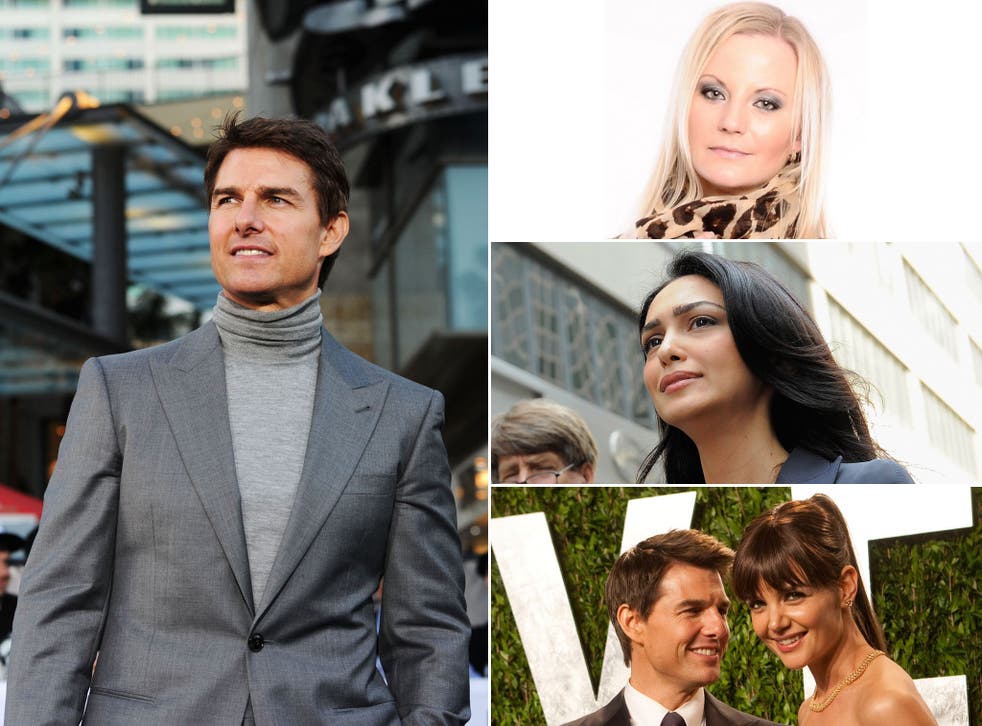 A former Scientologist has claimed that she was one of several women "auditioned" as a potential wife for the actor and Scientology stalwart Tom Cruise before his marriage to the actress Katie Holmes.
In an article published simultaneously in the Australian magazine Women's Day and The Underground Bunker, a blog about Scientology by the journalist Tony Ortega, Anette Iren Johansen claimed the audition took place in Copenhagen in 2005.
Ms Johansen, who describes herself on her Twitter page as an "entrepreneur, scientist, chemist, musician (trumpet, cornet and flugelhorn), artist, dancer, Scientology whistleblower, animal lover and geek from wonderful Norway", ceased taking Scientology classes in 2010 and has started blogging about her experiences, including what she describes as "terrible abuses committed within the Church".
Ms Johansen grew up in Norway, but was studying as a veterinarian in Copenhagen when she joined the Church of Scientology in 2002. She appeared in a handful of Scientology magazines and training films, and in January 2005 claims she was invited to audition for another project. This time, however, there was no script. Instead, she said: "They asked me so many questions about my life, my family background, everything I'd ever done in Scientology. There was a lot of talk about Tom Cruise at that time – he had just been in Norway [hosting] the Nobel Peace Prize concert."
Afterwards, Johansen, then 27, was ordered to sign a waiver promising not to reveal any details of the "audition". A fortnight later, she said, she received a phone call from a man at "Golden Era Productions" in California, who asked her a string of private questions, including whether she had any "sexual perversions".
The article alleged that Ms Johansen was one of a number of women considered for the role of Cruise's wife in 2004 and 2005.
Mr Ortega quoted another former Scientologist, Marc Headley, who claimed to have seen a highlight reel of the women's auditions while still in the Church. Mr Headley said Ms Johansen's interview "was for Tom Cruise, absolutely. Those are the exact same questions that they were asking the other girls… The reason the sexual question came up was that they had some girls with histories that weren't so great. So they were being careful. This girl has to be perfect in all ways." Mr Headley also claimed the Church searched the world for an ideal candidate because "it was slim pickings in Los Angeles. In LA there were a lot of pretty girls, but they had a lot of baggage, by Scientology standards".
Ms Johansen is not the first woman attached to such claims. Last year Vanity Fair published a piece alleging that the Persian-British actress Nazanin Boniadi had been similarly "auditioned" and even dated Cruise for several months. The Church of Scientology has denied the accusations.
Karin Pouw, a spokeswoman for the Church, told The Independent: "We stand by the statement we issued last year: there was no project, secret or otherwise, ever conducted by the Church to find a bride [via audition or otherwise] for any member."
Register for free to continue reading
Registration is a free and easy way to support our truly independent journalism
By registering, you will also enjoy limited access to Premium articles, exclusive newsletters, commenting, and virtual events with our leading journalists
Already have an account? sign in
Register for free to continue reading
Registration is a free and easy way to support our truly independent journalism
By registering, you will also enjoy limited access to Premium articles, exclusive newsletters, commenting, and virtual events with our leading journalists
Already have an account? sign in
Join our new commenting forum
Join thought-provoking conversations, follow other Independent readers and see their replies