Bill Gates ice bucket challenge: Microsoft founder gets soaked after Mark Zuckerberg nomination
Billionaire took up the challenge with geeky video
Neela Debnath
Saturday 16 August 2014 15:13 Comments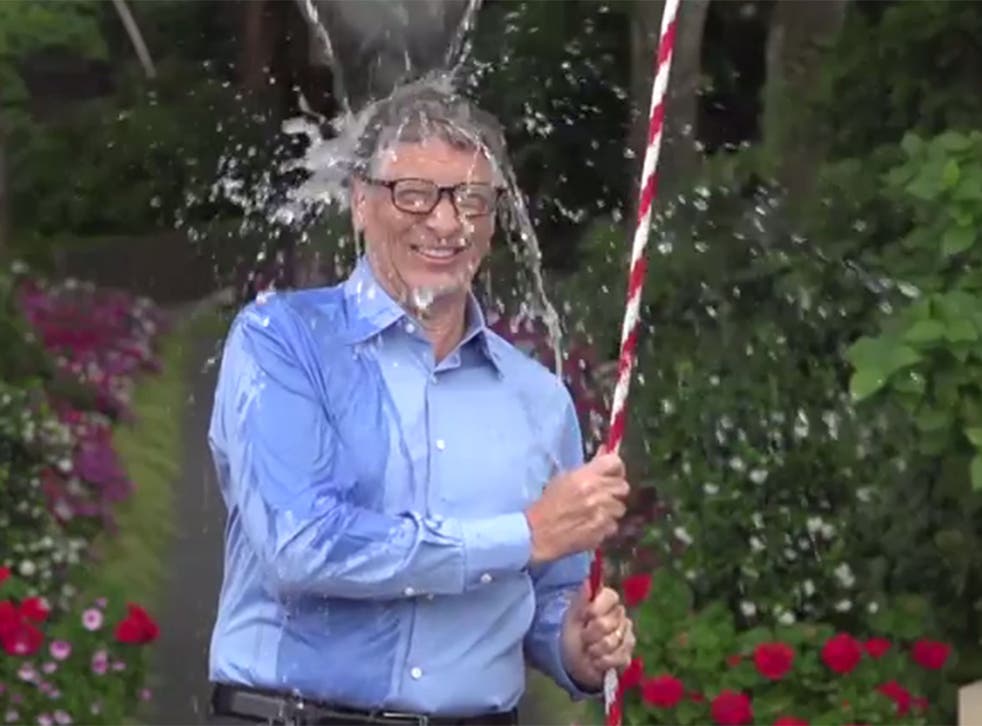 He may be one of the richest men in the world but that doesn't mean Bill Gates takes himself too seriously all the time – especially in the name of charity.
The Microsoft co-creator has posted a video of himself getting drenched by a bucket of freezing cold water, after Facebook co-founder Mark Zuckerberg named him to take part in the 'ice bucket challenge'.
The challenge involves dumping a bucket of ice-cold water on oneself and filming it, before nominating three other people to do the same within the next 24 hours. Each participant is then expected to donate money to charity.
Zuckerberg named Gates, along with Facebook's chief operating officer Sheryl Sandberg and Netflix CEO Reed Hastings ,in a video.
Gates' video was posted on YouTube yesterday and has already racked up over a million and half views. In the 90-second video, the billionaire computer programmer and philanthropist gives the challenge his own nerdy and humorous take by making a contraption to drench himself with.
Gates then nominates the CEO of Tesla Motors, Elon Musk, American television presenter Ryan Seacrest and TED curator Chris Anderson to take up the bucket.
The trend has gone viral in the US, with many celebrities including, Oprah Winfrey, Justin Timberlake and Kick-Ass actress Chloe Moretz taking part.
The challenge is now making its way over to this side of the Atlantic, former Manchester United players Paul Scholes and Gary Neville both doused themselves in cold water for a terminally ill fan.
The ice bucket challenge started after ALS, an American motor neuron disease charity, started a campaign that aimed to raise money and awareness about the condition.
The illness, also known as Lou Gehrig's disease, is neurodegenerative and leads to muscle weakness and atrophy.
Register for free to continue reading
Registration is a free and easy way to support our truly independent journalism
By registering, you will also enjoy limited access to Premium articles, exclusive newsletters, commenting, and virtual events with our leading journalists
Already have an account? sign in
Join our new commenting forum
Join thought-provoking conversations, follow other Independent readers and see their replies