InStyle magazine accused of lightening Kerry Washington's skin tone on March cover
Fans are outraged that the actress' skin looks lighter
Kashmira Gander
Friday 06 February 2015 11:29 Comments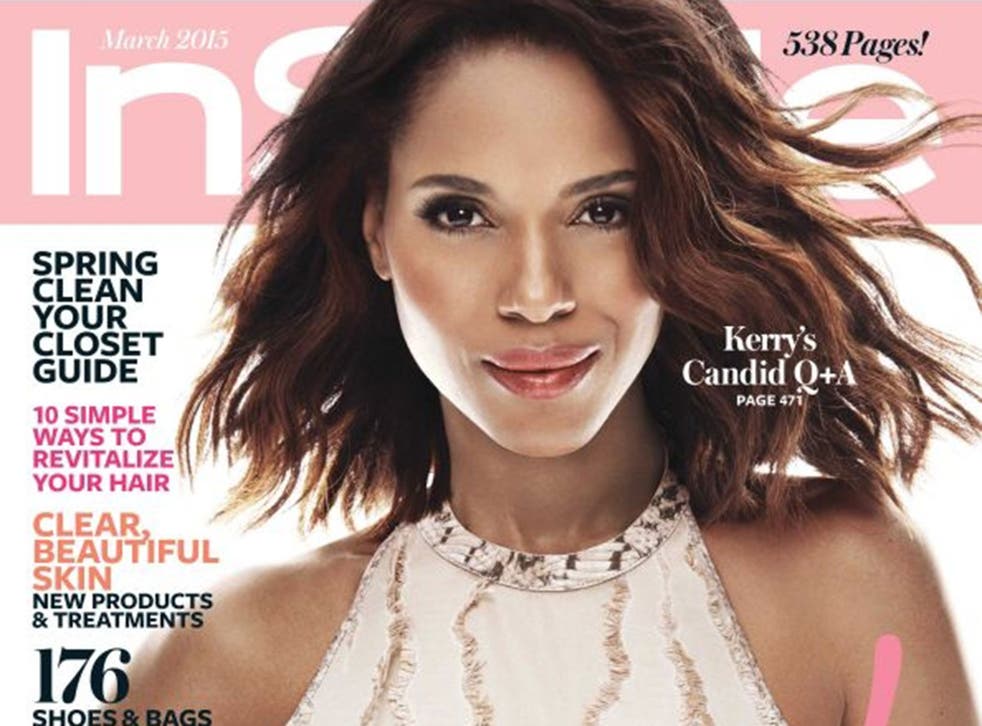 InStyle magazine has been forced to explain why Kerry Washington looks significantly lighter on its March cover, as it fielded complaints from angry fans.
Last night, the Django Unchained actress told to her Instagram followers that she was "THRILLED" to release a sneak peak of the March cover of the US edition of the magazine.
The cover shows Washington gazing into the camera with her hands on her hips as she is drowned in bright white light, particularly across her cheeks.
Rather than joining the actress in gushing over the cover, Instagram users expressed their outrage that Washington's skin appeared significantly lighter.
One fan wrote: "Glad you made the cover kerry, but this isn't right. I'm sorry. It's not. Don't let them do that to you."
"Why is she white in this picture," asked another.
The incident is part of an on-going debate on whether African American stars are sometimes made to appear "whiter" in the media.
InStyle put the change in Washington's appearance down to lighting, as after it received complaints from people concerned that the actress' skin was deliberately lightened.
The magazine said in a statement Thursday: "While we did not digitally lighten Kerry's skin tone, our cover lighting has likely contributed to this concern. We understand that this has resulted in disappointment and hurt.
"We are listening, and the feedback has been valuable. We are committed to ensuring that this experience has a positive influence on the ways in which we present all women going forward."
Washington, who has received a string of National Association for the Advancement of Colored People (NAACP) Image Awards, later tweeted praising the magazine for its statement. She also thanked fans for opening an "important" conversation that "needs to be had".
The controversy comes after L'Oreal was embroiled in its own race row, after the cosmetics giant was accused of "whitening" Beyonce's skin tone in ads dating to 2008. The company denied the claims.
Additional reporting by AP
Register for free to continue reading
Registration is a free and easy way to support our truly independent journalism
By registering, you will also enjoy limited access to Premium articles, exclusive newsletters, commenting, and virtual events with our leading journalists
Already have an account? sign in
Join our new commenting forum
Join thought-provoking conversations, follow other Independent readers and see their replies