James Franco writes love letter to McDonald's: You were there for me when no-one else was
The former vegetarian Hollywood actor has written affectionately of his Mickey D's days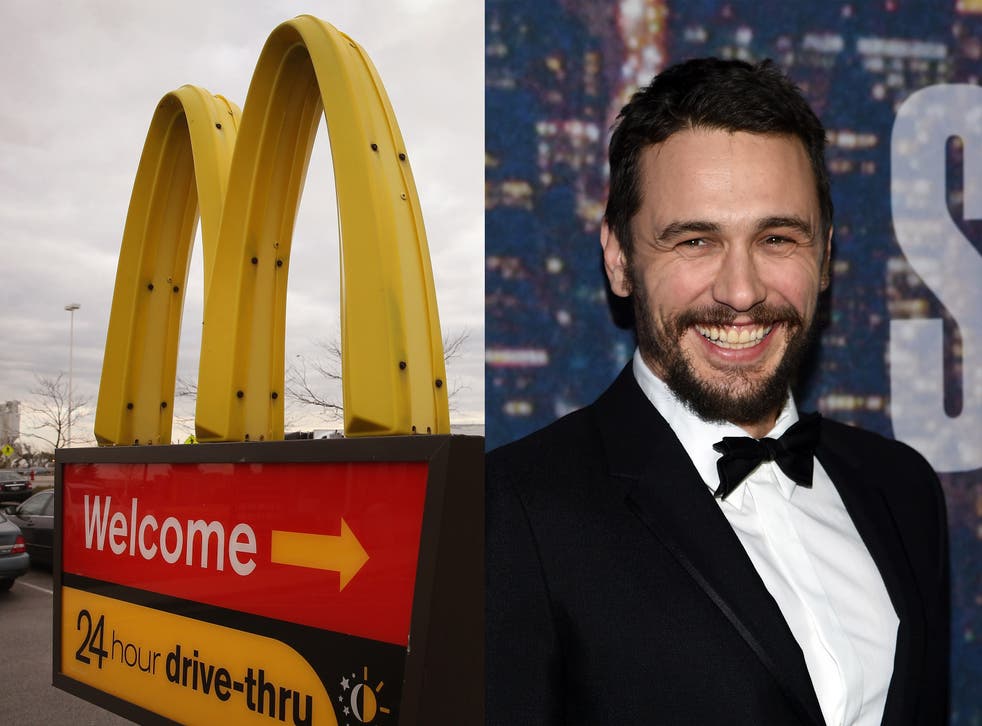 Criticism might currently be raining down on McDonald's like a toddler throwing fries but the American fast food outlet has earned itself an unlikely defender in the form of Jame Franco.
The Interview actor has written an affectionate op ed about his experiences working at an LA Franchise in his days as a Tinseltown wannabe. "All I know is that when I needed McDonald's, McDonald's was there for me. When no one else was," he wrote in the Washington Post.
Franco, 37, went to Hollywood after dropped out of college in 1996 and says he cheerfully donned a purple visor and polo shirt to work for the fast food chain.
"Someone asked me if I was too good to work at McDonald's. Because I was following my acting dream and despite all the pressure not to, I was definitely not too good to work at McDonald's. I went to my nearest Mickey D's and was hired the same day."
His only concession to training for his future career was to try out fake accents on customers "to practice for my scenes in acting class".
Despite having been vegetarian when he was first hired, Franco described how he would grab and eat the cheeseburgers that were heading for the bins and would scoff down chips "straight from the fry hopper".
He writes: "I hate to whistleblow, but everyone ate straight from the fry hopper. You'd walk by and snag a fry and pop it in your mouth. So easy. I also put tons of salt on the fries because that's how I like them. I don't know if the customers ever complained."
After three months Franco, who is best known for playing the journalist instructed to assassinate a North Korean leader alongside Seth Rogen in The Interview, was offered a job in a Super Bowl ad and he hung up his McDonald's uniform.
Sony Cyber Attack: The Worst Affected In Hollywood

Show all 13
McDonald's has received a slew of bad press lately amid criticism from workers, customers and even its own franchisees.
The business is currently experiencing one of the worst periods in its 60-year history and its new chief executive, Steve Easterbrook, said last week he hopes to turn the tide of its poor performance.
Register for free to continue reading
Registration is a free and easy way to support our truly independent journalism
By registering, you will also enjoy limited access to Premium articles, exclusive newsletters, commenting, and virtual events with our leading journalists
Already have an account? sign in
Register for free to continue reading
Registration is a free and easy way to support our truly independent journalism
By registering, you will also enjoy limited access to Premium articles, exclusive newsletters, commenting, and virtual events with our leading journalists
Already have an account? sign in
Join our new commenting forum
Join thought-provoking conversations, follow other Independent readers and see their replies