Josef Masopust: Gifted footballer who scored in the World Cup final and whose sportsmanship saw him described as 'The Knight'
Immensely skilful, beautifully balanced and incisively intelligent, he was prodigiously industrious in his box-to-box role
Ivan Ponting
Tuesday 30 June 2015 19:32 Comments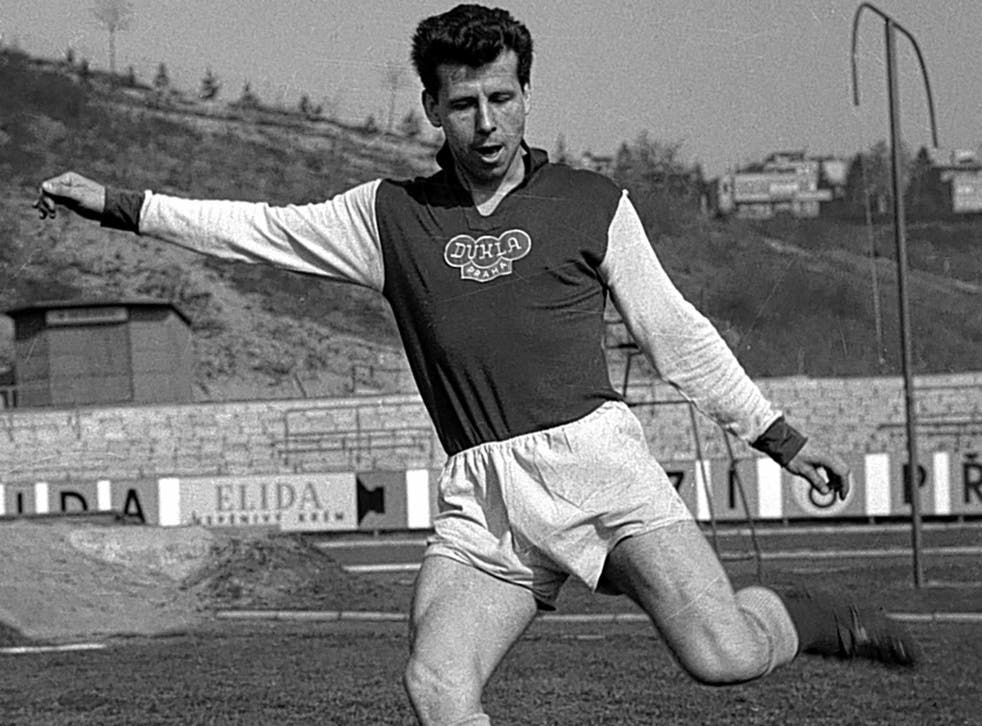 Josef Masopust, the 1962 European Footballer of the Year, was one of the world's most complete all-round performers during his imperious prime with Dukla Prague and the former Czechoslovakia. A sublimely gifted creative midfielder – or wing-half, as the role was described at the time – he occupied an equivalent niche in his nation's sporting consciousness to Bobby Charlton in England, fêted as an idol while receiving praise with an engaging modesty which never faltered.
Masopust reached his zenith in the 1962 World Cup tournament in Chile, shining in victories over much-fancied Spain, Hungary and Yugoslavia, then giving the Czechs an unexpected lead early in the Santiago final against strong favourites Brazil. The South Americans duly hit back to win 3-1, but in the great Pele's absence through injury, it was Masopust's stylish display that had the pundits purring.
Immensely skilful, beautifully balanced and incisively intelligent, the Dukla playmaker was prodigiously industrious in his box-to-box role, and although he was no bruiser, he was adept at breaking up opposition attacks with crisply-timed tackles and shrewd interceptions.
His passing was a delight, invariably accurate and often penetrative, but it was his jinking forays, frequently beginning in his own half and ending deep inside enemy territory, that became his trademark. He had a characteristic knack of switching the ball from foot to foot as he danced past opponents as if they were training cones, his bewildering high-speed sidesteps being tagged as "Masopust's Slalom", prompting Pele to joke that his ball-work was so wonderful that he must have been born in Brazil.
There was enormous respect between the pair, never illustrated more vividly than during a 1962 World Cup clash at the group stage in Vina del Mar, when the ball went to the near-crippled Pele and the Czech could have taken it with ease but refused to challenge his stricken rival, an act of chivalry for which one newspaper dubbed him "The Knight".
Born in a village near the West German border, the oldest of a coal-miner's six children, Masopust excelled in youth football after the Second World War, then joined ZSJ Technomat Teplice, newly promoted to the top tier of Czech football, in 1950.
His big break came two years later when he switched to ATK Praha, an Army club later renamed Dukla Prague. Under the Communist regime, Army sides were allowed to commandeer players from other clubs with impunity, so his achievement of helping to win eight League titles and four knockout cups might seem somewhat devalued, but there was never any denying his quality, first as an inside-forward and then, for the bulk of his career, as a wing-half.
For Dukla and Czechoslovakia he forged a productive midfield link with the more defensive Svatopluk Pluskal, Masopust's contribution proving particularly telling in European competition. In all the slim schemer contributed 79 goals in 386 games for the club between 1952 and 1968.
His international progress, which commenced in 1954 and stretched to his 35th year in 1966, yielded 63 caps and 10 goals. It included appearances in the World Cups of 1958 and 1962, and helping the Czechs finish third in the 1960 European championships.
Until 1968 Masopust, who would have graced any of Europe's top sides, had been forbidden to play abroad, but by then had attained the rank of Army major and, as a reward for his services, was released to spend his last two seasons in Belgium, giving him the chance to earn a little money at last. So that year he joined Crossing Molenbeek as player-coach, and soon guided them to promotion to the top flight.
In 1973 Masopust returned to Dukla as coach, and he remained at the Stadion Juliska until 1976, when a switch to another Czech club, Zbrojovka Brno, led to the crowning glory of his post-playing days when his new charges were crowned League champions at the end of his first season.
After leaving Brno in 1980 Masopust returned to Belgium for a coaching stint with Hasselt, then accepted the reins of Czechoslovakia for three years in mid-decade, a disappointing interlude which produced no qualification for major tournaments. He re-entered the international scene with the Indonesian junior team, then went back briefly to Brno before concluding his coaching career with another Czech side, Pelikan Dekin.
But it is as a footballer that the man who faced England for the Rest of the World in the FA Centenary match at Wembley in 1963 will be forever revered. In 2003 he was selected as the Czechs' top player of the past half-century, Pele paid tribute to him repeatedly, then in 2011 a statue was unveiled at Jaliska. As ever, Masopust greeted the honour humbly, pointing out that he was only one of hundreds to wear his country's shirt.
Josef Masopust, footballer and coach: born Strimice, Czechoslovakia 9 February 1931; played for ZSJ Technomat Teplice 1950-52, Dukla Prague 1952-68, Crossing Molenbeek 1968-70; capped 63 times for Czechoslovakia 1954-66; managed Dukla Prague 1973-76, Zbrojovka Brno 1976-80 and 1992, Hasselt 1980-84, Czechoslovakia 1984-87, Pelikan Decin 1993-96; died Prague 29 June 2015.
Register for free to continue reading
Registration is a free and easy way to support our truly independent journalism
By registering, you will also enjoy limited access to Premium articles, exclusive newsletters, commenting, and virtual events with our leading journalists
Already have an account? sign in
Join our new commenting forum
Join thought-provoking conversations, follow other Independent readers and see their replies