Joy Beverley: One of the Beverley Sisters, a staple of popular culture in the 1950s and arguably Britain's first girl band
Married to England football captain, centre-half Billy Wright, their wedding made them the Posh and Becks of their day
Spencer Leigh
Tuesday 01 September 2015 18:37 Comments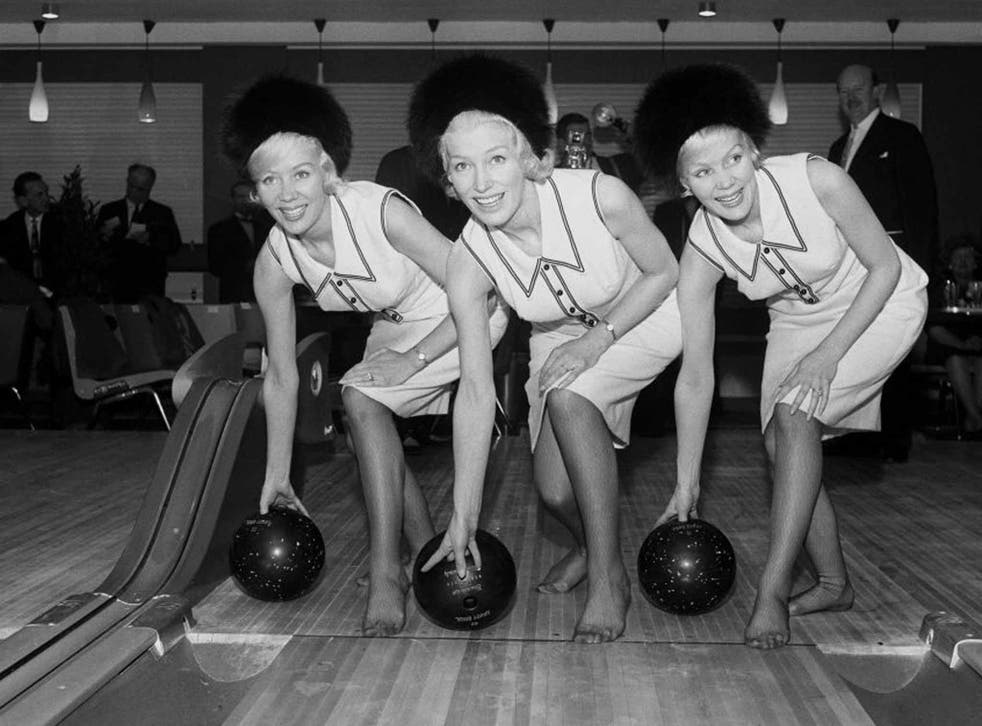 Sibling rivalry has played a huge part in popular music but there was never the slightest crack in the public image put forward by Joy, Teddie and Babs, the Beverley Sisters. Always dressed smartly and identically, the fresh-faced Sisters were one of the mainstays of British television in the 1950s and it could be argued that they were the first girl group, preceding the Spice Girls by some 40 years.
The Bevs, as everyone called them, appeared on numerous programmes and had Top 10 singles with "I Saw Mommy Kissing Santa Claus" (1953) and "Little Drummer Boy" (1959). The public loved the way they did everything together and the way they would complete each other's sentences: if you play an old radio interview, it is impossible to tell who is saying what.
The Beverley Sisters came from a show business family. Their parents, George Arthur Chinery and Victoria Alice Miles, married in 1916. They worked as the music hall duo Coram and Miles. It was a music and comedy act, with George as the comic. One of their key numbers was a duet of "Are You Lonesome Tonight".
The sisters were cockneys, born at home in Devons Road in London's East End. Joy was born in 1924 and the twins, Babette (Bab) and Hazel (Teddie) on 1927, although their official publicity made them all five years younger. The family was not wealthy but did possess a telephone and a car. Victoria was an excellent cook and housekeeper, able to buy cheap fabric and make identical dresses for the girls, the start of them wearing the same clothes. She told them to act as if every day was your birthday and to heed the advice, "A little less 'I' and a lot more 'We'."
The family was evacuated to Northamptonshire during the war. All three girls took secretarial courses and Joy was employed by the RAF, although she hoped to be working in stables when the war was over. Babs and Teddie, as they were known, were set on being policewomen.
Jock Ware, who worked for the advertising agency J Walter Thompson, took photographs of the twins for an Ovaltine poster campaign. He heard the three sisters harmonising and singing for the local troops, and recommended them to his friend, the BBC producer, Cecil Madden. Madden did not like the name, the Chinery Sisters, but Joy's suggestion of the Gaye Sisters was rejected. Another BBC employee, Norah Fletcher, suggested the Beverley Sisters and everybody liked it. They were soon working on radio shows like Variety Bandbox.
In 1945 Joy married an American musician, Roger Carocari. They shortened their name to Carey as there were strong feelings about Italians because of the war. The marriage did not last but they had a son, Vince.
The Sisters performed the novelty song "Her Bathing Suit Never Got Wet" for a Pathé short in 1947: their image is already there – cheerful, sweet harmonies and co-ordinated dance steps with Joy, tall and slim, in the middle. They made a big impact on the Royal Variety Performance in 1952, but although they wanted success in the US they were too similar to the Andrews Sisters. They did, however, have a hit in the US with "Greensleeves" in 1957, and appeared with both Danny Kaye and Bob Hope in successful seasons at the London Palladium.
Madden advised on all aspects of their careers; he told them not to part their hair in the middle. He instructed them not to perform saucy songs, but they took no notice of that. "We Have To Be So Careful", which they had written in 1953, was risqué – and as well as a suggestive element, it poked fun at the BBC for banning records, and was duly banned itself.
Recording manager Norman Newell signed them to Columbia in 1951. The Bevs might have had their biggest hit with a cover of Patti Page's US hit, "How Much Is That Doggie In The Window". They developed a routine and performed it on TV, and it was recorded for a single backed with "The Skye Boat Song" with their own new lyric. Unfortunately, the song was still in copyright. They told me – and I honestly can't say now, which of them was talking to me – "One of our biggest disappointments was over 'Doggie'. We needed another B-side and couldn't get in the studio for a week and lost the sales." The public bought a rival version from Lita Roza, who hadn't even wanted to record the song.
Norman Newell saw the Bing Crosby and Danny Kaye film, White Christmas, with its score by Irving Berlin. "Sisters" was sung by Rosemary Clooney and Vera-Ellen, and Newell thought it would be ideal for the Bevs; and it became their most requested number.
One day when the Bevs were on tour, the twins had dates, and Joy was on her own. One of the touring party told Joy that the Wolverhampton Wanderers and England football captain, centre-half Billy Wright, was showing him his trophies, and they went together. Joy had found her Mr (W)right – yes, there were lots of headlines like that. Their wedding made them the Posh and Becks of their day, although they were less keen on tattoos.
Financially it was an unequal marriage: Joy was earning £700 a week, Billy just £50. Joy commented, "Billy said that he didn't come between the Bevs. He just joined our family. My sisters loved him." When Joy became pregnant, the group were said to have "semi-retired" but it really meant that they were selective about accepting bookings, mostly around London.
Joy and Billy's daughter, Victoria Anne (named after their mothers) was born on 3 April 1959. Three hours later, Billy was given his 100th cap for England, the first footballer to win 100 caps for his country. He retired shortly after.
Deciding that the BBC television fees were not high enough, they moved to ITV in 1960 with a set designed to look like their home. Their first show was with Michael Holliday, who insisted on sitting down, as Joy was taller than he was. In a later episode, the diminutive Adam Faith, who had no such hang-ups about his size, stood up to sing "What Do You Want" with them. In January 1961 the Beverley Sisters were triple castaways on Desert Island Discs. Joy's luxury was a Rolls-Royce and her book, Billy Wright's Book Of Soccer.
In 1962 Wright was appointed manager of Arsenal, a post he held for four years, then was made head of sport at ATV. But Joy did not want the family to move to Birmingham, disrupting their children's schooling, so for several years they just saw Billy at weekends.
In the 1980s, the Beverleys' daughters formed the vocal group, the Little Foxes, later the Foxes. When they appeared at the Hippodrome in London, the owner, Peter Stringfellow, immediately wanted the Bevs for gay nights. They were delighted with the reception and, commenting on the laser beams, the darkness, the smoke and the noise, they said, "We felt we were back in the air raids." They recorded a disco version of "Sisters" and a new album, Sparkle.
In 1994 Billy died from cancer at the age of 70. Joy said that he did not know that he had cancer and that he was the perfect patient. He had a bell by the bed to ring if he needed anything – but never rang it.
The Bevs made occasional TV appearances, such as singing "High Hopes" with Michael Barrymore as a fourth Beverley Sister, and they made the Guinness Book Of Records as the longest surviving vocal group still with its original members. In 2006 they were each awarded MBEs, receiving them at the same time as Tom Jones received his knighthood. In recent years, they have been opening retirement homes.
Joycelyn Victoria Barbara Chinery (Joy Beverley), singer: born London 4 May 1924; MBE 2006; married 1945 Roger Carocari (marriage dissolved; one son), 1958 Billy Wright (died 1994; two daughters); died 30 August 2015.
Register for free to continue reading
Registration is a free and easy way to support our truly independent journalism
By registering, you will also enjoy limited access to Premium articles, exclusive newsletters, commenting, and virtual events with our leading journalists
Already have an account? sign in
Join our new commenting forum
Join thought-provoking conversations, follow other Independent readers and see their replies