Justin Bieber charged with assault of Toronto limo driver
Pop star to appear in court on 10 March over allegations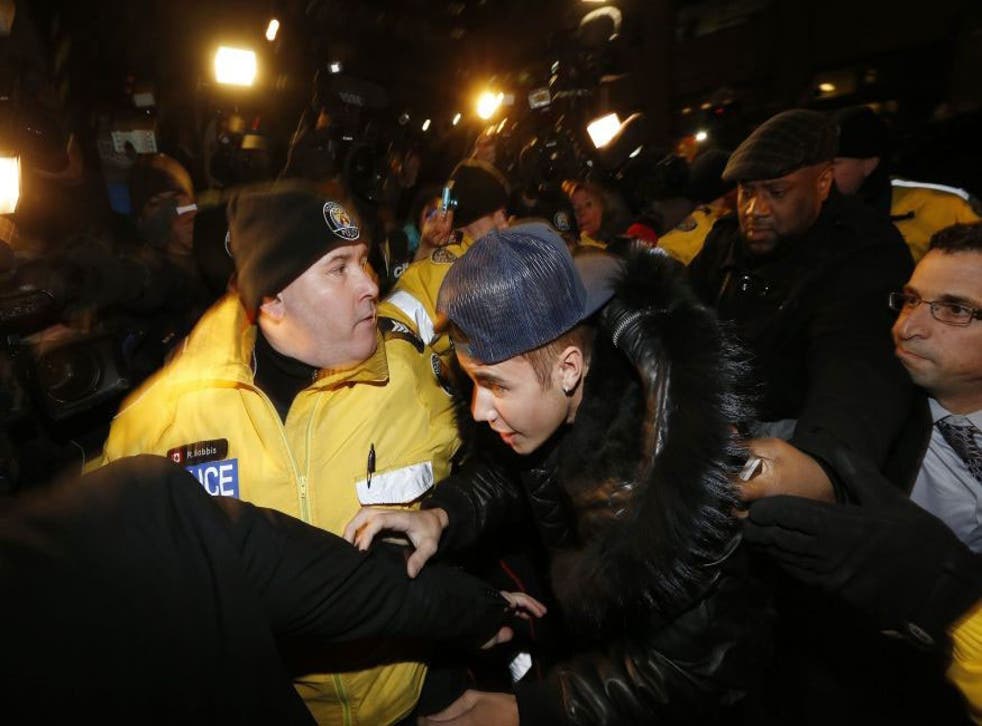 Pop star Justin Bieber has been charged with assault for allegedly hitting a Toronto limousine driver several times in the back of the head in January, just hours after his attorney entered a separate not guilty plea in Florida to drink-driving and other charges.
The 19-year-old singer handed himself in to a Toronto police station Wednesday evening, arriving amid a scrum of media and screaming fans waiting outside. He was charged with one count of assault and is due to appear in court in Toronto on 10 March.
He spent about an hour and a half in the police station before leaving through a back exit.
Police allege Mr Bieber was one of six people who were picked up by a limousine from a nightclub in the early morning hours of 30 December when an altercation occurred between one of the passengers and the driver.
During the altercation one of the passengers hit the limo driver in the back of the head several times, police said.
"The driver stopped the limousine, exited the vehicle and called police," a statement said. "The man who struck him left the scene before police arrived."
Howard Weitzman, Mr Bieber's attorney in California, said his client is innocent and declined to comment on the allegations against Mr Bieber or any potential defense, adding it was now a matter for the court to handle.
Justin Bieber's biggest controversies and mishaps

Show all 17
Mr Weitzman said he expects the case to be treated as a summary offense, which is the equivalent of a misdemeanor in the United States. In a statement, he said: "The Toronto Police Service requested that Justin Bieber appear in Toronto today to face an allegation of assault relating to an incident on 29 December, 2013. We anticipate that this matter will be treated as a summary offense."
In late December Toronto police were examining allegations that a member of Mr Bieber's entourage assaulted a limo driver who was ferrying the Canadian pop star and several others. Police said at the time it was unclear whether he was involved.
Earlier on Wednesday, Bieber pleaded not guilty in Florida to charges of driving under the influence after driving nearly twice the speed limit on a Miami Beach street. He also pleaded not guilty to resisting arrest and driving with an expired license.
Court records show that Mr Bieber's attorney filed a written plea in Miami-Dade County. Mr Bieber already has an arraignment set for 14 February, but he is not required to be present under Florida.
Mr Bieber and R&B singer Khalil Amir Sharieff were arrested last week in Miami Beach during what police described as an illegal street drag race between a Lamborghini and a Ferrari. Neither has been charged with drag racing, which is a crime in Florida.
Mr Bieber also remains under investigation for felony vandalism in Los Angeles County over an egg-tossing episode that damaged his neighbor's home. Detectives searched his home on 14 January and prosecutors have sought additional information before determining whether to pursue charges.
Last year, Bieber made headlines for everything from clashing with a paparazzo to being photographed apparently smoking marijuana. The paparazzo is suing him for assault and battery.
He was also charged thousands of dollars by German authorities after he abandoned a pet monkey that they seized from him for failing to have proper vaccination papers.
Recently a petition to remove the "dangerous, reckless, destructive" young Canadian reached 100,000, which means it must be reviewed by the White House.
The singer debuted a music video for his song "Confident" on Wednesday afternoon, just as news of his expected arrest was breaking.
Mr Bieber was discovered through a YouTube video of him performing, and his career has been guided by a pair of music industry heavyweights, singer Usher and manager Scooter Braun.
Mr Braun tweeted on Wednesday evening: "I ask people to be kind and hope for the best in people. not assume the worst. Thanks."
Additional reporting by Associated Press
---
Watch Justin Bieber's new music video for Confident
Register for free to continue reading
Registration is a free and easy way to support our truly independent journalism
By registering, you will also enjoy limited access to Premium articles, exclusive newsletters, commenting, and virtual events with our leading journalists
Already have an account? sign in
Register for free to continue reading
Registration is a free and easy way to support our truly independent journalism
By registering, you will also enjoy limited access to Premium articles, exclusive newsletters, commenting, and virtual events with our leading journalists
Already have an account? sign in
Join our new commenting forum
Join thought-provoking conversations, follow other Independent readers and see their replies