Larry David, Steve Coogan and other comedians share stories of depression in new documentary
The director, Kevin Pollak, tells Jessica Barrett how he got them to talk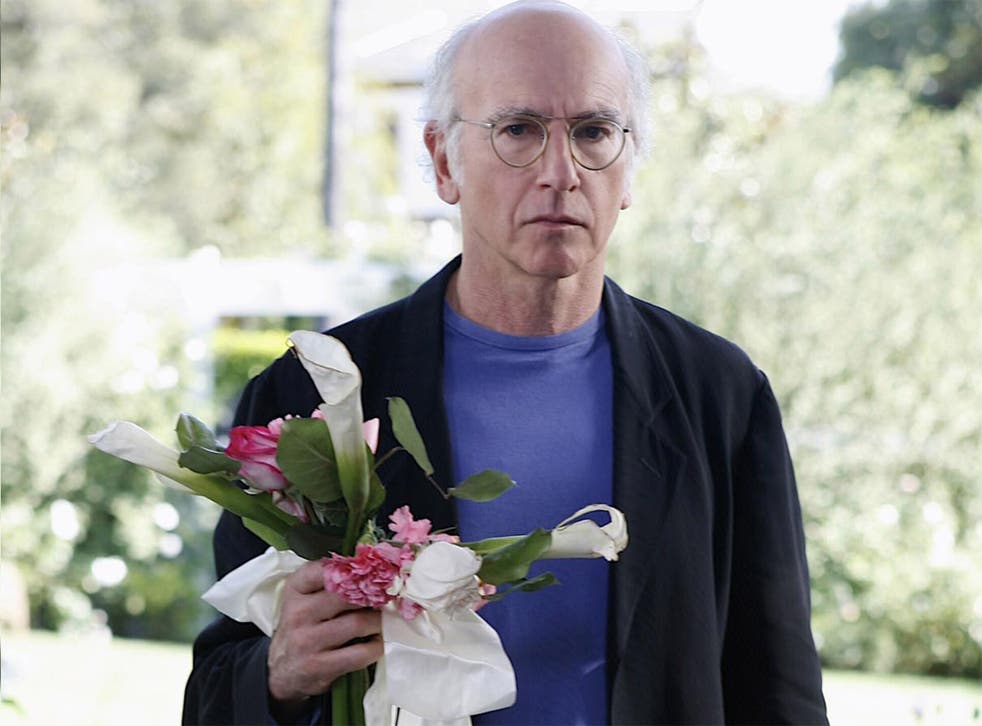 Kevin Pollak, the director of new documentary Misery Loves Comedy, says: "I'm paraphrasing, but Friends actor Matthew Perry told me during filming, 'Comedians don't have a franchise on misery and loneliness.' But they do have a pretty good corner on the market."
It's true that there's a potent correlation between wanting to make others laugh and a struggle with depression – but do you have to be miserable to be funny? "In America the No 1 fear, above death, is speaking in public. So I wanted to explore what kind of brain it takes to do stand-up. Is it masochism mixed with narcissism?" says Pollak (who's been a stand-up comic for over 40 years, as well as starring in films such as The Usual Suspects and The Whole Nine Yards). "And the high that comes from being onstage: endorphins are being released. If you are clinically depressed why would you get onstage? Just to feel good for an hour?"
The documentary – which premiered at Sundance last week – started as a project purely about comedians with clinical depression. But Pollak saw an opportunity for something broader. "To me, the story had to open up a bit beyond the thesis that you have to be miserable to be funny," he says. "I was basically interested in capturing who needs to stand in front of a room full of strangers and elicit laughter when it's the most difficult emotion to elicit. The first hour of the film is an exploration into who these people are. I want the audience to know what it is to firstly see funny, then decide, 'I want to be funny', then go through the hellish fire that is the profession. You suffer the most rejection in the whole industry."
Pollak delves into the stand-up's desperate need for acceptance, which often starts in childhood. "Children suffer from what I call 'hey look at me' disease – they want attention," he says. Hollywood's current king of comedy, Judd Apatow (producer of Knocked Up, Bridesmaids and HBO series Girls), admits to putting rocks up his nose and pretending to be a slot machine for attention. "People would pull my arm and rocks would fall out," he tells Pollak in the film. "I'd get picked last in gym class; after the girls, after the disabled people. At the time it seemed like a good strategy [to be cool]."
Pollak, along with producer Becky Newhall, had long begun the laborious process of interviewing comedians for the documentary when it was reported in August last year that Robin Williams (who began his career doing stand-up in the 1970s) had committed suicide at the age of 63. His battle with depression was something about which he had been speaking earnestly with Pollak, an old friend from the San Francisco comedy circuit, before he died.
"He had been on and off meds his whole life. I could sense in him as we spoke at length on the phone that this was a subject that he wanted to talk about; the brain of the comedian and the ego and the sensitivity of that performer. Talking in length to me about it – and it's startling that it's a subject that for the most part has gone undiscussed in the public forum – he seemed excited for this opportunity for fans to peel back the curtain and find out just what the hell is under there."
After Williams died many were flabbergasted that someone who had devoted his entire life to laughter could have secretly been unhappy enough to end his own life. But it's heartbreakingly common: Tony Hancock committed suicide in 1968; Spike Milligan co-wrote a book called Depression and How to Survive It; and Stephen Fry, who has bipolar disorder, has spoken regularly on the subject and how close he came to "permanent oblivion" during some of his worst days. Kenneth Williams once said: "I certainly wouldn't call myself a happy human being. All the comedians I've ever known have been deeply depressive people, manic depressive. They keep it at bay with this façade."
Pollak, 57, agrees that it's a survival technique: "Comedians don't just want attention; they want laughter and a moment of glory. I think it's something about salvation. It's not just an occupation; it's the greatest form of group therapy that's ever been. I think this documentary, getting comedians to open up and talk about it all – it almost seemed like that they had been waiting for someone to ask."
There are more than 60 comedians in the 90-minute documentary, which benefited from $50,000 of funds from a Kickstarter campaign (though Pollak admits the campaign was more about raising awareness of the project in Hollywood than raising money – they already had $300,000 to begin with).
There's Larry David, who has made a career out of being miserable; he confirms to Pollak that the rumours that in his early days of stand-up he used to walk out onstage, take one look at the audience and say "no" before walking off, are very much true. Alan Partridge creator Steve Coogan tells Pollak that a comic's skill comes from "making your pain relatable", while Clerks director Kevin Smith shares a story of a comedian friend who was "days from the end" following a severe bout of depression. Smith says in the film that he eventually persuaded that friend to share a podcast on the subject. Says Pollak: "The very feelings that had him on the edge, once shared with strangers, were the exact feelings that saved his life."
Teen movie star Freddie Prinze Jr speaks in the film about his comedian father Freddie Prinze Sr's suicide in 1977; the television actor and stand up – who suffered with depression – put a gun to his head while his business manager Marvin Snyder was trying to help him and died in hospital. "My grandfather told me just before he died: 'Your father really fucked things up. You've got to fix them.'" Prinze Jr reveals.
He acted as an ear for 70 hours-worth of interviews on the subject, but Pollak admits that he's not depressed himself: "I've not struggled. I was one of the lucky ones. I've had forms and levels of misery but I wouldn't want to put myself in the same category as someone who struggles with depression."
Though there are some really heartfelt moments in the film, and despite the subject matter, Pollak had no choice but to edit the documentary as a comedy. And it's very funny.
"The truth is comedians can't help but be funny, even when masking pain, even when discussing and sharing it they can't help but perform, the silly monkeys," Pollak says. Summing up what he learned from the project, Pollak concludes gravely: "It's one thing to suffer from depression or misery but it's another thing to articulate it so it's absolutely hilarious."
Register for free to continue reading
Registration is a free and easy way to support our truly independent journalism
By registering, you will also enjoy limited access to Premium articles, exclusive newsletters, commenting, and virtual events with our leading journalists
Already have an account? sign in
Register for free to continue reading
Registration is a free and easy way to support our truly independent journalism
By registering, you will also enjoy limited access to Premium articles, exclusive newsletters, commenting, and virtual events with our leading journalists
Already have an account? sign in
Join our new commenting forum
Join thought-provoking conversations, follow other Independent readers and see their replies