Lorde, Royals and the BRITs 2014: What don't we know about the slightly gothy-looking girl who just beat Katy Perry?
The singer from New Zealand won the International Female Solo award
Jenn Selby
Wednesday 19 February 2014 23:02 Comments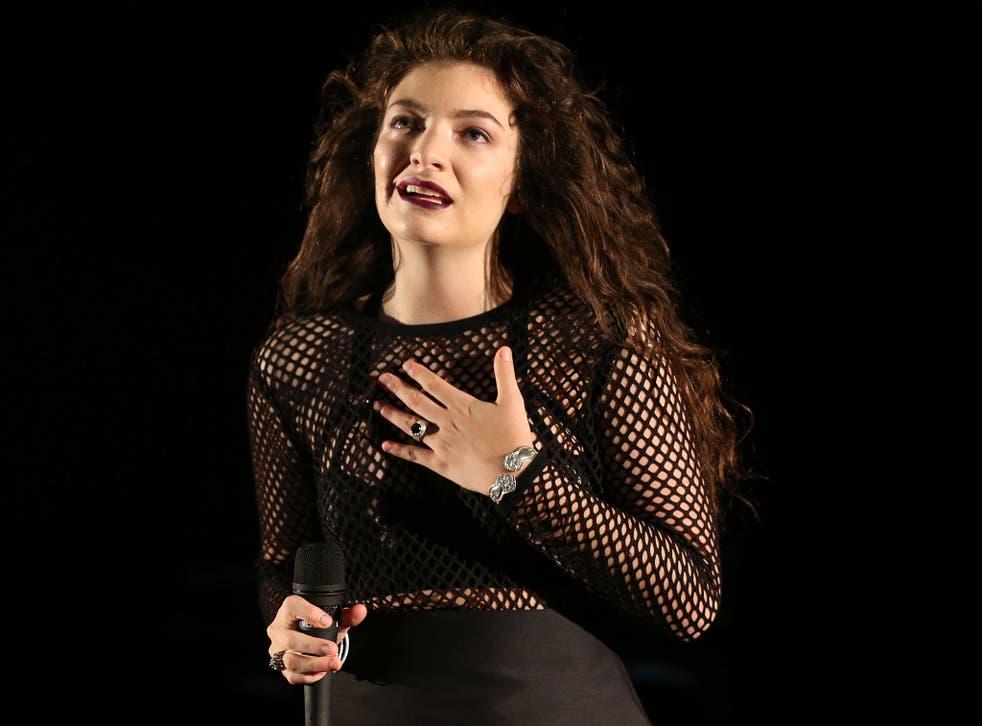 Lorde became the biggest new name in pop music as soon as she released "Royals" last year.
The single shot straight in at No.1 all over the world – including in the UK Singles Charts and the Billboard Hot 100 – thanks to its minimal finger-snapping hook and rebel-rousing lyrics that remind teenagers everywhere they're unlikely to bald prematurely or have to endure endless years of media scrutiny.
And then she released her debut album, Pure Heroine, which was equally as well-received. Even Kanye West liked it. And he never likes anything.
So chances are, you've already heard about the 16-year-old singer from New Zealand.
If not, you've probably just been introduced after her big International Female Solo Artist win at the BRIT Awards, which saw her beat the likes of Katy Perry and Lady Gaga into second and third. Or even before that, when she won the Song of the Year and Best Pop Solo Performance Grammys in January.
Brits Awards 2014: Red carpet in pictures

Show all 15
But what do we really know about her? These vital stats are probably entirely useless, but may crop up in a pub quiz or an edition of Trivial Pursuit at some distant point in the future:
Her real name is…
A real mouthful, actually. Ella Marija Lani Yelich-O'Connor. Which would differentiate her slightly from Finnish metal band Lordi who ripped off Gwar and stormed to Eurovision success in 2006.
She's obsessed with "royals and aristocracy"…
Hence the stage name. She also knows she'll never be one. Hence the song.
But Lord was too masculine so she made like the French and added an 'e'…
Because she's super literate like that.
She actually got signed to Universal at the age of 13…
They like to grow them young, apparently.
And grow them they did…
The figures speak for themselves. "Royals" has gone Gold in the UK, quadruple platinum in the US and six times platinum in Australia at last count. In October 2013, she also became the first woman to top the Alternative Chart in the US in 17 years.
Her nickname at school was "Dusty" or "Casper", apparently, because she's so pale…
She said it, not us.
She's not about to snuggle up to Justin Bieber or Harry Styles like almost every other female pop star her age…
"Yuck! They can have each other, I'll book the honey moon," she's been quoted as saying.
And she doesn't like Selena Gomez, either…
In fact, she blasted her in Rolling Stone and called her song "Come & Get It" an "anti-feminist" mantra. Gomez struck out, saying she still liked her. Which will probably go down in history as the worst comeback of all time.
But she loves Kanye West…
And regularly performs "Hold My Liquor" live. And he loves her, too. Says he likes her messages. Not massages. Messages.
Her mum, Sonja Yelich, is an award-winning poet…
And that's where she gets her lyrical prowess from. Or something. Last collection she wrote was about a US marine.
She hasn't graduated from high school yet…
Priorities, woman! Maths is really important. When you're counting your millions in a mansion in Auckland somewhere.
Like the $2.5million she just pocketed after signing a publishing deal with Songs Music Publishing…
Can we count them?
New York mayor-elect Bill de Blasio used "Royals" as his walk-in music for his victory speech…
He really did. Maybe that's why…
She doesn't want you to listen to "Royals" anymore…
"I want people to stop hearing Lorde on the radio all the time," she told V magazine, thoughtfully. "Because it's kind of crazy at the moment." She went on to add she's going to give us all a bit of breathing space before she releases anything else. Which is nice.
Register for free to continue reading
Registration is a free and easy way to support our truly independent journalism
By registering, you will also enjoy limited access to Premium articles, exclusive newsletters, commenting, and virtual events with our leading journalists
Already have an account? sign in
Join our new commenting forum
Join thought-provoking conversations, follow other Independent readers and see their replies