NY Daily News' abhorrent Robin Williams front page gets the edit the actor deserved
'Struggled, as we all do'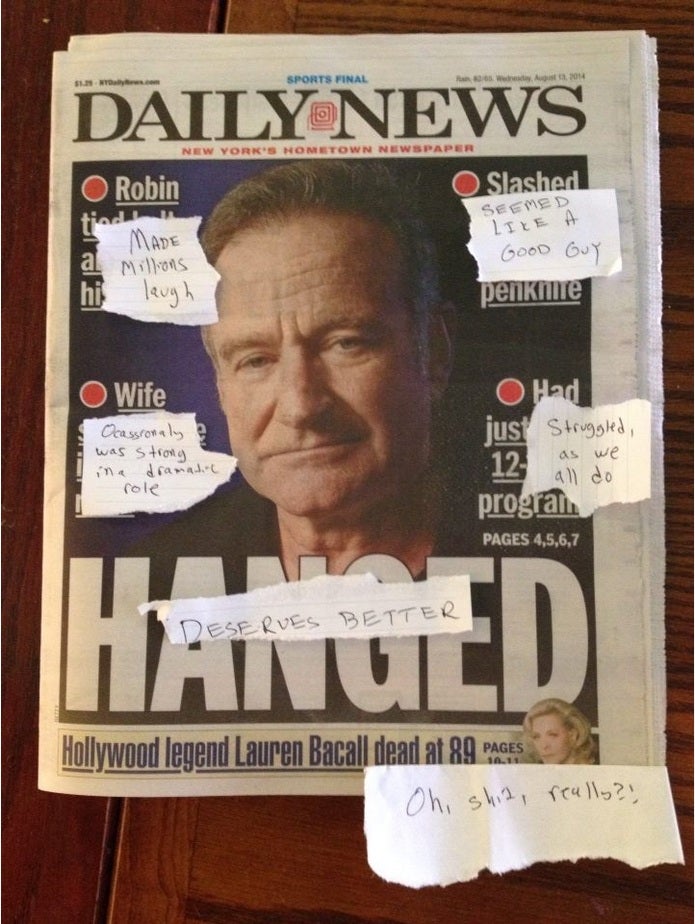 Village Voice film editor Alan Scherstuhl has shown how Robin Williams' death should have been covered, giving his own version of New York Daily News' graphic and insensitive front page splash.
Far too many news outlets focused on the specifics of the actor's suicide, which studies have shown can drive other people suffering from depression toward taking their own lives.
Scherstuhl crudely but effectively tapes scribbled sub-headlines over the originals and uploaded the edited version to Facebook, writing: "I took the liberty of re-editing the Daily News' shameful Robin Williams cover" and attracting thousands of Likes.
The edit and original are above, but here are the changes:
Robin tied belt around his neck - Made millions laugh
Slashed wrist with a penknife - Seemed like a good guy
Wife slept alone in another room - Occasionally was strong in a dramatic role
Had just left 12-step program - Struggled, as we all do
HANGED - DESERVES BETTER
Several UK publications also paid little attention to the Samaritans' guidelines on reporting suicide, as can be seen in this comparison between them.
Further information about depression is available at www.rethink.org and via the Rethink Mental Illness Advice and Information phone line on 0300 5000 927
Samaritans is available round-the-clock on 08457 90 90 90 or email: jo@samaritans.org
Join our commenting forum
Join thought-provoking conversations, follow other Independent readers and see their replies