Pope Francis named Time's Person of the Year
Argentinian beats off Bashar al-Assad and Miley Cyrus, among others
James Legge
Wednesday 11 December 2013 14:12 Comments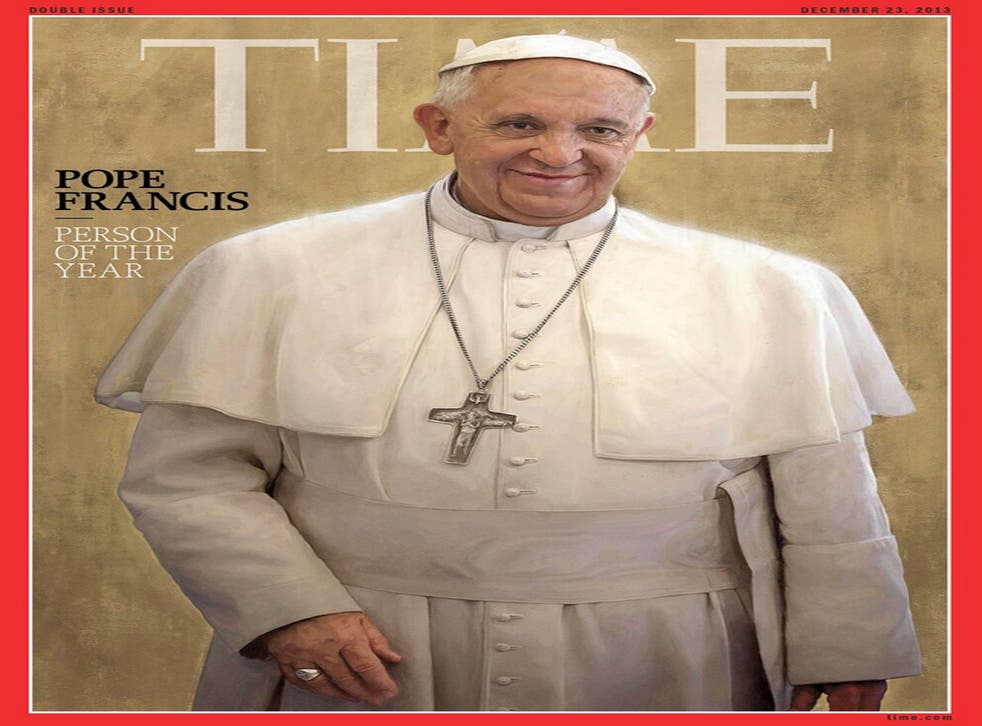 Pope Francis has capped off his first calendar year in one of the globe's highest offices by winning Time magazine's Person of the Year award.
The first ever Jesuit pontiff emerged victorious from a shortlist including pop music's twerker-in-chief Miley Cyrus, Syria's civil war-waging leader Bashar al-Assad and NSA whistleblower Edward Snowden.
Explaining the award, the magazine wrote: "Rarely has a new player on the world stage captured so much attention so quickly - young and old, faithful and cynical - as has Pope Francis.
"In his nine months in office, he has placed himself at the very centre of the central conversations of our time: about wealth and poverty, fairness and justice, transparency, modernity, globalisation, the role of women, the nature of marriage, the temptations of power."
The prestigious award, which has run since 1927, aims - the magazine explains - to recognise "the person or thing that had the greatest impact on the news, for good or ill". Former winners include Adolf Hitler (in 1938), Joseph Stalin (twice, in 1939 and 1942), and The Queen (upon her coronation in 1952).
Francis' predecessor-but-one, Pope John Paul II, was named Person of the Year in 1994.
Francis himself, formerly Cardinal Jorge Mario Bergoglio, last graced the US title's front page upon his election as Pope in March this year. Since then he has adopted a markedly humble tone, softening the doctrinaire approach of his predecessor, Benedict XVI, particularly in the Church's staunch opposition to homosexuality.
In July he made headlines on that topic, asking reporters: "If someone is gay and is looking for the Lord, who am I to judge him?"
Though he disclaimed any right to judge gay people, Francis never however made or signalled any change in Church teaching or policy.
Gallery: 10 ways Pope Francis has surprised us
He has begun a crackdown on Vatican corruption and called for greater financial transparency. The charismatic and 'down to earth' pontiff claims to owe his life to a nun, who saved him whilst he was suffering from a recurring lung problem when he was just 21. Francis disclosed in a new book, I Fioretti di Papa Francesco (The Little Flowers of Pope Francis), how a nun tripled his dose of antibiotics after she realised his doctor was not prescribing enough.
He also made headlines all over the world after moving photographs showed him embracing man severely disfigured by disease. He has called for global leaders to fight poverty and inequality and attacked unfettered capitalism as "a new tyranny."
Social media phenomenon Francis was recently revealed to be the most popular topic globally on Facebook in 2013, ahead of the royal baby Prince George, the Harlem Shake and Ms Cyrus. His election in March drove more conversation than any other event this year on the site.
Register for free to continue reading
Registration is a free and easy way to support our truly independent journalism
By registering, you will also enjoy limited access to Premium articles, exclusive newsletters, commenting, and virtual events with our leading journalists
Already have an account? sign in
Register for free to continue reading
Registration is a free and easy way to support our truly independent journalism
By registering, you will also enjoy limited access to Premium articles, exclusive newsletters, commenting, and virtual events with our leading journalists
Already have an account? sign in
Join our new commenting forum
Join thought-provoking conversations, follow other Independent readers and see their replies