Richard Attenborough quotes: From how ET 'should have won the Oscar' to coping with grief
The celebrated filmmaker has previously spoken on a range of topics surrounding his work, family life and society
Natasha Culzac
Tuesday 26 August 2014 11:34 Comments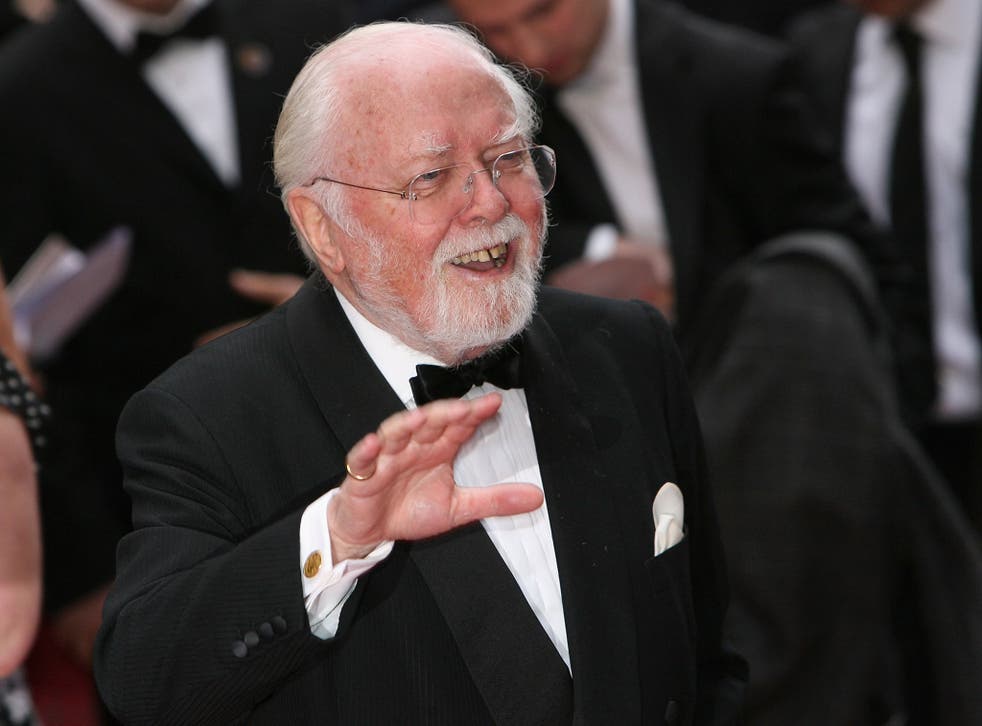 Oscar-winning filmmaker Lord Richard Attenborough died yesterday lunchtime at the age of 90.
The actor, producer and director was a seminal figure within late 20 Century British film and "his work always boasted extraordinary craftsmanship and attention to performance", The Independent's film critic Geoffrey Macnab says.
Here are some of his muses and thoughts ranging from the death of his daughter Jane and granddaughter Lucy – who died in the 2004 Boxing Day tsunami – to how he feels the world is a harder place now than it was in the Fifties.
On directing actors:
"You have one operation, which is commanding a regiment, commanding an army. You either enjoy it or you don't. I do. I love organising and making all the logistics work."
In Pictures: Richard Attenborough 1923 - 2014

Show all 24
On modern-day heroes:
"I passionately believe in heroes, but I think the world has changed its criteria in determining who it describes as a hero.
"If someone does something in an entertainment/pop ambience, that person becomes someone who has an impact on the conduct and attitude of a huge number of people who peripherally come in contact with them.
"I'm simply saying that heroes are people whose activities, whose attitudes and whose judgment you just think, wow. That's good, that's right, that's real."
On the film ET, which was also nominated for best picture and best director at the 1983 Academy Awards – Oscars that Lord Attenborough's Gandhi walked away with.
"[ET] was an infinitely more creative and fundamental piece of cinema [than Gandhi]."
"(Business partner Diana Hawkins) and I went to see ET in Los Angeles shortly before all the awards and we used language when we came out, to the extent of saying 'we have no chance - ET should and will walk away with it'
"Without the initial premise of Mahatma Gandhi, the film would be nothing. Therefore it's a narrative film but it's a piece of narration rather than a piece of cinema, as such.
"ET depended absolutely on the concept of cinema and I think that Steven Spielberg, who I'm very fond of, is a genius. I think ET is a quite extraordinary piece of cinema."
On putting work commitments ahead of family occasions:
"I adore my family, they are my joy. However, I am committed to my work. If on a Saturday morning when I was ostensibly going to be with the children and something arose at Rada or at Unicef or at the orphanage or whatever, I would allow the other pressures to take precedent.
"Now I have a guilt."
On what could tempt him back into acting:
To the Evening Standard: "If Steven (Spielberg) asked me to do Jurassic Park 4, then I'd jump at it, but that's about it."
On modern society:
To Sussex University's student magazine: "I think the world is a harder place now for young people – In the Forties and Fifties, life seemed much simpler, especially in terms of what was acceptable and what was not acceptable. The world is also, I think, more corrupt."
On experiencing Christmas without his daughter and granddaughter:
He told the Daily Mail: "I understand the pain of loss. We have six grandchildren aged from nine to 22 but we used to have seven.
"We have two children, Michael and Lottie, and we used to have three.
"The family is the focal point of our existence. And up until Jane and Lucy's death, there were always 16 of us together for Christmas. But we haven't been able to manage that emotionally. I can't bear to see the empty spaces at the table.
"Sheila and I will be spending Christmas in Scotland where we can talk about Jane and Lucy, talk about our feelings and weep.
"People ask 'does it get any better?', but it doesn't. You just become more capable of dealing with it."
On coping with death:
"If you are playing in Charley's Aunt and your favourite aunt died that lunchtime, you'll still have to go on the stage and play Charley's Aunt.
"You have to be able to separate things. I can't think of Ginny (a pet name for his late daughter Jane) all the time. I think of Ginny when my mind allows me to."
Register for free to continue reading
Registration is a free and easy way to support our truly independent journalism
By registering, you will also enjoy limited access to Premium articles, exclusive newsletters, commenting, and virtual events with our leading journalists
Already have an account? sign in
Join our new commenting forum
Join thought-provoking conversations, follow other Independent readers and see their replies