Richard von Weizsäcker: Germany's President who served in Hitler's army but later promoted tolerance and became his country's conscience
He repeatedly spoke out against intolerance toward immigrants and other minorities and attended memorial services for Turkish victims of neo-Nazi violence
Matt Schudel
Tuesday 03 February 2015 20:40 Comments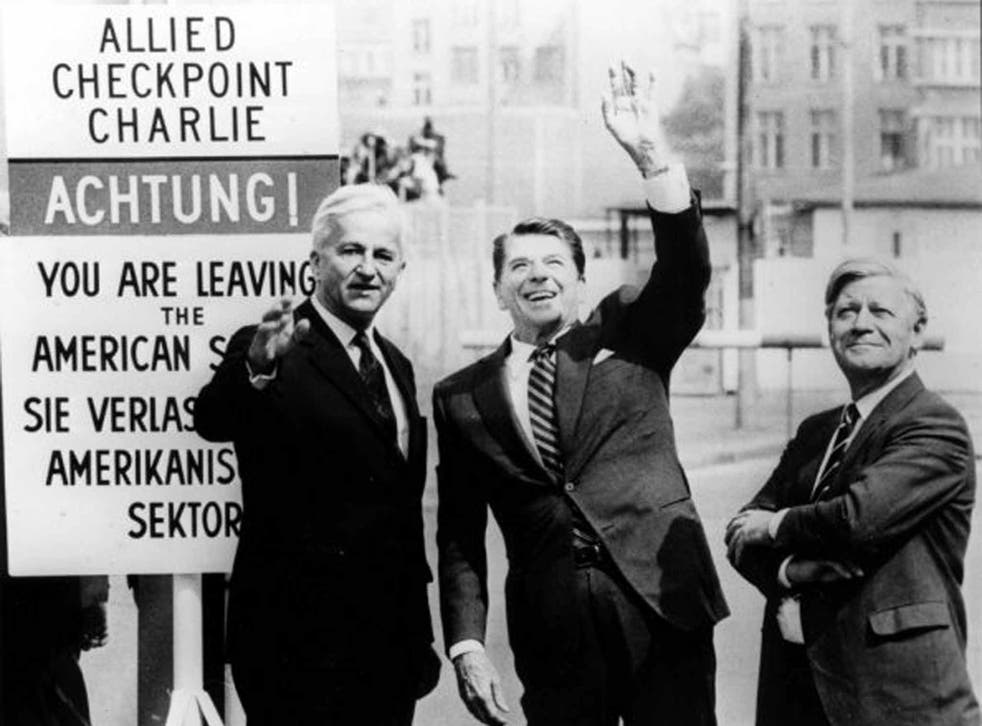 Richard von Weizsäcker was a former soldier in Hitler's army who used his largely ceremonial office as president of Germany to denounce his country's Nazi past and to condemn intolerance toward immigrants and other minorities. Von Weizsäcker was elected president of West Germany in 1984 and held the office as the country's formal head of state for 10 years. During that time he helped oversee reunification with East Germany in 1990.
In the German parliamentary system, the Chancellor is the head of government and exercises more authority over the policies of the government than the President (Helmut Kohl was Germany's Chancellor throughout von Weizsäcker's tenure as president). But the aristocratic, white-haired von Weizsäcker became, perhaps, the most country's popular political figure. He was, in essence, his country's chief ambassador and used his presidential office as a platform to promote important matters of national and moral principle.
In an address to the Bundestag, the German parliament, on 8 May 1985 – the 40th anniversary of Germany's surrender at the end of the Second World War – von Weizsäcker directed a cleansing spotlight on the country's greatest shame when he challenged his compatriots to take responsibility for the horrors of the Holocaust. He dismissed the commonly held notion that ordinary German citizens were not aware of the actions of the Nazi regime.
"There were many ways of not burdening one's conscience, of shunning responsibility, looking away, keeping mum," he said. "When the unspeakable truth of the Holocaust then became known at the end of the war, all too many of us claimed they had not known anything about it or even suspected anything. Who could remain unsuspecting after the burning of the synagogues, the plundering, the stigmatisation of the Star of David, the deprivation of rights, the ceaseless violation of human dignity?"
Von Weizsäcker, who spent seven years as an infantry officer during the war, was a potent symbol of national reflection and reconciliation. "Anyone who closes his eyes to the past," he said, "is blind to the present." He called on Germans to view 8 May not as a day of national surrender but as, he suggested, "a day of liberation. It freed us all from the system of National Socialist tyranny."
Von Weizsäcker's forthright speech echoed around the world, and he was hailed as his country's moral conscience. He travelled to Israel in 1985, attended the German premiere of the film Schindler's List with the Israeli ambassador and in 1993 visited the US Holocaust Memorial Museum in Washington. "President Weizsäcker has had a major, positive influence in enhancing Germany's role and reputation on the world stage," the US ambassador to Germany, Richard Holbrooke, said in 1994.
He repeatedly spoke out against intolerance toward immigrants and other minorities and attended memorial services for Turkish victims of neo-Nazi violence. He also took a leading role in preparing Germany for reunification. As mayor of West Berlin in the early 1980s he had been the first leader from the democratic western part of the country to cross the border and conduct talks with his counterparts in communist-controlled East Berlin. Throughout the 1990s he travelled extensively round eastern Europe, assuring his country's neighbours that Germany was no longer, as he put it, "haunted by Teutonic dreams of national power".
As early as 1985 he had urged Germans on both sides of the divide to think of themselves as one nation, and he was among the first leaders to call for the national capital to return to Berlin. During a four-day state visit to Britain in 1986, he addressed a joint session of the Houses of Parliament, the first German to be accorded that honour.
Richard Karl von Weizsäcker was born in 1920 in his family's castle in Stuttgart. He was from an aristocratic family of statesmen, theologians and scholars and had the inherited title of Freiherr, or Baron.
His father Ernst was a senior official in the Nazi foreign ministry and served as German ambassador to the Vatican. An older brother, Carl Friedrich, was part of a team of German scientists that tried unsuccessfully to develop a nuclear bomb during the Second World War.
Von Weizsäcker studied at Oxford and the University of Grenoble, his time in England highlighting in his mind the difference between a fully-functioning democracy and the authoritarian regime he had left behind. He joined the German army in 1938 and took part in the invasion of Poland on 1 September 1939. Two days later his older brother Heinrich was killed in battle, which deeply affected von Weizsäcker's view of the war. Stationed on the eastern front in Russia in 1943, von Weizsäcker later recalled, he and other German officers shot holes in a portrait of Hitler, and several of his friends took part in the failed plot to assassinate Hitler in 1944.
After the war von Weizsäcker studied law at the University of Göttingen and when his father was charged with sending French Jews to Auschwitz he joined his defence team during the Nuremberg trials. His father was sentenced to seven years' jail, which was later reduced to five, and was released in 1950; Winston Churchill had described his sentence as "a deadly error".
Richard received a doctorate in law and worked for the Mannesmann steel conglomerate before being elected to parliament in 1969; he was mayor of West Berlin from 1981 to 1984. He wrote several books about history and politics in which he advocated a moderate, centrist approach for Germany as it entered the 21st century. When he left the presidency in 1994, he reflected on the powerful speech he had delivered nine years earlier, in which he asked Germans to own up to the legacy of the Holocaust. "I wouldn't take back a single word of that speech today," he said. µ MATT SCHUDEL
Richard Karl von Weizsäcker, soldier, lawyer, politician and statesman: born Stuttgart 15 April 1920; married Marianne von Kretschmann (three children); died 31 January 2015.
© The Washington Post
Register for free to continue reading
Registration is a free and easy way to support our truly independent journalism
By registering, you will also enjoy limited access to Premium articles, exclusive newsletters, commenting, and virtual events with our leading journalists
Already have an account? sign in
Join our new commenting forum
Join thought-provoking conversations, follow other Independent readers and see their replies