Rob Ford admits he 'had been drinking' after he was captured on camera rambling in Jamaican patois in a fast food restaurant
Toronto's illustrious mayor was captured on camera putting on a bizarre patois monologue for customers at the eatery in the Canadian city
Jenn Selby
Wednesday 22 January 2014 10:26 Comments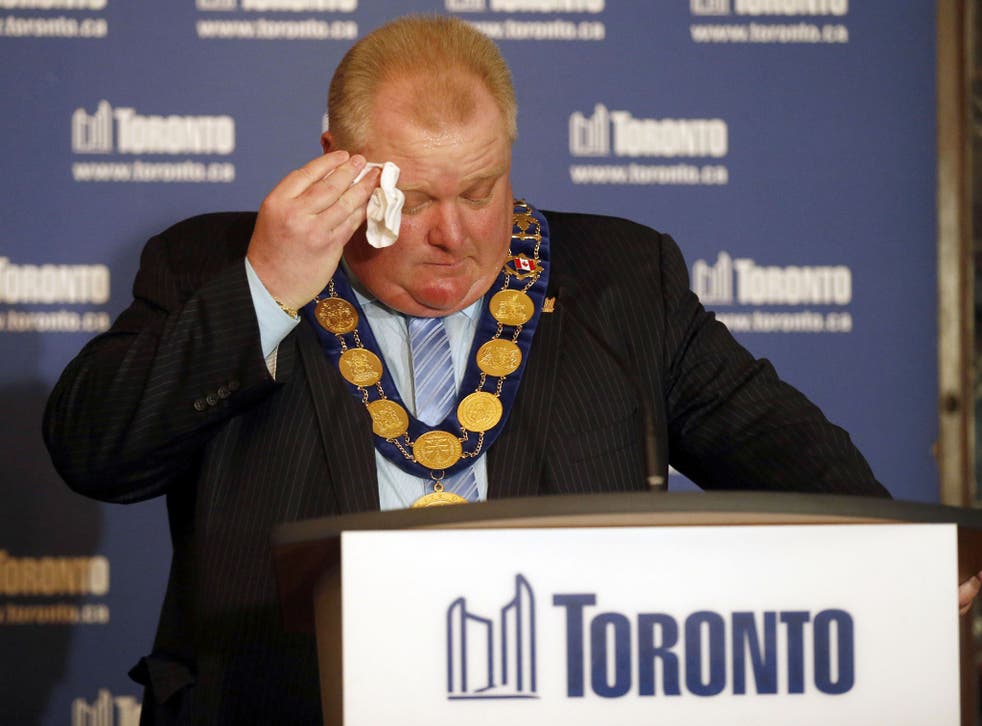 It may come of no surprise to those who have seen video footage of Rob Ford rambling incoherently in a faux Jamaican accent at a fast food restaurant that he had, in fact, been drinking (scroll down to watch if you haven't already).
Toronto's illustrious mayor was captured on camera putting on a bizarre patois monologue for customers at the eatery in the Canadian city on Monday night, during which he ranted away about police surveillance and flailed his arms seemingly at random.
Since then, the video, called 'New Video of Toronto Mayor Rob Ford Drunk, Swearing in Jamaican Patois? Bumbaclot' has gone viral.
Confronted about the footage outside his Toronto office, he told reporters he had imbibed "a little bit" of alcohol on Monday night.
"I was with some friends and what I do in my personal life with my personal friends, that's up to me," Rob Ford said.
"It really has nothing to do with you guys."
On whether he felt the language he used was offensive or discriminatory, he said: "It's how I speak with some of my friends."
Initially, his brother and campaign manager Doug Ford said that the fast food video had been filmed months ago, and that Rob had stuck to his promise to adopt a cleaner, healthier lifestyle in November following his now-infamous crack smoking scandal.
"He's a lot heavier in that picture than he is now... It couldn't have been last night," he said, dodging questions about whether he felt it was appropriate for the mayor to spoof a Jamaican accent.
The mayor confessed to having smoked crack in one of his "drunken stupors" after police obtained a copy of a video that appeared to show Rob Ford using the drug last year.
During an interview in November, Rob Ford said he was prepared to clean up his bad habits.
"I've had a come-to-Jesus moment if you want to call it that. Just the humiliation and the belittling and the people I've let down," he said.
"And it's all because of alcohol. Excessive, stupid, immature behaviour and that's it."
Rob Ford is currently on the campaign trail for the next election on 27 October. Earlier this month, he was seen partying with revellers at Muzik nightclub in the city.
Several pictures of the mayor looking red-faced and sweaty emerged on social media shortly afterwards, and rumours that Rob Ford had resumed his former bad habits started to surface.
However, Doug Ford was quick to shoot down the claims, telling the Toronto Sun: "He stopped drinking in November and he went there, met the people.
"There have been rock stars, there have been sports heroes, there's been the Bieber there and no one got a response like Rob did. The place went upside down ballistic. All he did was take pictures."
He added that the only drink the mayor had consumed that evening was a sugar-free energy concoction.
Register for free to continue reading
Registration is a free and easy way to support our truly independent journalism
By registering, you will also enjoy limited access to Premium articles, exclusive newsletters, commenting, and virtual events with our leading journalists
Already have an account? sign in
Join our new commenting forum
Join thought-provoking conversations, follow other Independent readers and see their replies