Ronnie Biggs Funeral: The Great Train Robber's service is a colourful affair as mourners asked not to wear black
He spent 35 years on the run from police, but mourners attending the criminal's funeral were today asked to celebrate his life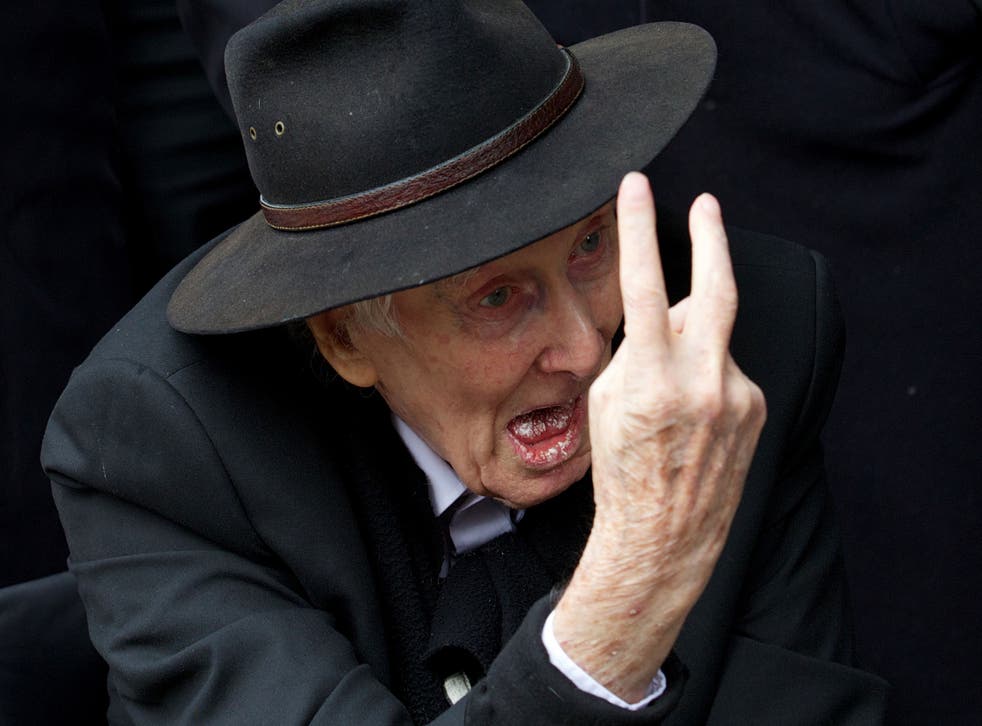 He spent 35 years on the run from police, but mourners attending the Great Train Robber's funeral were today asked to mark his memorial as a "celebration of his life".
Relatives and friends of the famed criminal, who died on 18 December aged 84, were asked not to wear black and to instead opt for bright colours in a nod to the characterful personality he became in his later years.
The service, held at the Golders Green Crematorium in north London, is the first stage of Biggs' personal last wishes: to have his ashes scattered half in England, and half in Rio de Janeiro in Brazil, where he spent years escaping recapture.
Police are expected to be present.
Biggs returned to the UK in 2001 to receive medical care and resume his sentence.
He was released on compassionate grounds in 2009. He spent his final days at the Carlton Court Care Home in north London.
Ronnie Biggs: The Great Train Robber's life in pictures

Show all 10
Last seen in public at the funeral of fellow Great Train Robber Bruce Reynolds in March 2013, Biggs had suffered a number of strokes in recent years.
Biggs was a small-time career criminal before he joined the gang which, in 1963, held up a Royal Mail freight train on its way from Glasgow to London.
The heist took £2.6 million in used banknotes– a huge sum at the time – of which Biggs received a cut of around £148,000. Most of the gang was quickly rounded up by police, and received sentences of between 14 and 30 years.
Biggs ended up serving just 15 months of his 30-year sentence, using a rope ladder to escape from Wandsworth prison while other inmates created a diversion in the exercise yard.
He spent the next nine years on the run after receiving plastic surgery in Paris, and eventually carved out a life for himself in Rio de Janeiro, Brazil. Going under the name of Michael Haynes, he fathered a child with a Brazilian lover – unwittingly making himself immune from extradition when Scotland Yard found him in February 1974.
In 1978, Biggs recorded a song, "No One is Innocent", with the punk rock group the Sex Pistols, and in January 1994 he published his autobiography, Odd Man Out.
Biggs suffered his first stroke in 1998, shortly before his 70th birthday, prompting him to return home and give himself up to police. After his fourth stroke he was moved to a hospital in Woolwich, before being fed by a drip while held at Belmarsh Prison.
Biggs was moved from Belmarsh to Norwich Prison in July 2007 to live on a unit for elderly inmates.
Despite his increasingly poor health, Justice Secretary Jack Straw refused Biggs parole in 2009 and accused him of being "wholly unrepentant" about his crimes. He was finally granted compassionate release from his sentence on 6 August 2009, two days before his 80th birthday.
Speaking earlier in 2013, Biggs said he was proud to have been part of the gang behind the robbery.
Biggs, who could not speak due to his strokes and communicated through a spelling board, said: "If you want to ask me if I have any regrets about being one of the train robbers, my answer is, 'No'.
"I will go further: I am proud to have been one of them. I am equally happy to be described as the 'tea-boy' or 'The Brain'.
"I was there that August night and that is what counts. I am one of the few witnesses - living or dead - to what was 'The Crime of the Century'."
Join our new commenting forum
Join thought-provoking conversations, follow other Independent readers and see their replies