Seth Rogen: 'Losing weight is no picnic'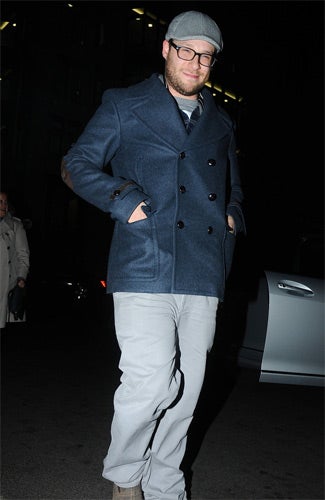 Seth Rogen believes larger people should "stay fat" because weight loss is hard.
The comedy actor lost considerable bulk to play the titular character in new comic-book adaptation movie 'The Green Hornet', but doesn't think anyone else should follow his lead because it is very hard to do.
Asked to talk about how he slimmed he told the LongIslandPress.com: "I did not do any experimental injections! It's just diet and exercise. It works. Uh, stay fat, people. That's my motto. It's no picnic."
The 28-year-old actor recently became engaged to girlfriend Lauren Miller, but he confesses the proposal of marriage had nothing to do with his new trim physique.
He said: "No, my weight had nothing to do with my engagement! It would be pretty hilarious if it did, though."
Discussing his role in the movie, Seth admits he is nothing like the crime-fighting character.
He said: "I'm a complete coward in real life."
He recently confessed he was nervous about the idea of wearing tights for the movie - in which he also stars alongside Jay Chou and Cameron Diaz - so managed to avoid having to.
Seth said: "I said ,'No' all along to the tights and capes. Well, I suppose I would have put the tights on.
"But only if there was some justification for it. I'm not averse to that. I've not been overly precious. As long as there's a general green feel to it, I felt good with it."
Join our commenting forum
Join thought-provoking conversations, follow other Independent readers and see their replies