Sir Jocelyn Stevens: Newspaper executive who helped rescue the 'Evening Standard' and 'Daily Express' and funded Radio Caroline
Chris Maume
Monday 13 October 2014 19:49 Comments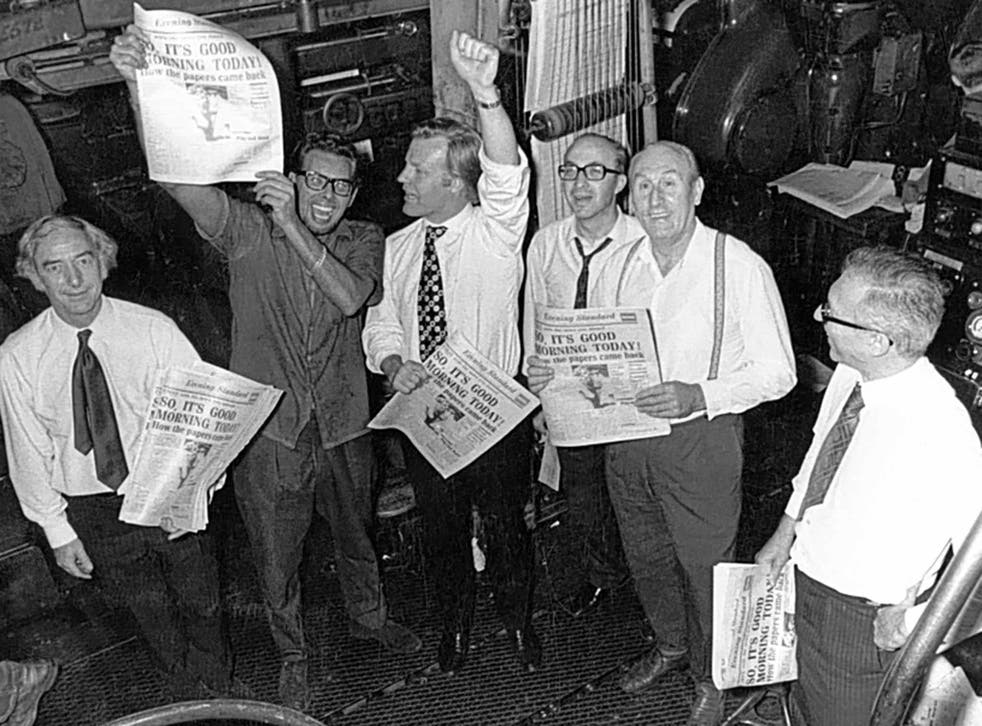 Jocelyn Stevens spent his career saving lost causes and lame ducks, beginning with Queen magazine, moving on to the Evening Standard, the Daily Express and the Royal College of Arts, and most recently English Heritage. There were plenty of casualties along the way – "Piranha Teeth", as Private Eye referred to him, took pride in having sacked 11 RCA professors in one day – but he generally got the job done. "I just hate to lose," he once said.
He was born into money, but his mother Betty, daughter of the press baron Sir Edward Hulton, died shortly after he was born, and his father never quite forgave his son for her death, packing him off into a flat off Baker Street, with a nanny, priest, cook, maid and chauffeur for company. His father remarried and he was sent to live for a time in Scotland. He went to Eton – he reached the finals of the Public Schools Boxing Championship – then got into Cambridge thanks to his rowing abilities, only to be sent down for taking time off to go skiing and sending his tutor a postcard reading "Wish you were here".
He did his National Service in the Rifle Brigade, and then on his 21st birthday he came into an inheritance of £750,000 from his mother, whose family had owned the Standard and the Picture Post. For a while he lived in the gossip pages – the day he received his legacy he bought an Aston Martin, which was wrapped round a lamp-post in short order – but he also studied at the London College of Printing and worked on Lilliput magazine.
As a 25th birthday present to himself he bought the ailing society magazine Queen, bringing in his chums Marc Boxer and Tony Armstrong-Jones to help turn it around. They transformed it into the house paper of the Chelsea Set – but, he told the journalist Nigel Farndale, when he got bored with it he sold it to a man who happened to be sitting at the next table at Claridge's.
In 1964 he put up the money for Radio Caroline, then in 1969 became managing director of the Evening Standard, with orders to save it. He did so in three years, and moved to the Express with similar orders, though he was unable to halt its long-term decline. He became overall managing director of Beaverbrook Newspapers, then in 1979 founded the Daily Star with Lord Matthews. The pair clashed repeatedly, however, and he was sacked two years later.
Though he affected not to give a damn what anyone thought of him, he was careful enough about his image to go through the cuttings libraries of the papers he was involved with and remove the files on himself. "Terrible of me, really," he confessed. "But I wanted to be able to start again.
In 1984 he became Director and Provost of the RCA, whose fortunes he turned round in an eight-year orgy of blood-letting. By the time he left, 17 departments had been reduced to four. "When I arrived, a lot of resignations were already waiting on my desk," he recalled. "These were professors who hadn't been working. Turning up and getting paid for nothing. They knew they wouldn't last."
From 1992-2000 he was Chairman of English Heritage. He described taking a call from Michael Heseltine offering him the job: "I said I didn't know much about English Heritage except that I hated it and he said, 'Got it!' They wanted a fox in the chicken coop."
In fact he proved surprisingly sensitive, fighting to keep listed churches open, overseeing the restoration of the Albert Memorial and persuading the government to improve Stonehenge by sinking the roads running by it.
In 1956 he married Jane Sheffield a lady-in-waiting to Princess Margaret, who married his friend Tony Armstrong-Jones. They had four children, one of whom, Pandora, became a drug addict. He broke into her squat and removed her, checked her into rehab and had her dealer hunted down and arrested. Pandora, who got her life back on track and is the mother of the models Clara and Poppy Delevingne, recalled, "He once hauled me out of the overdose ward in New York, and put me into a loony bin in Switzerland and used to sit there, holding my hand and saying, 'Blood is thicker than water.'" One of his sons, Rupert, was brain-damaged at birth and died when he was 22.
He and Jane were part of Princess Margaret's Mustique set, but parted in 1979. To mark his 50th birthday in 1982, he flew 130 friends to Gstaad for a ball at which every table was decorated with a tree of jewels. He next enjoyed a long-term relationship with the formidable philanthropist and Selfridges heiress Dame Vivien Duffield, and in 2005 he married Emma Cheape, 22 years his junior, daughter of the Scottish businessman Sir Iain Tennant.
Jocelyn Stevens was mercurial, dynamic, sometimes bullying, undeniably effective. Stories about his singular style are legion: sacking a secretary over the Tannoy, throwing a fashion writer's typewriter out of a fourth-floor window, cutting a phone wire with scissors to cut off a caller who was making him angry (which wasn't difficult). "Most of the stories that you hear are true," he said. "I think you have to make enemies."
Jocelyn Edward Greville Stevens, journalist, publisher and public servant: born 14 February 1932; Kt 1996; married 1956 Jane Sheffield (divorced 1979; two daughters, one son, and one son deceased), partner to Vivien Duffield, married 2008 Emma Cheape; died 12 October 2014.
Register for free to continue reading
Registration is a free and easy way to support our truly independent journalism
By registering, you will also enjoy limited access to Premium articles, exclusive newsletters, commenting, and virtual events with our leading journalists
Already have an account? sign in
Join our new commenting forum
Join thought-provoking conversations, follow other Independent readers and see their replies