The Independent on Sunday's Pink List 2013
101 gay, lesbian, bisexual and transgender people that make a difference
Tuesday 15 October 2013 10:29 BST
Comments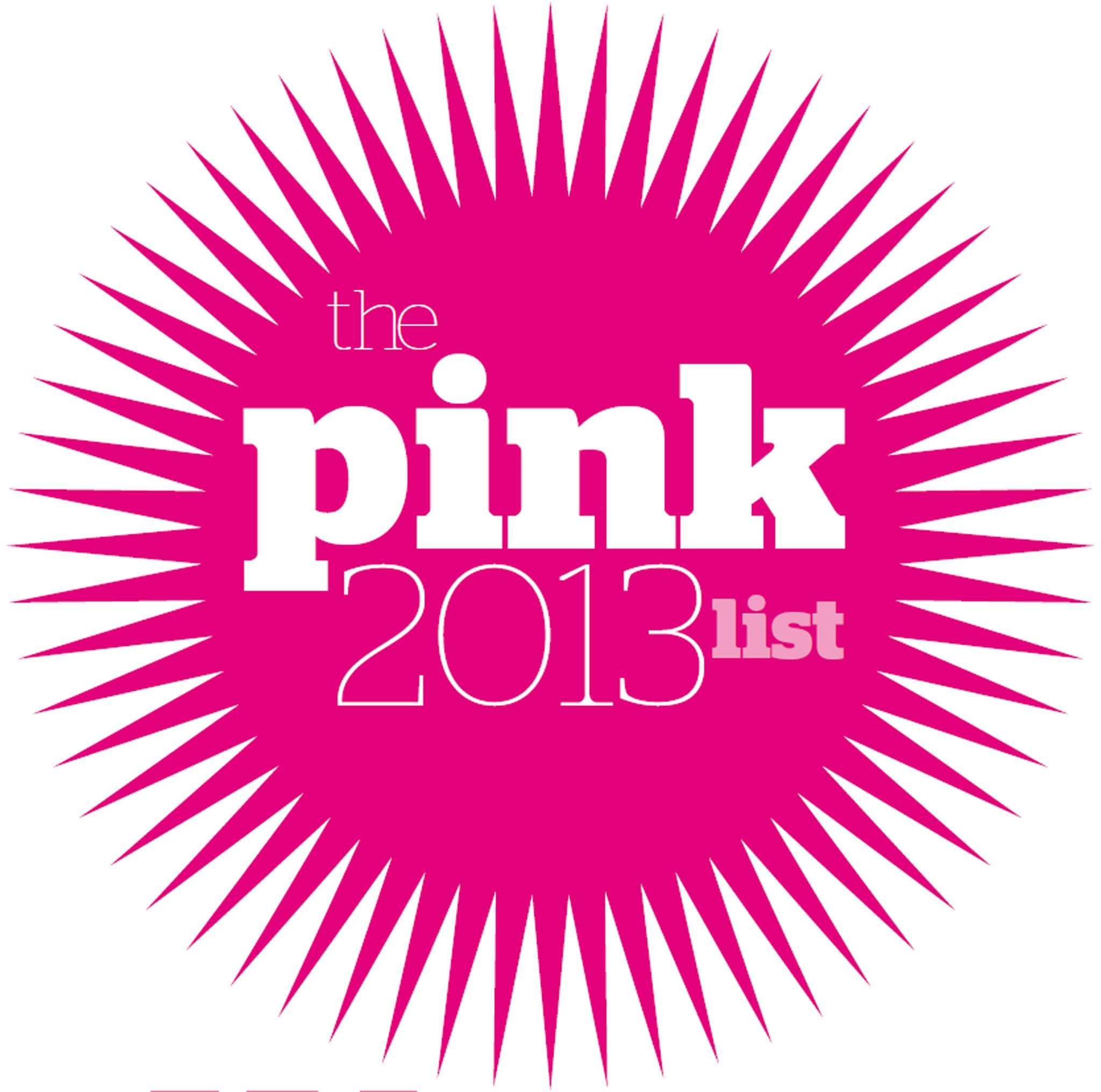 When the first Pink List was published in 2000, it was essentially a list of 50 influential people who were brave enough to be "out". This year we received more than 1,300 nominations and had to reduce thousands of potential contenders to just 101. The judges decided that a Pink List contender can no longer simply be lesbian, gay, bisexual or transgender and famous. They need to make a difference. This year, some Pink List regulars have graduated into a "we'll always love you" list of their own, and we've given politicos their own space, too. That leaves room for more new faces, more change and more debate. This has been the year of equal marriage, but also the year when trans people finally began to glimpse the sort of respect and equality that gay people can, at last, expect. We hope the list reflects that. Let us know what you think on Twitter at #PinkList2013, or write to sundayletters@independent.co.uk
1. (2012 judge) Paris Lees @ParisLees
Editor, META magazine
Many IoS readers will never have heard of Paris Lees, but our judges believe that the award-winning journalist, broadcaster and campaigner for transgender rights is leading a slow but determined change in attitudes for the better. "In my generation the agenda was about legal change," says Christine Burns. "Nowadays it is about social change."
In the past couple of years Lees appeared as Channel 4 and Radio 1's first trans woman presenter and founded META magazine – as well as being a Pink List judge in 2011 and 2012.
She was honoured with a Positive Role Model Award at the inaugural National Diversity Awards. With the organisations All About Trans and Trans Media Watch, she engages with the media – including the Independent on Sunday, ITN and the BBC - to provide guidance and advice. It was noted by our judges that the Daily Mail's coverage of trans issues has improved noticeably since she had lunch with its managing editor.
Lees was also Diva magazine's first ever trans cover girl. She blogs at lastofthecleanbohemians.
2 = (2) Clare Balding, OBE @clarebalding
TV and radio presenter
After stealing the Olympics, Balding has presented shows on Saturday night primetime BBC1 and BT Sport. She will present the Winter Olympics from Russia, she says, "because I am a sports presenter who happens to be gay. I think the best way of enlightening societies that are not as open-minded as our own is not to be cowed into submission."
2 = (3) Peter Tatchell @PeterTatchell
Activist
A veteran campaigner who's by no means letting up, he has vocally opposed Indonesian administration of West Papua and continued to fight for human rights everywhere. He has organised protests in London against Russia's anti-gay laws, and called on Clare Balding to "show solidarity with gay Russians by presenting the BBC coverage as an openly lesbian woman."
4. (1) Nicola Adams, MBE @NicolaAdams2012
Boxer
The golden lass with the golden smile, London 2012's poster girl (and now M&S's) brought a knockout grin to the world of boxing, inspiring women and young people across Britain to take up the sport. She has set her sights on Commonwealth glory next year.
5. (new entry) Ruth Hunt @ruth_hunt
Deputy CEO, Stonewall
The newly appointed deputy CEO of Stonewall has been a leading voice in this year's campaign to legalise equal marriage. The Roman Catholic campaigner has been vocal about the need to provide a " safe space for gay Catholics to pray." Our judges also praised her eloquent tweets.
6. (new entry) Owen Jones @owenjones84
Journalist
The Independent columnist and Chavs author has had a busy year. When he's not challenging the cuts on Question Time or backing the People's Assembly coalition, he champions equal marriage in his columns and on Twitter. He is currently working on his second book on the British Establishment.
7. (new entry) Benjamin Cohen and Mike Buonaiuto @benjamincohen, @videographer88
Campaigners
The founder of Pink News and director of the Coalition for Equal Marriage viral video launched Out4Marriage last year, a cross party campaign which films people – including Hugh Grant and Stephen Fry - explaining why they support equal marriage. Credit also to James-J Walsh, Out4Marriage's campaign director.
8. (new entry) Jackie Green @JackieGOfficial
Miss England entrant, campaigner
Green first came to our attention in a BBC3 documentary which followed her attempt to win the title Miss England 2012. Green was the first trans woman to enter the competition and has since stood up for trans rights, charities supporting gender variant children, and Trans Media Watch.
9. Phyllis Opoku-Gyimah
Executive Director of UK Black Pride
Head of Campaigns and Parliamentary Affairs for the Public and Commercial Services Trade Union, a member of the TUC LGBT Committee and a board member of Justice for Gay Africans, "Lady Phyll" says in the new book It's OK to be Gay, "I am constantly reminded why I did come out and do what I do."
10. (13) Sue Perkins
Comedian and presenter
The comedian continues to feature as the co-host of The Great British Bake Off. Earlier this year, Perkins put gay characters 'in a wider world' with the mainstream sitcom ' Heading Out' in which Perkins plays a vet who is openly out with her friends, but not her parents.
11. (15) Charlie Condou
Actor, Writer
As well as playing TV's most swoonsome gay character, the Corrie star is an impassioned gay-rights advocate, speaking and writing across a range of topics. A father of two, he recently hosted a day out for LGBT parents and their children at London Zoo, acknowledging the isolation that can come with being an LGBT parent.
12. (new entry) Sarah Outen, MBE @SarahOuten
Athlete, Adventurer
This year, the 28-year-old became the first person to sail solo from Japan to Alaska. She rowed 3,750 nautical miles over 150 days in her seven metre boat Happy Socks to complete the challenge. She even managed to propose to her girlfriend, Lucy, while at sea. Lucy said yes.
13. (new entry) Jennie Kermode and Helen Belcher @jennie_kermode, @Aurum_Boss
Trans Media Watch
Two leading voices in Trans Media Watch, a charity that aims to improve media coverage of trans and intersex issues. Kermode is the charity's chair and a key intersex campaigner, who regularly writes about transgender issues. Belcher presented the charity's evidence to the Leveson Inquiry.
14. (new entry) Cath Hall
Founder, Albert Kennedy Trust
The experienced foster carer set up the Albert Kennedy Trust more than two decades ago. The charity, which supports 16-25-year-old LGBT people who are made homeless or living in hostile environments, opened new houses this year for LGBT people that have nowhere else to go. It has offices in Manchester and London.
15. (6) Evan Davis @ EvanHD
TV & Radio Presenter
The presenter of Dragons' Den and the BBC's Today Programme is just as busy as ever. When he is not upsetting George Osborne or quizzing David Attenborough, he is also presenting the weekly business programme, The Bottom Line. He was an ambassador for this year's Student Pride.
16. (new entry) David Gwinnutt
Inventor, the 'PinkJack' flag
Founder of the PinkJack flag – a pink and red version of the Union Jack – and subsequent products, from badges and mugs to T-shirts, towels and coasters. The brand is said to represent "a place where gay and straight people stand side by side." Gwinnutt received 62 public votes.
17. (new entry) Rehana Kausar and Sobia Kamar
The first Muslim women to marry in the UK
The Pakistani couple were the first Muslim women to marry in the UK, when they took part in a civil ceremony in a Leeds registry office earlier this year. It's believed they received death threats both here and from Pakistan, where homosexual relations are illegal. They have both since applied for asylum.
18. (8) Nick Grimshaw @grimmers
Radio DJ
The exceptionally likeable presenter made the move back onto the screen as the host of Sweat the Small Stuff earlier this year while still hosting BBC Radio 1's breakfast show, and doesn't seem to have sweated over adding a quarter of a million listeners to his programme.
19. (new entry) Jack Monroe @msjackmonroe
Food Blogger, Campaigner
The food blogger caught attention with her "austerity" recipes, which feed her family for £10 a week. Now she writes weekly recipe columns for The Guardian, talks at party conferences, and campaigns for charities. She also has a book on the way. She lives with her partner and son.
20. (re-entry) Suran Dickson @surandickson
CEO, Diversity Role Models
The former teacher-turned-CEO set up and runs Diversity Role Models, which aims to eliminate homophobic and transphobic bullying. She believes that providing role models for young LGBT people in schools is important to overcome negative stereotypes, as well as encouraging empathy and acceptance from their peers.
21. (2012 judge) Elly Barnes @ elly_barnes
LGBT Schools Advisor, Founder of Educate & Celebrate
Former schoolteacher Elly Barnes says that being number one on the 2011 Pink List "gave me the confidence I needed to take the Educate and Celebrate initiative forward nationally". The programme is now Ofsted "best practice", challenging homophobia and engaging students and staff in an inclusive LGBT curriculum.
22. (new entry) Yotam Ottolenghi @ottolenghi
Chef
The Israeli is one of London's most popular chefs, owning three delis and a restaurant in the capital. But it was not just his food that struck a chord with many this year. His honest essay about bringing his son Max into the world helped raise awareness about gay parenting.
23. (10) Luke Anderson
Big Brother 2012 winner
Anderson rose to prominence as the hugely popular winner of Channel 5's Big Brother 13. Anderson returned this year on its sister show, Big Brother's Bit on the Side. He wishes to become the first transgender presenter, but is content with his current profession as a chef.
24. (25) Carol Ann Duffy, CBE
Poet
The first female and out LGBT Poet Laureate was awarded the PEN/Pinter prize last year, partly for being "wonderfully outspoken." The former poetry critic was named one of Woman's Hours 100 most powerful women in Britain. She is the professor of contemporary poetry at Manchester Metropolitan University.
25. (new entry) Mobeen Azhar @Mobeen_Azhar
Journalist
This journalist – a practising Muslim - does not go in for easy wins. His reported Inside Gay Pakistan for Radio 4 and worked on BBC 2's Bafta-nominated Generation Jihad and Panorama's Secret Drone War, which won an Amnesty International human rights media award.
26. (19) Gareth Thomas
Former rugby player/ commentator
Having played 100 tests for his country, he established himself as a firm favourite in ITV's Dancing On Ice before having to withdraw with illness. In a climate where there are no openly gay British professional footballers, Thomas' status as both sporting legend and proud gay man is as vital as ever.
27. (34) Sarah Brown
Councillor
The Cambridge Councillor is the only out transgender politician in Britain. Representing the Liberal Democrats for the Petersfield Ward, Brown has been made the Executive Councillor for Community Well-Being this year. A member of the LGBT and Liberal Democrats Executive, she is also an advocate for equal marriage.
28. (52) Eddie Mair @eddiemair
Broadcaster
Politicians now know that they should not underestimate Mair. When he took on Boris Johnson this year, it was clear who won. Even the Mayor admitted the interview was "splendid." But is he a " rising BBC star" or a "softly-spoken assassin?" If rumours are to be believed, viewers of Newsnight could find out soon.
29. (new entry) Toby Whitehouse
Joint Founder, Gaydio
The fast-growing FM/DAB station for LGBT Communities - first established in Manchester and now also broadcasting in the South East and North West - launched in 2010 after a series of demonstration runs at Manchester Pride events. It took over from Gaydar Radio in 2013, becoming Britain's main LGBT station.
30. (30) Lord Justice Etherton
Judge
Made Chancellor of the High Court in January, the Rt Hon Lord Justice Etherton is one of the most successful lawyers in Britain. Having being called to bar in 1974, Etherton has been in a civil partnership with Andrew Stone since 2006 and was the first openly gay judge to be sworn in as Lord Justice of Appeal in 2008.
31, (new entry) Ben Whishaw
Actor
Having appeared in Cloud Atlas and played Q in the James Bond film Skyfall, Whishaw's star appears to be rising with some critics hailing him as one of the best young actors of his generation. He married his partner in a civil partnership in Australia last year.
32. Sir Paul Jenkins @ UKCivilService
Her Majesty's Procurator General and Treasury Solicitor
Chief executive of the Treasury Solicitor's Department and head of the 1,900 lawyers in the Government Legal Service, Sir Paul also holds the office of the Queen's Proctor, which means he is responsible for collecting ownerless property on behalf of the Crown. He is the most senior openly gay civil servant.
33. (2012 judge) Jane Czyzselska @czyzselska
Editor, DIVA
Recently contributing to books including 50 Shades of Feminism and It's OK to be Gay, the former Pink List judge is also a columnist and panellist at events including the Southbank's WOW festival and Homotopia. She now works with Women In Journalism and others to address lesbophobia in the media.
34. (new entry) Dominic Davies @PinkTherapyUK
Founder/ Director, Pink Therapy
A psychotherapist and sex therapist for over 30 years, Davies wrote and co-edited (with Charles Neal) the first British textbooks to promote counselling and therapy with sexual diversity clients. He educates counsellors and therapists the specialist skills they need to have in order to support LGBT people.
35. (re-entry) Paul Martin OBE @PaulMartin101
CEO of the Lesbian and Gay Foundation, Manchester
After setting up the foundation in 2000, Martin has led its transformation into one of the biggest organisations of its kind in the country, providing services to more than 40,000 people. The group is currently working with the government on LGBT equality issues, particularly relating to health.
36. (new entry) Dr Meg Barker @megbarkerpsych
Senior lecturer in psychology
A founding member of BiUK, which produces The Bisexuality Report, the Open University academic co-edits Psychology & Sexuality and has a book out on "mindfulness and mental health" this year. She is on the editorial boards of European Journal of Ecopsychology, Porn Studies and the Journal of Popular Romance Studies.
37. (50) Casey Stoney
Footballer
Following her stint as women's football captain for Team GB last year, the defender has spent 2013 continuing to lead the Lincoln Ladies. This year has also seen the two-time winner of the FA Player of the Year award dabble as a sports columnist, advocating tolerance and diversity within sport.
38. (41) Stella Duffy
Writer, actor, director…
A vociferous campaigner for Equal Marriage, this year Duffy won the CWA Short Story Dagger Award and is working on her 14th novel while leading the Fun Palaces Project for theatre and arts workshops in 100 venues across the UK in October 2014 to honour Joan Littlewood's centenary. She is married to the playwright Shelley Silas.
39. (new entry) Simon Topham
CEO of Millivres Prowler
As CEO of media and retail firm Millivres Prowler Group, Topham heads the largest gay and lesbian business in the UK. It runs Gay Times, DIVA, pinkpaper.com, gay lifestyle shops and an internet shopping arm. The company celebrates 40 years in business next year.
40. (new entry) Jane Fae @JaneFae
Journalist, writer
Writing mainly about climate change, medical ethics and online censorship, Fae has a book out in January about how concern over some online content is affecting freedom of expression. Her book Beyond the Circle won her 2010 Erotic Writer of the Year prize. Published in The Independent, Guardian, Daily Mail and other papers.
41. (new entry) CN Lester
Co-founder of Queer Youth Network, set up first Gay/Straight Alliance in UK, regular Transpose gigs to raise money for queer causes, blogging and writing for numerous publications about gender and sexuality.
42. (re-entry) Andrew Haigh @weekendmovie
Filmmaker
His 2011 film Weekend won more than 25 international awards and was distributed worldwide. He is currently directing and executive producing a new show for the US cable network HBO called Looking.
43. (new entry) Tara Hewitt @Tara_Hewitt
Activist
Recently elected chair of Wirral Conservative Future and deputy chair of Conservative Future North West, the trans and human rights activist is being assessed as a potential parliamentary candidate. She is a freelance diversity consultant, sits on a school board and is on the board of the Deafness Support Network charity.
44. (28) Pratibha Parmar
Filmmaker
Pratibha Parmar has established herself as a ground-breaking filmmaker and her 2013 release Alice Walker: Beauty in Truth received global recognition. Continued success looks to be set in stone with a 2015 release, Intercourse: The Life and Work of Andrea Dworkin, announced and already being talked about.
45. (32) Gok Wan @therealgokwan
TV presenter/ author
Having recently launched new collections at Simply Be and Sainsburys, and with a new book on the horizon, Gok Wan's success continues. His confidence boosting has also extended to social issues among young people through a series of documentaries in which he drew on his own experiences of obesity and homophobia.
46. (46) Sir Adrian Fulford
Judge
As the first openly gay judge in the UK, Fulford has a long-standing commitment to equality in the profession. After a nine-year term at the International Criminal Court – during which he delivered its first guilty verdict – he was appointed a Lord Justice of Appeal in May of this year.
47. (20) James Wharton
Soldier
After almost ten years of service, Wharton retired from the army this year to spend more time with his husband. In June he released his much-acclaimed memoirs of life in the armed forces, a book that poignantly documents the prejudice he overcame as one of the first openly gay men in the military.
48. (new entry) Monty Moncrieff
CE London Friend
Previously led on LGB&T equality for the Department Of Health managing a strategic national programme. He has provided training on a wide range of LGB&T issues as well as supported organisations to develop their service provision to LGB&T populations. Role at the Dept Health had important influence on the development of more inclusive policies for both LGBT workforce and patients. At London Friend he stands in an influential position providing support to LGBT communities
49. (40) Jane Hill
Newsreader
One of the main BBC News anchors, Hill has spoken of the importance of people in the public eye being open about who they are, and is actively involved in promoting better representation for the LGBT community in radio and TV. She is married to Sara Shepard, a camera operator.
50. (97) Dan Bunker @thisisdbunker
Outhouse East, Essex
As Outhouse East Service development manager, Bunker works with the LGBT community to provide education, free health checks and counselling across the county. His Twitter followers include David Cameron's office, Barack Obama and Yoko Ono.
51. (4) Lee Pearson, CBE @ MrLeePearsonCBE
Para-equestrian rider
The charismatic horseman continued to make headlines long after the euphoria of the Paralympics had died down. He publicly criticised the honours system on failing to garner a knighthood. He also won the KBIS National Para Dressage Championships (Grade I) and is now focusing his attention on Rio 2016.
52. (re-entry) Matthew Todd @ MrMatthewTodd
Editor, Attitude
Editor of groundbreaking magazine Attitude, which declares itself "the undisputed heavyweight of the gay media". Among other scoops it interviewed Tony Blair – the first time a serving Prime Minister had talked to a gay publication. It will celebrate 20 years in the business next year when Todd will publish his first book.
53. (89) Gary Everett @ HomotopiaFest
Artistic director of the Homotopia festival
The tenth annual Homotopia festival in Liverpool began in September and runs until late November, featuring David Hockney, Boy George, April Ashley and Sandi Toksvig among others. Everett said that Liverpool had "embraced the lesbian, gay and trans experience" to the extent that festival venues included places like the Philharmonic Hall.
54. (new entry) Chief Executive Office, GMFA @ Matthew_Hodson
Matthew joined the UK's leading charity dedicated to gay men's health in 1999 and recently became its chief executive. He is one of only a handful of public figures to be out as HIV positive. GMFA describes him as "a devoted theatre lover and probably Jodie Foster's biggest fan".
55. (49) Jennifer Fear
CEO Step Forward
Step Forward is an independent charity committed to improving the lives of disadvantaged young people in the Tower Hamlets area, helping an estimated 1500 a year. The charity, which counts Sir Ian McKellen as a patron, holds specialist sessions for LGBT youth, including weekly evening drop-in and social support groups.
56. (2012 'journalists' list) Patrick Strudwick @PatrickStrud
Journalist
An award-winning journalist who writes for The Times, The Independent, The Guardian and the Mail on Sunday among other publications, he exposed " conversion therapists" who claimed they could turn gay people straight. "Everyone's entitled to my opinion," he quips on his Twitter profile.
57. (18) Jessie J @JessieJ
Musician
Her first album, Who You Are, sold millions and spawned six top ten singles – a first for a British woman. So far two singles from the singer-songwriter's second, Alive, released this year have made the top five. The Evening Standard praised its "thumping, very 21st-century pop".
58. (5) Carl Hester @HesterDressage
Equestrian rider
Led by Hester, GB's Team-Dressage trotted and cantered to Olympic glory in 2012. A year on, Hester is still at the top of his game coming first at the National Dressage Championships and helping Team GB secure bronze at the European Championships.
59. (53) Mark Gatiss @Markgatiss
Actor and writer
The co-creator and writer of the BBC's Sherlock series - in which he stars as the hero's brother Mycroft Holmes and League of Gentlemen founder member – will be appearing in the next series of the global TV hit Game of Thrones. He entered a civil partnership with his long-term partner in 2008.
60. (2012 'journalists' list) Juliet Jacques @julietjacques
Freelance writer
An ex-footballer whose account of gender reassignment surgery won much praise, with her blog longlisted for the 2011 Orwell prize. She writes mainly on gender, sexuality and the arts and co-founded the Justin Campaign against homophobia in football, named after Justin Fashanu, the world's first openly gay professional footballer who took his own life.
61. (65) Roz Kaveney @RozKaveney
Author & activist
Kaveney is a prolific poet – poems can appear twice a day on rozk.livejournal.com – author, trans rights activist, founding member of Feminists Against Censorship and former deputy chair of Liberty. She accused journalist Julie Burchill of suggesting trans people "lead essentially inauthentic existences" and argued that doing so encouraged abuse.
62. (55) Sue Sanders & Tony Fenwick @suesanders03 @tonesrf
SchoolsOUT/ LGBT History Month
As co-chairs of SchoolsOUT, Sanders and Fenwick aim to provide a support network for all people who want to raise the issue of homophobia, transphobia and heterosexism in education. They have also worked with LGBT History Month and the Classroom Project in the UK.
63. (33) Antony Cotton @antonycotton
Actor
Best known as Sean Tully in Coronation Street, Cotton won the public's hearts and the crown in Let's Dance For Comic Relief, in March. An active supporter of LGBT charities, including the Terrence Higgins Trust, he is also patron of LGF, The Albert Kennedy Trust and the Queer Up North Festival.
64. (new entry) Liz Carr
Actress/broadcaster/comedian
As well as playing the forensic examiner Clarissa Mullery in Silent Witness, Carr is a stand-up comedian and member of the Abnormally Funny People comedy group. She made the BBC documentary When Assisted Death is Legal, supports Disabled People Against Cuts and attended equal marriage protests outside parliament.
65. (29) Alan Carr @AlanCarr
Comedian/ TV presenter
With the tenth season of Alan Car: Chatty Man still proving a huge mainstream success with millions of weekly viewers and guests including Rihanna, Justin Timberlake and Miley Cyrus, Carr signed a new two year contract with Channel 4 earlier this year worth around £4 million.
66. (60) Anthony Watson @AnthonyWatson
Chief information officer, Global Operations, Barclays
"The best thing I ever did was come out," he once declared. In addition to his high-profile job at Barclays, Watson is a Stonewall ambassador and also chaired this year's European Diversity Awards. He regularly speaks to governments, companies and schools on equality issues.
67. (26) Derren Brown @ DerrenBrown
Illusionist/ Hypnotist
From winning the BAFTA for best entertainment programme 2012 with The Experiments to the triumph of winning his second Olivier Award with Svengali, Derren Brown continues to wow both the British and the American public. He has just completed a run of his brand new stage show, Infamous.
68. (27) Mary Portas @maryportas
Queen of Shops
On the back of her independent review of British high streets in 2011, the Government announced funding for a selected 27 "Portas Pilot" towns where her recommendations were to be put into action. This process spawned Portas' TV show Mary Queen of the High Street which aired earlier this year on Channel 4.
69. (new entry) Natacha Kennedy @natachakennedy
Lecturer, Goldsmiths College
The former primary school teacher is working on a PhD about young trans people, focusing in particular on social media. She is co-chair of Camden LGBT Forum, sits on LGBT Labour's national committee and is a founder member of London Trans Diversity and the Trans Teachers' Association.
70. (95) Susan Calman @SusanCalman
Comedian
Time Out once declared that the award-winning stand-up, writer and actress would "make you chuckle your pants off". The Glaswegian turned her back on a career as a corporate lawyer in 2006 and has since featured on TV shows such as QI and Have I Got News for You.
71. (re-entry) Jeffrey John @StAlbansAbbey
Dean of St Albans Cathedral
The first person openly in a same-sex relationship to be nominated as an Anglican bishop in 2003 – when he withdrew amid controversy - John is often mentioned when vacancies come up. He is in favour of gay marriage because "I'm sure God is too".
72. (100) Claire Harvey @harveyvolley
Paralympian
Proclaimed "Hero of the Year" at the 2013 European Diversity Awards, GB sitting-volleyball Paralympic star Harvey leads the government's LGBT sports charter steering group. She previously worked at the Financial Services Authority, but is now assistant director of inclusion at the Youth Sport Trust charity.
73. (new entry) Christopher Kane
Fashion designer
In a successful year for the Scottish designer, the French luxury goods label PPR took a 51 per cent stake in his label, he wowed London Fashion Week, announced plans for his first stand-alone store in London, and won the top prize at the Scottish Fashion Awards on Wednesday.
74. (45) John Amaechi, OBE @JohnAmaechi
Speaker, businessman, retired basketball player
The first gay man – and Brit – to have his jersey hung in the US Basketball Hall of Fame, Amaechi now spends his retirement as a trained psychologist, best-selling author, sports pundit and philanthropist, most recently providing basketball scholarships for the University of Salford. He was awarded an OBE in 2011.
75. (44) Dr Ashley Steel
Board member of KPMG Europe
Having worked in 35 countries during her 25 years at the accountancy giant KPMG, Steel now leads the UK firm's infrastructure, government and health practice. She is a member of the board's sub group for diversity and is board sponsor for sexual orientation and corporate social responsibility.
76. (35) Will Young @ will_young31
Singer, actor and writer
The first ever Pop Idol winner, Young has been nominated for the Laurence Olivier Award for Best Actor in a Musical for his role in the musical Cabaret. He has high hopes for the future, and would love to star in a comedy or detective TV series.
77. (68) Lynette Nusbacher @Nusbacher
Strategic thinker
Runs her own think-tank, Nusbacher Associates, which is currently working to improve UK cyber security and coordination. A member of Women Working in Foreign Affairs and previously a war studies lecturer at Sandhurst, "Devil's Advocate" at the Joint Intelligence Organisation and head of the Cabinet Office's " Strategic Horizons Unit".
78. (re-entry) Liam Nolan @LiamNolanPB
Headmaster
Dubbed "the Sir Alex Ferguson of headteachers", Nolan is credited with transforming the failing Perry Beeches Secondary School in Birmingham into one described by David Cameron as "the most improved school in Britain ever". Two more Perry Beeches Academy free schools have opened and a fourth is planned.
79. (new entry) Lewis Hancox & Raphael Fox @SaluteHQ @MrLewzer
Filmmakers
After appearing in Channel 4's My Transsexual Summer in 2011, Hancox and Fox formed My Genderation Films to make documentaries about the trans community. They are currently producing about one film every three weeks, including one, about 14-year-old Tayler from Wales, that has been picked up by BBC3.
80. (66) Ceri Goddard
Chief Executive, the Fawcett Society
As chief executive of the largest membership organisation promoting women's rights in the UK, Goddard works to promote women's equality and human rights. She previously worked at the British Institute of Human Rights and Ireland's Combat Poverty Agency, where she helped to foster the cross-border peace and reconciliation programme.
81. (new entry) Kathy Caton @kathycaton, @BBCPride
Radio producer and presenter
Her show Out in Brighton on Radio Reverb is a globally influential LGBT show with listeners in Taiwan, Brazil and beyond, featuring in-depth interviews and musicians such as the Chalkwell Ladies Drum 'n' Bass League. She helps run the LGBT staff network BBC Pride and the cross-industry InterMedia network.
82. (new entry) Kate Walsh & Helen Richardson @h_richardson8 @katewalsh11
Hockey players
Just over a year after they helped Great Britain win its first Olympic women's hockey medal in 20 years, team captain Kate Walsh and midfielder Helen Richardson got married in September. Maidenhead-based Richardson is studying psychology and Walsh was voted onto the European Athletes' Commission earlier this month.
83. (new entry) JW Anderson @JW_Anderson
Fashion designer
The 6ft 2in designer, son of an Irish rugby international, is the "newest, brightest big thing" according to Vogue. He graduated from London College of Fashion in 2005, launched a menswear label in 2008 and later moved into women's fashion. He is known for blurring gender lines in his collections.
84. (new entry) Andy Woodfield @andy_woodfield
Partner, PWC
Woodfield founded and runs GLEE - Gays, Lesbians and Everyone Else ( www.pwc.co.uk/glee) – now a network for employees of any company, gay or straight. "Our core goal is to make sure there's a safe place for gays and lesbians to talk about the challenges of coming out at work," he says.
85. (91) Kelvin Holdsworth
Episcopalian Provost of St Mary's Cathedral in Glasgow
A staunch supporter of equal marriage, Holdsworth recently issued a list of "10 Things Gay People Still Need", including a commitment by the Archbishop of Canterbury to support gay clergy and for Hollywood to understand that "we don't all end up dead or heartbroken – Brokeback Mountain, I'm talking about you".
86. (78) Lisa Egan @lisybabe
Activist
"Failed comedian. Failed writer. Failed academic. Occasional blogger. Leftie kinda activist. Telly addict. Speccy, disabled, gay Essex girl currently in Camden." Or at least that's how she describes herself on Twitter. Her disability-rights activist's blog, Where's the Benefit, provides strong opposition to the government's "distressing war on disabled benefit claimants".
87. (77) Shaun Dellenty @ShaunDellenty
Campaigner, deputy headmaster of Alfred Salter Primary School in Southwark, London
Secondary school for Dellenty was "quite simply the worst experience of my life", with sustained homophobic bullying from pupils and some teachers. In 2010, he founded Inclusion For All to try to change attitudes in schools and support children "who were obviously suffering". He's also a public speaker and writer.
88. (re-entry) Tris Reid-Smith @trisrs
Director and editor-in-chief of Gay Star News
After earning his stripes in local press, Reid-Smith moved to London "to enjoy the benefits of a bigger gay scene" and was soon editor of the Pink Paper. He and his partner Scott Nunn launched Gay Star News in January 2012 and it won Stonewall's Publication of the Year 11 months later.
89. (64) Russell Tovey @russelltovey
Actor
A geeky werewolf in Being Human; Rudge in The History Boys; layabout Steve in Him & Her… Tovey says he has become known for playing " loveable dickheads". He is set for his first major American role in the HBO show Looking, which details the exploits of three gay friends in San Francisco.
90. (2012 journalists' list) Julie Bindel @bindelj
Journalist and broadcaster
A powerful voice on domestic violence and LGBT issues, Bindel has caused outrage and had to apologise for "really inappropriate jokes" about gender reassignment clinics. She is working on a book about lesbian and gay culture and politics, called Straight Expectations.
91. (94) Steph Keeble & David Viney @birminghamlgbt
LGBT Birmingham
Keeble, the group's director, has helped grow the charity's turnover from £10,000 a year to £250,000 a year in just four years. Viney, its health & wellbeing manager, was instrumental in creating the inaugural SHOUT Queer Cultural Festival in 2009 and later events.
92. (new entry) Damian Barr @Damian_Barr
Writer, salonnière
A journalist, playwright and author, Barr is now famous for his best-selling memoir Maggie & Me, about growing up in Lanarkshire during the Thatcher years. His Literary Salon has seen writers such as Bret Easton Ellis, Louis de Bernières and Helen Fielding read their work for the first time.
93. (re-entry) Rikki Beadle-Blair @RikkiBB
Filmmaker
A performer, writer, director, composer, choreographer, artist, activist, CEO, publisher and mentor, Beadle-Blair's work includes the forthcoming film Blackbird, about a young singer who struggles with his sexuality in a small Southern Baptist community in the US, and the 2011 short film Alive.
94. (90) Bisi Alimi @bisialimi
Activist
Three years after becoming the first Nigerian to come out on national television in his home country, an attempt on his life forced him to flee to the UK in 2007. In 2011 he helped set up the Kaleidoscope Trust, which campaigns against criminalisation, persecution and prejudice around the world.
95. (new entry) Rev Richard Coles @RevRichardColes
Broadcaster, musician, CofE priest
The former member of The Communards is now a Church of England priest, as well as co-presenting Radio 4's Saturday Live. He's also appeared on a number of TV shows, including Have I Got News For You. An avid Twitter user, he has nearly 50,000 followers.
96. (81) Jay Stewart @JayAStewart
Co-founder, Gendered Intelligence
Stewart is currently working on a PhD entitled "Trans on Telly: Popular Documentary and the Production of Transgender Knowledge". He has made documentaries such as The Sci:dentity Project and Gender Variance in Primary School and also carries out trans awareness training.
97. (84) Evelyn Assante-Mensah, OBE @EHRC
Commissioner, Equality and Human Rights Commission
For more than 20 years, Asante-Mensah has worked to promote equality in a variety of roles. She helped turn the Black Health Agency from a small community group into one with a national profile. She also chaired Race for Health and NHS Manchester.
98. Darren Scott @darren_scott @gaytimesmag
Editor of GT
Since its launch in 1984, celebrating its 400th issue in 2011, Gay Times has become a cultural icon, appearing in Little Britain, Beautiful Thing and in the first advertising campaign with a gay kiss. Scott continues to take it from strength to strength. The current issue discusses Cher, and pornography.
99. (re-entry) Jim MacSweeney @gaystheword
Manager, Gay's the Word Bookshop
Gay's the Word in London was the UK's first gay and lesbian bookshop when it opened in 1979 and will celebrate 35 years in the business next year having survived the London riots and the rise of internet booksellers. "As a bookshop, I think it punches well above its weight," he says.
100. (93) Nigel Owens @Nigelrefowens
Rugby referee
After refereeing the 2007 and 2011 World Cups, Owens made headlines in 2012 when he admonished Treviso's Tobias Botes with the words "This is not soccer!", a phrase that was printed on T-shirts. He is also a TV presenter, comic and president of the Wales Federation of Young Farmers Clubs.
101. (16) Iain Dale @IainDale
Publisher, blogger
When he isn't wrestling protesters outside party conferences, the popular and hard-hitting blogger presents an award-winning LBC radio show. His publishing company, Biteback, scored one of hits of the year with Damian McBride's controversial political memoirs, Power Trip: A Decade of Policy, Plots and Spin.
Join our commenting forum
Join thought-provoking conversations, follow other Independent readers and see their replies