The Independent's journalism is supported by our readers. When you purchase through links on our site, we may earn commission.
Tony Blair 'emulated Hitler's oration techniques', Boris Johnson says
The London Mayor says that the Nazi leader's style was copied by many, including the former Prime Minister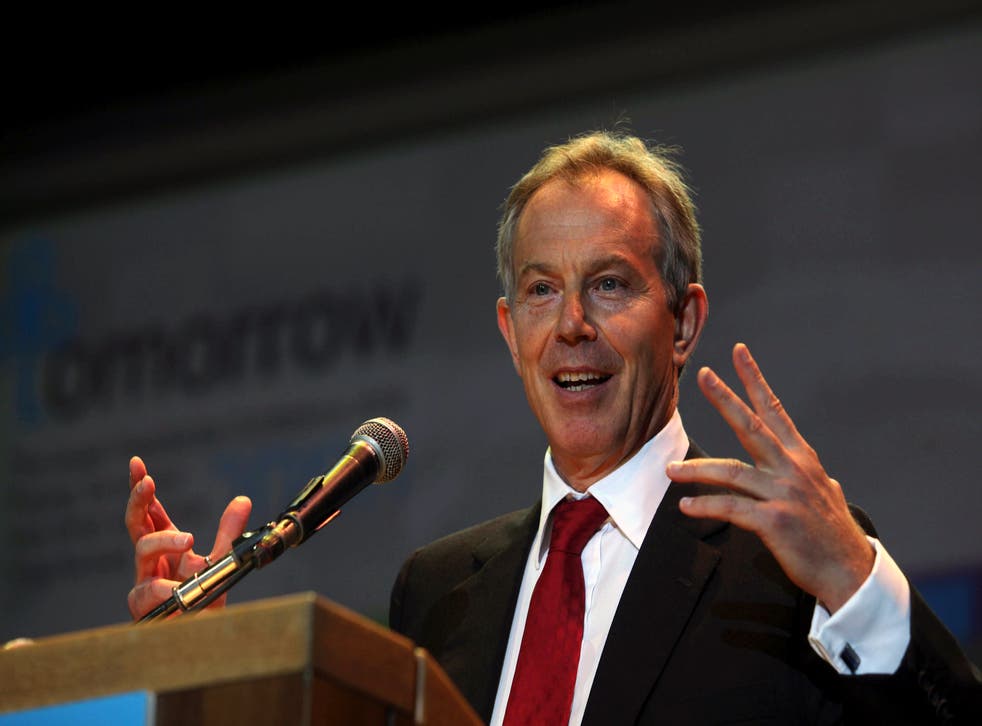 London Mayor Boris Johnson has likened former Prime Minister Tony Blair's oratory prowess with that of the 20th century's most reviled figures - Adolf Hitler.
Politician-cum-author Mr Johnson made the comments in his upcoming book The Churchill Factor: How One Man Made History, which details the traits of another, though this time revered, figure.
According to the Telegraph, Mr Johnson describes the rhetoric of Hitler and the all-consuming powers of persuasion that drove a country into war.
He writes: "Look at Hitler, if you can bear it, and see his hypnotic quality. First the long, excruciating pause before he speaks; and then see how he begins so softly - with his arms folded - and how he uncoils them as his voice starts to rise, and then the awful jabbing fluidity of his gestures, perfectly timed to intensify the crescendos of his speech.
"Yes, he has some paper on the table in front: but he hardly refers to it. He seems to be speaking entirely without notes. See the effect on his audience: the happy beams on the faces of the young women, the shouts from the men, and the way their arms rise as one to salute him like the fronds of some huge undersea creature.
15 Facts You Didn't Know About Hitler

Show all 15
"Listen to the way he brings them all to their collective climax: with short verbless phrases – grammatically meaningless, but full of suggestive power. It was to become a highly influential technique, copied, among others, by Tony Blair."
The comparison, though almost complimentary in some ways, didn't seem to stack up for Sam Leith, author of You Talkin' To Me? Rhetoric from Aristotle to Obama.
Mr Leith, whose book explains rhetoric from its conception right up to its modern-day heroes, told The Independent that he just doesn't "see the link" though it is an "interesting" one.
"Blair didn't work himself up," he said. "I don't recall seeing Blair stabbing the air. I don't completely see it."
"Certainly that business of the short, meaningless phrases without verbs is something that Blair used – I dare say it's something that Hitler used," but he added that these have been popular across the board and still continue to be so now, such as with slogans like the Scottish independence No campaign's "Better Together".
"I certainly wouldn't see Blair copying Hitler," Mr Leith added. "For starters I don't think Blair speaks German. I don't think politicians would watch videos of the Nuremburg rallies. I would be very surprised."
"The astonishingly-long pauses that Hitler began his speeches with – they were in context of an enormously theatrical set up with the cavalcade arriving and the audience kept waiting, him coming to the podium and just standing there.
"To my eye Blair doesn't resemble Hitler."
Hitler's powerful oratory got a Ukip MEP into trouble earlier this year, when he advised prospective party candidates to use the Nazi leader's style.
Bill Etheridge was speaking at the Young Independence Conference in Birmingham in August when he described the authoritarian leader as "magnetic and forceful".
Join our new commenting forum
Join thought-provoking conversations, follow other Independent readers and see their replies