Tony Law & Mary Beard: How we met
'I do hate all the abuse I've received online, but it has been more than made up for by this kind, good-spirited, funny person'
Adam Jacques
Sunday 16 November 2014 01:00 Comments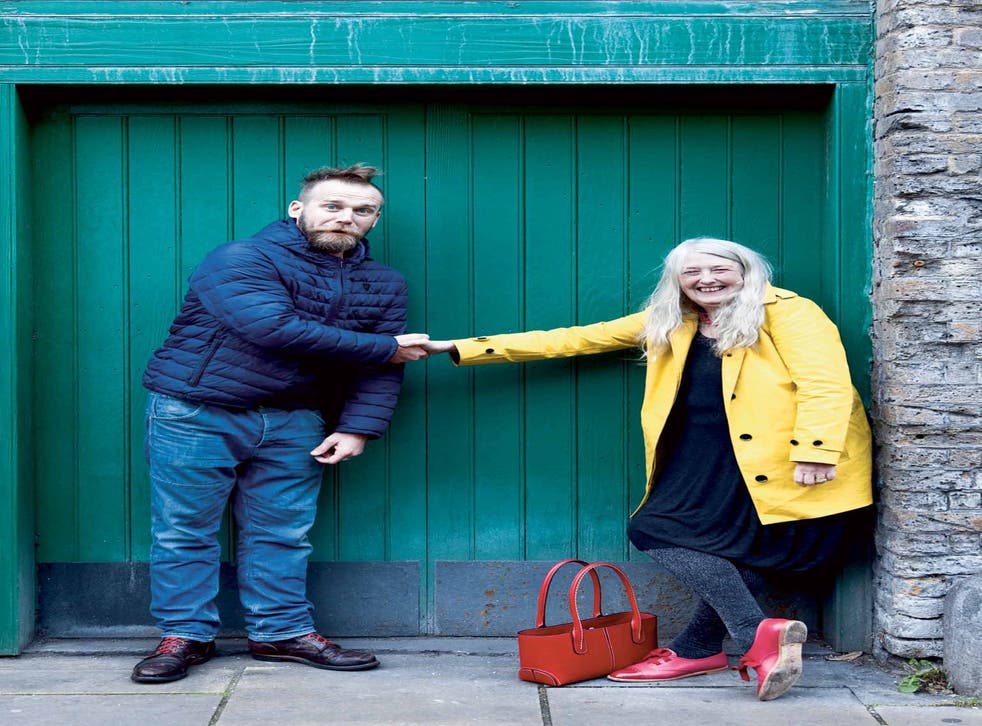 Mary Beard, 59
Professor of classics at the University of Cambridge and professor of ancient literature at the Royal Academy of Arts, Beard is also known for presenting the BBC documentary 'Meet the Romans' and appearing in Channel 4's 'Jamie's Dream School'. She is the author of 20 books, and lives in Cambridge
Tony and I met online. It was one of those occasions, about three years ago, when I was getting a lot of crap on Twitter. Suddenly I noticed that this guy, calling himself Sulla, had intervened and was pretending to be a Roman dictator, a really extraordinary general. Sulla was telling all these abusers to get off, otherwise he was coming to get them.
We became online friends and I found that he was a stand-up comedian. He invited me to see him at a gig in London, and I thought, why not? I went with my son, Raphael. Afterwards I met Tony and Storm, his lovely missus.
As I'd seen a lot of pictures of him, I wasn't that surprised about how he looked – like a 16th-century Genoese sailor. I don't know that many stand-ups, but I love his combination of being both zany and nice. What's great is that it's not just a performance: that comic persona is part of who he is.
We stayed in touch, as we were interested in some of the same things. At the time I was writing Laughter in Ancient Rome [published this year] and we had a joint interest in what makes people laugh. A lot of Roman jokes survive, so we did one gig together in London after the book came out, talking about Roman jokes and laughter: I tell the same ones in my lectures, but he told them better, and every single one of them got bigger laughs than when I tell them in my feeble, amateur way.
We did a radio programme together, too, about surreal humour, and we talked about ancient jokes. He was particularly interested in whether you could say there was such a thing as surreal humour in the ancient world, and how could you know. There's one joke: "A guy meets another down the street and says, 'Hi! I thought you were dead!' The man replies, 'No. You can see I'm alive!' And the guy says, 'Yeah, but the person who told me you were dead is more reliable than you are.'" I saw it as showing uncertainty of identity in that period. But Tony made me see it as a bit of Roman surreal humour, too.
I do a bit of telly, but most days I'm writing in a library, so it's hard to put a finger on how I've become mates with someone who does something so different. But I know he loves Ancient Rome: he called his son Atticus [after the Roman philosopher Titus Pomponius Atticus] and he likes my work. I like to think of Tony curling up at night with my book about Pompeii, which makes me feel warm and slightly surprised.
I do hate all the abuse I've received online, but it's been more than made up for by a kind, good-spirited and funny person.
Tony Law, 45
A London-based Canadian stand-up, Law has appeared on TV shows including 'Have I Got News for You' and 'Never Mind the Buzzcocks'. His giddy blend of surreal, absurdist humour has earnt him a number of awards, and he was nominated for best comedy show at Edinburgh in 2012. He lives in London
I'm a history nerd, and to me Mary was a TV-documentary rock star. She became a hero of mine when my daughter was two, and she would watch her [2012 BBC2 documentary] Meet the Romans, relax, and go to sleep.
One day I bought some Roman books written by Mary and, as I'd just joined Twitter, I posted a picture of my daughter reading a book, which I tweeted to Mary, saying she was my hero. We became Twitter friends and it was then that I noticed all these Twitter trolls.
I took on the persona of a Roman general dictator [with a separate Twitter account], announcing hideous prescriptions of vengeance, and saying things like, "I've nailed your name to the top of the [hit] list; I will see you [dead] in the Forum Romanum!" Then my wife got involved, and, when others joined up, we flooded this hideous website [trolling Beard about her appearance] with Latin poetry, and shut it down.
I invited her to one of my gigs, and, meeting her for the first time, she felt like the relative that I had never met. Now my whole family, my wife and two kids, love her, and her son, Raphael, who now even babysits for our kids.
The sweetest, proudest, moment was when she invited us to a book launch two years ago. It was at a grand, beautiful old place and my wife and I were all gussied up, drinking wine, and gathered around for Mary's speech. She thanked the publishers and others, then said, "But who I really want to thank is the dictator Sulla, who is here tonight." All these eminent historians started looking around, perplexed, and wondering what was going on.
We've been to music gigs together, too. Once, after I did a charity event that [The Who's] Roger Daltrey was a patron of, he said to me, "Any time you want to come to a gig…" So I went with Mary and Raphael; we met Roger backstage, pissed as farts, and she stole him away. I was like, "Mary! He's my dude!"
It doesn't matter if you leave school at 15, as I did; you can still meet your heroes and talk about stuff: I always have history in my comedy and I've read Laughter in Ancient Rome; I'm interested in the idea of what is funny.
Mary is very brave, always challenging people who troll her online. I can't get my head around that bollocks. I've got a horrific violent streak and if they did it again, I'd have to hunt them down and commit a terrible act of violence. Don't think leftie liberals can't do that! 1
Law's current tour, 'Enter the Tonezone', runs until 18 January (mrtonylaw.com). Mary Beard's latest book, 'Laughter in Ancient Rome', is out now (£19.95, University of California Press)
Register for free to continue reading
Registration is a free and easy way to support our truly independent journalism
By registering, you will also enjoy limited access to Premium articles, exclusive newsletters, commenting, and virtual events with our leading journalists
Already have an account? sign in
Join our new commenting forum
Join thought-provoking conversations, follow other Independent readers and see their replies